If you ask smartphone users about the one problem area they'd most like to see improved, most of them will answer battery life. Longer battery life is the top ask in just about every survey we've ever seen that covers smartphone pain points, and that will continue to be the case until we get handsets with true multi-day battery life. Of course, don't hold your breath waiting for multi-day flagship phones to become a reality because smartphone makers pack new components and features into smartphones far faster than battery tech improves. Thankfully, more efficient chips and other improvements tend to balance things out, so at least battery life usually doesn't get worse with each new smartphone iteration.
The most hotly anticipated unreleased smartphone right now is definitely Samsung's upcoming Galaxy S9, which is expected to be unveiled a little over two months from now in late February. The bad news is Samsung had a prototype of the Galaxy S9 with an exciting new design, but it was cancelled. The S9 model that will actually launch is a very boring update visually, but there still should be some excitement to be found.
According to everything we've seen so far — and according to what BGR has learned from its own inside sources — the Galaxy S9 and Galaxy S9+ will essentially be "S" upgrades. They'll look almost identical to their predecessors, but they'll feature a few important updates in addition to improved performance. This year, Samsung is finally copying the smartest thing about Apple's iPhone strategy and giving consumers some extra motivation to buy the pricier Galaxy S9+; it's expected to include a new dual-lens camera and 6GB of RAM, whereas the smaller S9 will have a single-lens rear camera and 4GB of RAM.
Both phones should be solid upgrades compared to their predecessors when it comes to performance, however. And on top of that, a new rumor suggests the Galaxy S9 could be a nice upgrade when it comes to the all-too-important area of battery life.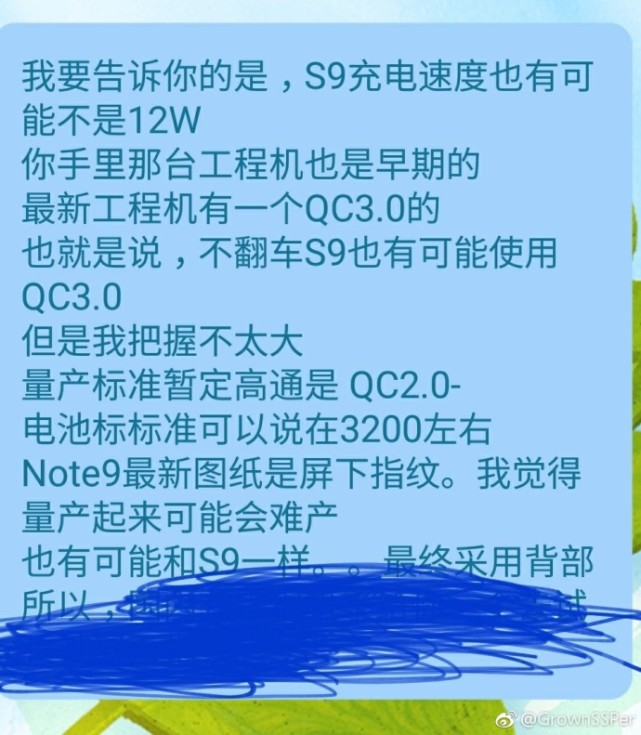 The image above was published on Monday morning by Tencent Digital News, and it supposedly lists some specs for the upcoming Galaxy S9. The text is in Chinese but a few numbers can clearly be made out. Specifically, the leak suggests Samsung's new Galaxy S9 will include a 3,200 mAh battery, which is about a 7% increase from the battery in this year's Galaxy S8. According to the leak, the Galaxy S9 will also support Quick Charge 3.0 technology and 12W fast wireless charging. For comparison, the new iPhone X, iPhone 8, and iPhone 8 Plus only support 7W fast wireless charging.
Samsung is expected to unveil the Galaxy S9 and Galaxy S9+ during a press conference in late February, and the phones should be released sometime in March.