If news from about half a dozen independent reports in addition to what we've heard from our own reliable sources is accurate, Samsung is about one month away from unveiling its next-generation flagship smartphones. The Galaxy S9 and Galaxy S9+ are undoubtedly the two most hotly anticipated handsets of the first half of 2018, and they will be unveiled during a press conference ahead of this year's Mobile World Congress trade show in Barcelona, Spain.
Early reports suggested the new Galaxy S9 and Galaxy S9+ would be powerful new smartphones that featured an exciting updated design. While subsequent reports have reaffirmed various performance upgrades, Samsung seemingly had to ditch its plans to released redesigned housings. As a result, this year's new Galaxy S9 and S9+ will look almost identical to last year's Galaxy S8 and S8+.
There are a few key differences to be found, however, and a pair of freshly leaked photos serves as a reminder of one of the biggest changes we can expect.
At a distance, the upcoming new Galaxy S9 and Galaxy S9+ flagship phones will look exactly like Samsung's flagship phones from early 2017, the Galaxy S8 and Galaxy S8+. The same sleek Infinity display design will be used on the front of the new phones, which consists of a large Super AMOLED screen that occupies more than 80% of each phone's face. The handsets will also feature glass on the front and back that curves at the sides, allowing the phones to sit more comfortably in the hand.
The only notable external hardware differences will be found around back. The off-center fingerprint scanner from last year is now centrally located until the camera. This will be a welcome change for many Samsung fans who complained last year that the fingerprint sensor on the Galaxy S8, Galaxy S8+, and Galaxy Note 8 was difficult to reach.
On top of that, Samsung's larger Galaxy S9+ handset will feature a dual-lens camera on the back for the first time. This will be the biggest hardware change on this year's Galaxy S phones, and freshly leaked photos show off the new Galaxy S9+ camera in the best detail we've seen so far.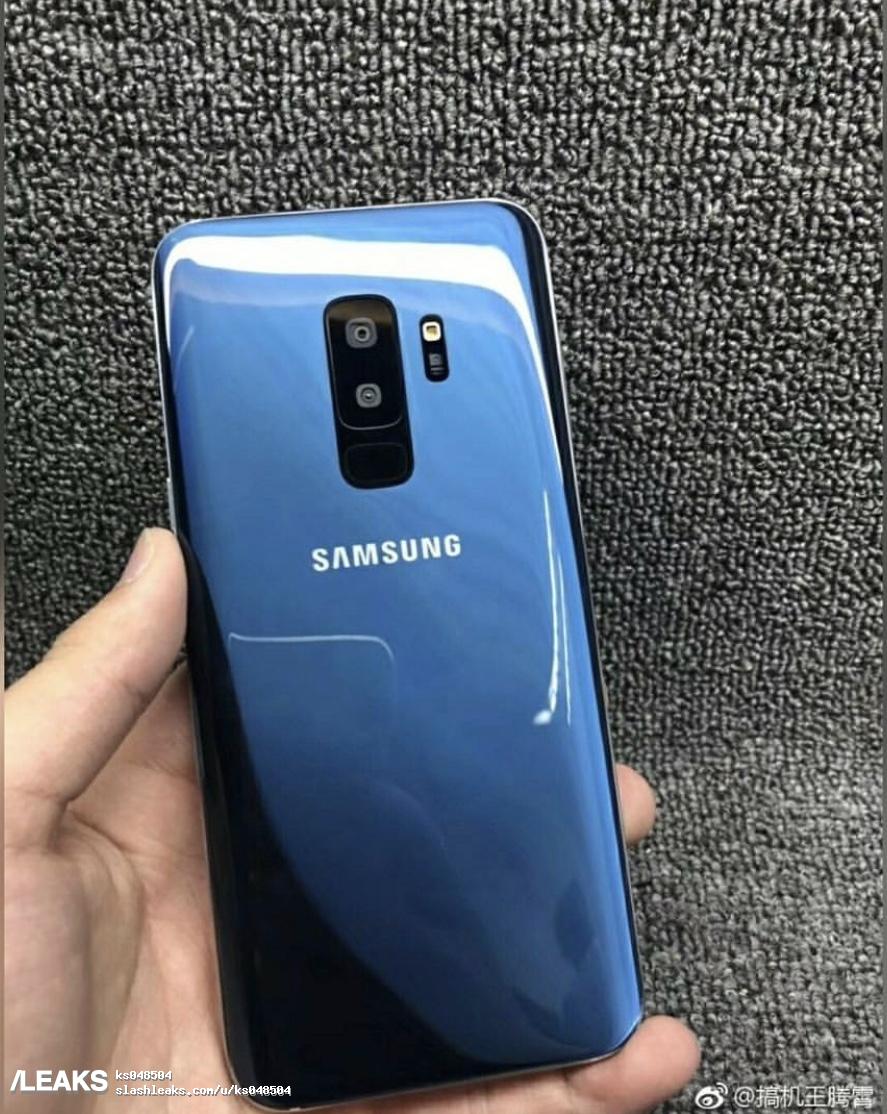 The leaked images were posted to Slashleaks on Monday. They're originally from Chinese microblogging site Weibo, however the person who uploaded them to Slashleaks did credit the original source.
It's unclear if the devices shown in the leaked photos are actual Galaxy S9+ handsets or mockups based on leaked schematics from the factories that are producing Samsung's new flagship phones. In either case, the design pictured in the images is believed to be exactly what we can expect from Samsung's Galaxy S9 and Galaxy S9+.
The new Galaxy S9 and S9+ will be unveiled in late February, and they're expected to be released two weeks later on Friday, March 16th.