In 2017, it's looking more and more like innovative new features will continue to be few and far between. Think about it: when was the last time the smartphone market saw a real game-changer as far as features and functionality are concerned? Well, the bad news is that you shouldn't expect very much from smartphone makers in 2017 either. Virtual personal assistants are getting better and we might see some cool new augmented reality features from Apple's iPhone 8 later this year, but if you're expecting any huge leaps in terms of smartphone features, you're going to be disappointed.
Where we will see big changes in the smartphone market, however, is where handset design is concerned. LG's G6, Apple's iPhone 8, and the upcoming Galaxy S8 and Galaxy S8+ flagship phones from Samsung will inch closer to making the all-screen smartphones of the future a reality, and new a new series of leaks show us just how impressive Samsung's new Galaxy S8 really is.
There were about 20 big Galaxy S8 and Galaxy S8+ leaks this past weekend, which makes sense considering how close we are to Samsung's big press conference on March 29th. We covered the 10 biggest Galaxy S8 leaks from over the weekend in a post earlier on Monday, but now we want to focus specifically on two of them, along with a third new leak that wasn't covered in that post.
First, we have these photos from Pcpop that show the Galaxy S8 next to an iPhone 6:
Next, a Weibo user with a solid track record for leaks shared two photos of a Galaxy S8 sandwiched between an iPhone 7 and the Galaxy S7 edge, which was one of two flagship Galaxy S phones Samsung released in early 2016: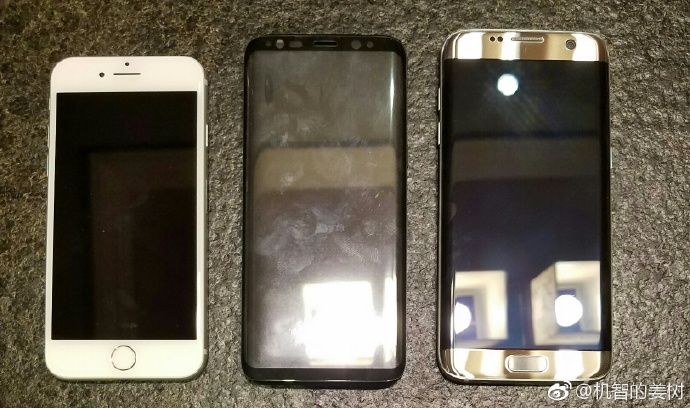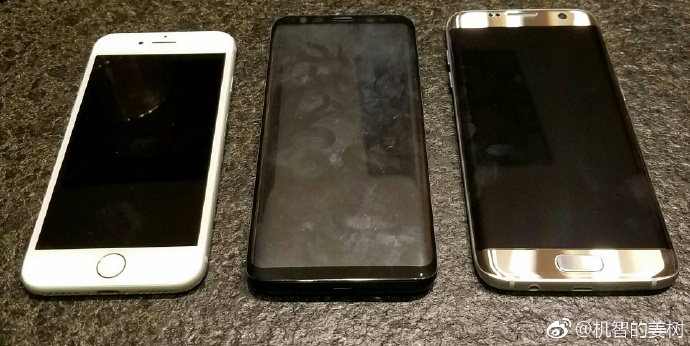 And finally, we have a photo from Instagram user "minu_home" that shows glass faces from the Galaxy S8 and Galaxy S8+ in between a new LG G6 and last year's Galaxy S7 edge.
So, what's so special about all of these images? Long story short, Samsung's new design on the Galaxy S8 and Galaxy S8+ is incredible. The company ditched the oblong home button from beneath the screen and reworked all of the components inside the phones. As a result, Samsung was able to cram incredibly large Super AMOLED displays into remarkably compact devices.
As you can see, the smaller Galaxy S8 is about the same width as the iPhone 7, and just a bit taller. Despite the similarity of the overall footprint, the Galaxy S8 has a large 5.8-inch display while the iPhone 7 has a 4.7-inch screen. Then in that last photo, you can see that the Galaxy S8+ will be just a bit larger than last year's Galaxy S7 edge. Meanwhile, the S8+ will have a 6.2-inch screen compared to the 5.5-inch display in the S7 edge.
2017 might not have much to offer in the way of new game-changing smartphone features, but we are unquestionably entering the next phase of smartphone design.