With less than 10 days to go before Samsung officially takes the wraps off its new Galaxy S8 and Galaxy S8+ flagship smartphones, the dam is officially broken. A steady trickle of leaks and rumors over the past few weeks turned into a massive flood, with more than 15 — that's right, fifteen — big leaks that come from at least a dozen different sources.
As exciting as Samsung's next-generation flagship Android phones are, we know you don't have time to dig around the web and find all of those leaks, so we did all of the heavy lifting for you. In this post, you'll find the 10 biggest Galaxy S8 leaks that washed ashore this past weekend. There are photos, pricing information, renders, dummies, and even some size comparisons to enjoy, and you can check them all out below.
First and foremost, the only real question we had left has now been answered by not one but two separate leaks. That's right, Galaxy S8 and Galaxy S8+ pricing has now seemingly been revealed.
Serial leaker Evan Blass was first up, and he tweeted that the Galaxy S8 will cost 799€ in Europe while the larger Galaxy S8+ will cost 899€. Remember, we're only expecting Samsung to release each of its Galaxy S8 models with one internal storage size option this year — 64GB — and then users can add a microSD card if they want more space. Blass also noted that a new version of the Gear VR headset will cost 129€, and the desktop experience dock we're expecting Samsung to unveil alongside the Galaxy S8 will cost 150€.
Backing up Blass is our second big leak of the weekend, which comes from a Weibo user with a very solid track record as well. He posted that the Galaxy S8 and S8+ will cost 5970 yuan and 6700 yuan in South Korea, respectively, which converts to roughly the same prices Blass posted in Euros.
With those two out of the way, we turn to a flurry of leaked photos and renders of the Galaxy S8 and Galaxy S8+. Images came in from a wide range of different sources this past weekend, some showing the real phones and others showing dummy units, which are equally interesting since they're exact replicas of Samsung's new flagship phones built using leaked specs from the factories that are building the phones.
Let's quickly run through a bunch of them:
Blass is back in the #3 spot, since he posted what appear to be official marketing renders of the Galaxy S8 in three different different colors: Black sky, orchid grey and arctic silver.
Samsung Galaxy S8 and S8 Plus (top to bottom) in black sky, orchid grey and arctic silver (left to right) pic.twitter.com/ISo7W10sYV

— Evan Blass (@evleaks) March 19, 2017
Renders are nice and all, but there's nothing quite like the real thing. Our fourth big leak comes from another Weibo user, who posted multiple photos of a real Galaxy S8 that is powered on. BGR was one of the first sites to exclusively post photos of an actual Galaxy S8 with the power turned on, and these new photos align perfectly with that leak.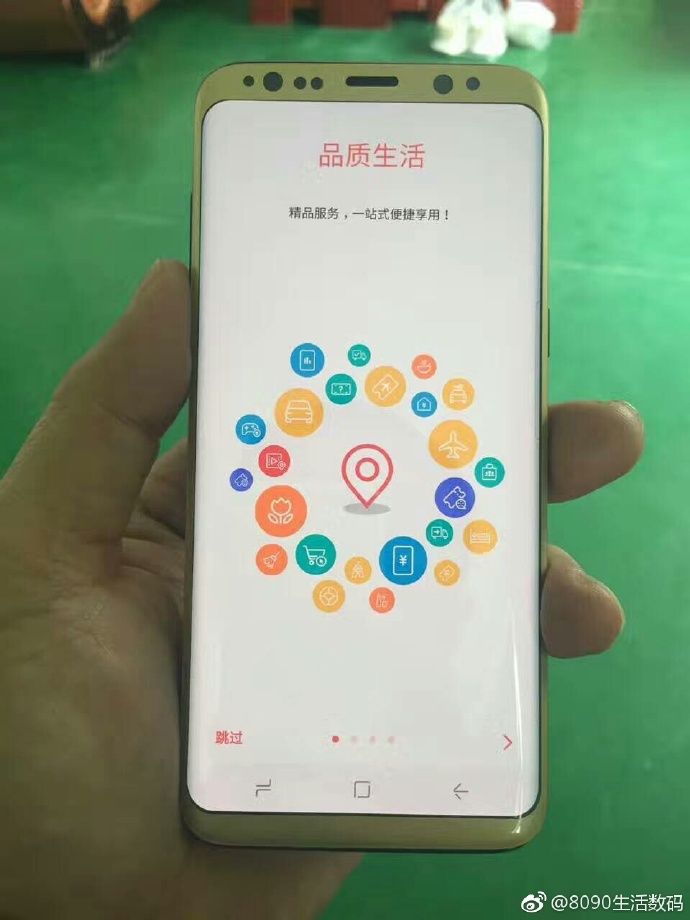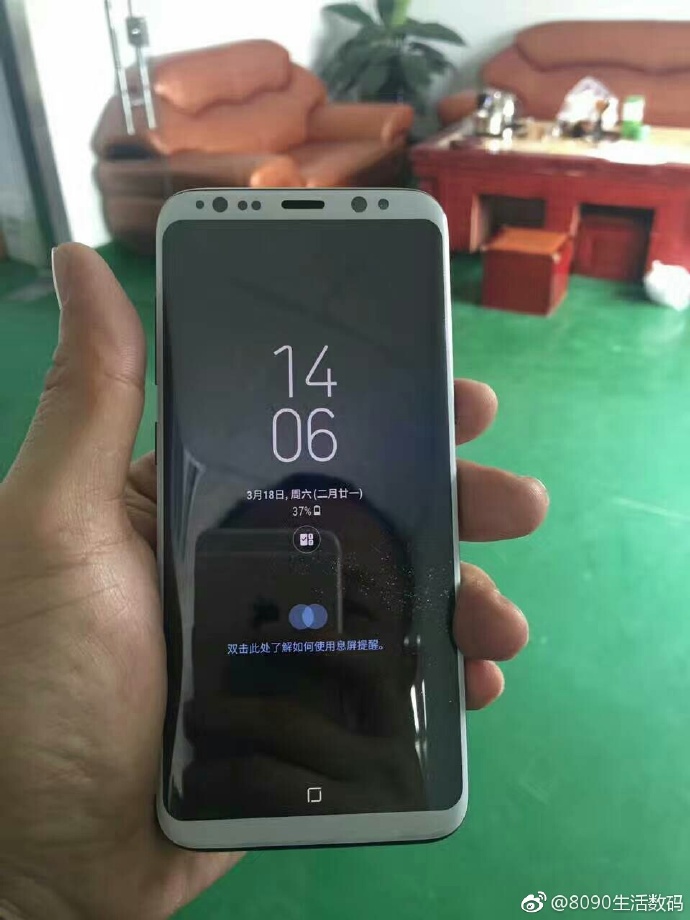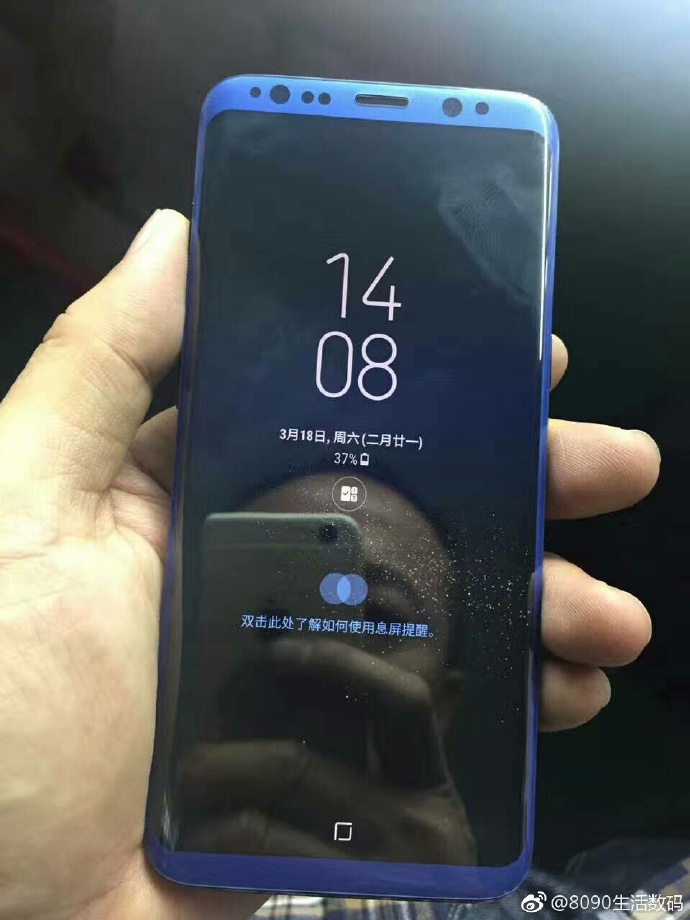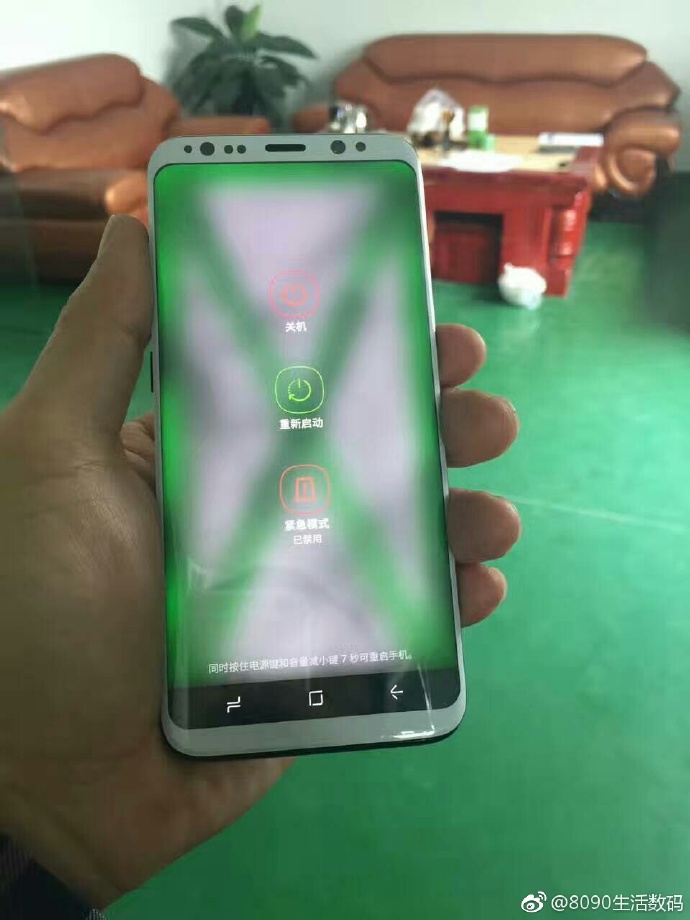 The fifth big leak we're covering today comes from Weibo yet again, and it shows a real Galaxy S8 on a table between an iPhone 7 and a Galaxy S7 edge. These photos give us a great idea of just how impressive Samsung's Galaxy S8 design truly is, since it fits a huge 5.8-inch display into a phone that's not much bigger than Apple's iPhone 7, which has a 4.7-inch screen.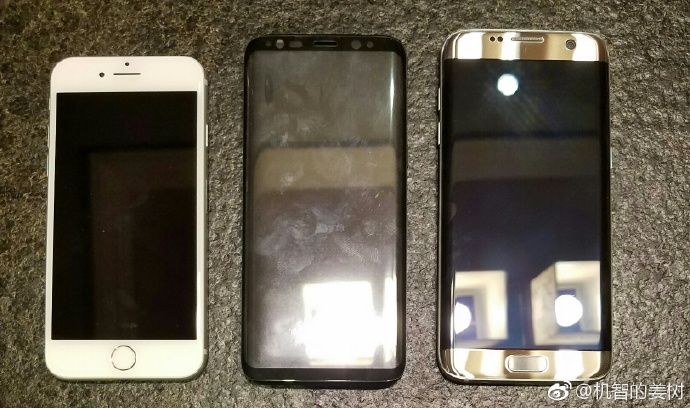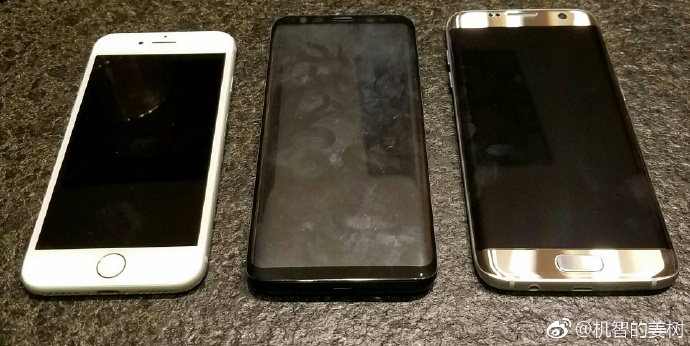 That covers the first five leaks, and the rest come from either Weibo, Twitter or from crowd-sourced gadget leaking site Slashleaks. Unlike the photos above, these leaks all show Galaxy S8 and/or Galaxy S8+ dummy units. But remember, these mockups are made of real glass and aluminum just like Samsung's actual phones, so they obviously give us a very good idea of what to expect from the real devices.
A Weibo user with a handle that roughly translates to "Light Power Technology" posted photos showing that the Galaxy S8+ is roughly the same size as last year's Galaxy S7 edge.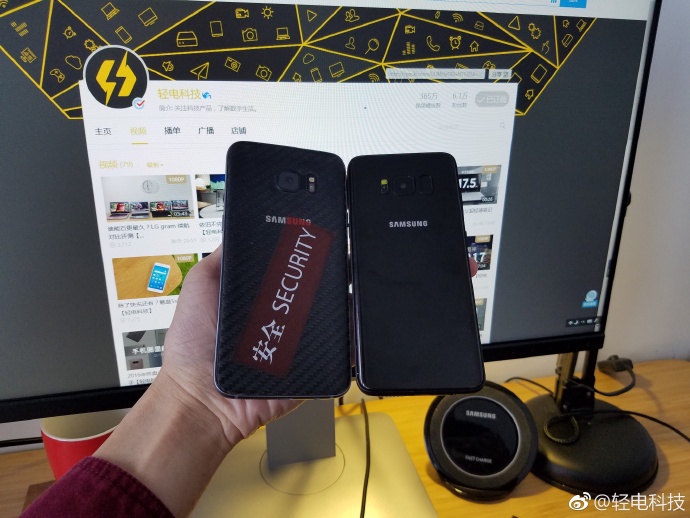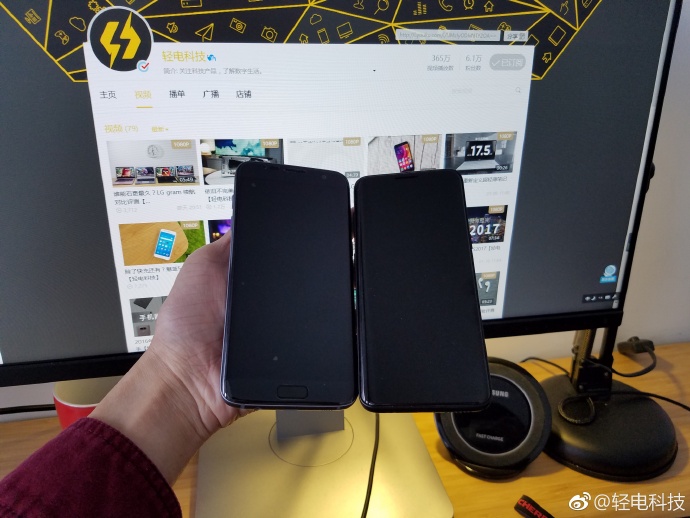 Next up is Slashleaks user "Leakspinner," who posted an image of a black Galaxy S8 dummy net to a purple Galaxy S8 dummy. It's unclear if this purple color will actually make it to Samsung's lineup.
Over on Twitter, user "KK Sneak Leaks" also offered up a few photos of a Galaxy S8 dummy in purple.
#galaxyS8 Another color… pic.twitter.com/cJXMr73Xps

— KK Sneak Leaks (@kksneakleaks) March 18, 2017
And last but not least we have PCpop, which pulled a few photos off of Weibo that show a Galaxy S8 dummy positioned next to an iPhone 6. Once again, these photos show how compact the S8 is despite its large 5.8-inch Super AMOLED display.
Samsung will unveil the Galaxy S8 and Galaxy S8+ during a special press conference next Wednesday, March 29th, and the phones are expected to be released about a month later on either April 21st or April 28th.