After a wait that has seemed like an eternity, Samsung's new Galaxy S8 and Galaxy S8+ will finally be released next week on Friday, April 21st. Months of leaks and rumors familiarized us with Samsung's sleek new flagship smartphones long before the South Korean consumer electronics giant ever made them official, so the wait for them to actually hit store shelves has felt longer than normal. But Android fans can rest assured that the wait is almost over, and anyone who preordered a Galaxy S8 or a Galaxy S8+ should have the phone in their hands on Friday. But some lucky smartphone lovers who pre-ordered through one carrier in particular might end up getting their new Galaxy S8 or S8+ before anyone else.
Samsung announced earlier this week that pre-orders for its new Galaxy S8 and Galaxy S8+ have outpaced Galaxy S7 and S7 edge pre-orders but a substantial margin. Remember when all those Apple analysts and Samsung bears said the Galaxy Note 7 debacle would be a huge problem for Samsung's flagship smartphone sales this year? Yeah, not so much.
In the United States, every major wireless carrier (and several smaller regional carriers) are offering Galaxy S8 and S8+ pre-sales, and big-box retailers like Best Buy also have the phone available for pre-order. Samsung has been mass-producing the new phones for quite some time so there should be plenty to go around, but it turns out that not all pre-orders are created equal. In fact, it looks like subscribers who pre-ordered a Galaxy S8 or Galaxy S8+ from one carrier in particular mind end up getting their phones before they officially launch next Friday.
You guessed it… T-Mobile.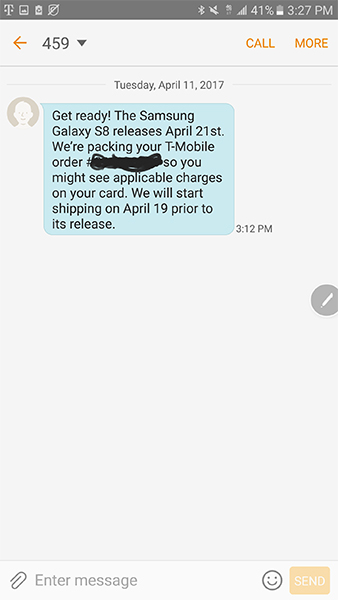 Never one to do things by the book, it looks like T-Mobile is throwing caution to the wind and shipping out the new Galaxy S8 and S8+ two days before they're released, as T-Mobile fan blog TmoNews reports. In fact, if T-Mobile stays true to form, some pre-orders might ship out even sooner — the carrier has a long history of shipping out new flagship phones sooner than it's supposed to.
So, if you're a T-Mobile subscriber, it looks like there's a very good chance you'll get your Galaxy S8 or Galaxy S8+ before any of your friends, so have fun taunting them. In the meantime, check out our extensive Galaxy S8 hands-on preview to see what you're in store for.