By all accounts, the Galaxy S10 will be the best thing to happen to the Galaxy S line in years, as Samsung is preparing several notable upgrades for the tenth anniversary of its iPhone rival. The phone will get a much better screen-to-body ratio, a fingerprint sensor under the display, and as many as five cameras, rumors say. While many of the details surrounding the Galaxy S10 are still up in the air, one thing has already become clear: the Galaxy S10 will not copy the iPhone X. Because if it does, there will be hell to pay.
Samsung has not yet made any Galaxy S10 announcements, nor do we expect any until early 2019. But it didn't have to say anything about the phone to make us understand a few important things about it. Sometimes, a picture is enough. Here it is: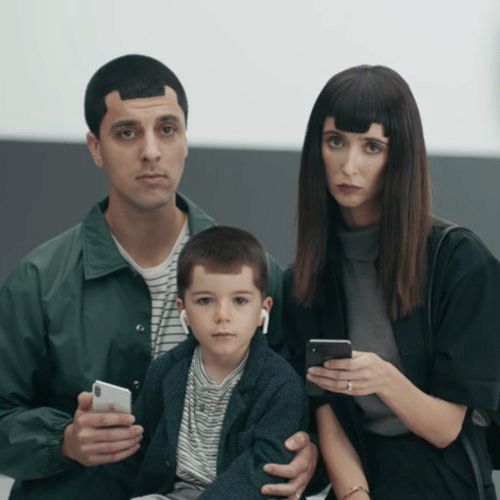 The family in the image above comes from Samsung's "Ingenius" commercial that mocks the notch on the iPhone X. And because Samsung is mocking the notch so hard in this one, the implication is that no Samsung smartphone will ever have a notched screen, Galaxy S10 included.
https://www.youtube.com/watch?v=FPhetlu3f2g
So far, Samsung has been one of the few companies out there that has not copied the iPhone X, which was quite surprising for a smartphone maker that built its fortune on the back of the iPhone. Like it or not, notch designs are the only way to create edge-to-edge displays on smartphones right now. Samsung should know, after all, since the iPhone X's screen comes from Samsung's own display subsidiary.
But Samsung's marketing team just made it impossible for Samsung to attempt to introduce a smartphone with a notch and not have the entire world laugh at the company.
A reliable source said the other day that the Galaxy S10 will have an even better screen-to-body ratio, which suggests that Samsung will further shave the top and bottom bezels of the phone. In the light of this new TV commercial, the only way for Samsung to do that is to kill the bottom bezel and keep the top bezel in place. Or has Samsung's display tech reached a place where it can pull off a true edge-to-edge notch-less screen design?
In the future, of course Apple and everyone else will kill the notch, because the cameras, speakers and sensors inside the notch will be placed under the display. Manufacturing such phones, of course, will be pretty expensive in the early days, which is why the notch, the way Apple does it right now, makes sense for the time being.