You might not remember them now, but early Galaxy S9 rumors claimed that the phone would have significantly smaller bezels compared to the Galaxy S8, as Samsung was looking to eliminate the bottom bezel (like Apple did with the iPhone X). It was only later that we found out Samsung decided to stick with almost the same design for the Galaxy S9, although the 2018 flagship does have smaller top and bottom bezels than its predecessor.
Well now, unsurprisingly, rumors have begun to spring up suggesting the Galaxy S10 will have even smaller bezels.
The Galaxy S9 may be a copy of the S8, but the Galaxy S10 is supposed to introduce a new design as well as new features. We know so far that Samsung is making three S10 versions that will rival Apple's three 2018 iPhones. 
The Galaxy S10 will be the first Galaxy phone to feature ultrasonic fingerprint sensors in the display, as well as triple-lens cameras on the back.
Galaxy S10's screen to body ratio will be greatly improved.

— Ice universe (@UniverseIce) July 20, 2018
Samsung insider Ice Universe, who often reveals details about unreleased Samsung devices, tweeted a few hours ago that the Galaxy S10's screen-to-body ratio will be "greatly improved." The only way to do that is to eliminate bezels, with the bottom bezel being the likely candidate. That is, if Samsung doesn't plan to copy the iPhone X design.
The Galaxy S9 has a screen-to-body ratio of between 83.6% to 84.2%, depending on size, largely similar to the Galaxy S8 (83.6% to 84.0%).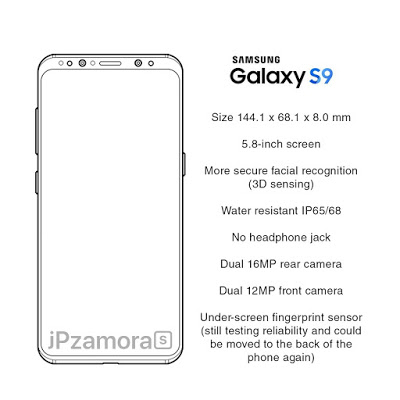 A questionable leak last year offered us the image above, which included the alleged design of the Galaxy S9 and its rumored specs. We never found out whether the leak was based on accurate information, but the image does reveal how Samsung could improve the screen-to-body ratio while keeping in place the same overall design.
So far, we haven't seen any Galaxy S10 schematics or photos leak, but they begin to surface sooner or later.