The Galaxy S10 will be available in three distinct versions, various reports have said in the past few months. And one of them will have two versions of its own, including an LTE and a 5G model. In total, we expect four Galaxy S10 phones next year, and three of them were inspected by a Chinese regulatory body.
A few days ago, a leak from Samsung revealed that four Galaxy S10 models are in the making under the "Beyond" family, as follows:
beyond0: This is believed to be an entry-level version of the Galaxy S10 with less impressive specs and a lower price point
beyond1: This is Samsung's main Galaxy S10, believed to have a 5.8-inch AMOLED display
beyond2: This is the larger Galaxy S10+ model with a 6.44-inch screen and five cameras in total
beyond25g: This is also the Galaxy S10+, but it'll be Samsung's first flagship to support 5G
According to Dutch blog MobielKopen, China's Ministry of Industry and Information Technology (MIIT) has already confirmed three Galaxy S10 versions, including model numbers SM-G9700, SM-G9730, and SM-G9750. The numbering scheme is similar to this year's Galaxy S9 series, which has two devices, including SM-G600 and SM-G650. It's likely that the 5G version hasn't been inspected yet.
The certification doesn't reveal any details about the phone, other than listing model numbers and cellular bands, but it seems to indicate that the Galaxy S10 design and development are final, given that an entity such as MIIT has already inspected the phones. The Galaxy S10 entries have the same date, September 25th, as seen in the following table: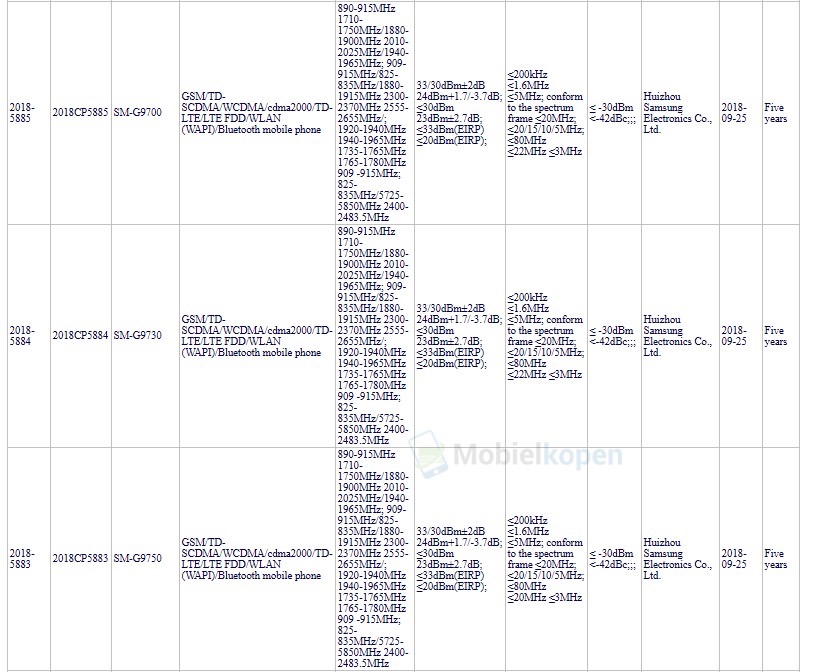 Samsung is expected to launch the Galaxy S10 as early as January, according to recent reports, at CES 2019. New Galaxy S models are usually announced at MWC in late February, but Samsung may do things differently next year, as the company is also supposed to launch the foldable Galaxy F in early 2019. It's believed that the foldable phone could be unveiled at MWC.