The long wait for Samsung's Galaxy Note 9 to be made official is finally over. The company on Thursday hosted a massive Unpacked press conference at the Barclays Center in Brooklyn, New York to take the wraps off of its flagship smartphone for the second half of 2018. Not that it was much of a surprise since literally everything there was to know about the phone had leaked in the months leading up to yesterday's event, but the Galaxy Note 9 is without question one of the hottest smartphones in the world right now. It offers a sleek, albeit familiar design and cutting-edge specs, as well as the most stunning smartphone display the world has ever seen. On top of that, the Note 9 actually sports a few compelling new features that its predecessor lacked. That seems like it should be obvious, but it's one area where the Galaxy S9 and Galaxy S9+ fell short earlier this year; not only did they look almost exactly like their predecessors, but they didn't really have any exciting new features that might warrant an upgrade.
Well, the same cannot be said of the Galaxy Note 9. Whether or not the phone's novel new features are appealing to you, it can at least be said that the phone does have novel new features. In fact, the Galaxy Note 9 is better in every way than its predecessor. Well… almost every way.
Though the appear to be nearly identical from afar, the hot new Galaxy Note 9 is a big improvement compared to last year's Note 8. It features slightly smaller overall dimensions, so it fits a bit better in the hand. Despite the smaller size, however, Samsung managed to fit in a larger 6.4-inch display compared to the 6.3-inch screen on the Note 8. Even more impressively, the Note 9 packs a massive 4,000 mAh battery into that tinier housing. The Galaxy Note 8 from 2017 only has a 3,300 mAh battery.
The Galaxy Note 9 has better cameras, more powerful processor options, and more available storage than the Note 8. In fact, the Galaxy Note 9 is the first Samsung smartphone with up to 1TB of storage, since the high-end model comes with 512GB of internal storage and it also supports a 512GB microSD card.
Samsung's new Note 9 supports faster LTE data speeds, it ships with a newer version of Android, it supports more advanced biometric authentication, and the high-end model has more RAM than the Note 8. And yet despite all of that, and despite everything else we've mentioned, there's one annoying way that the new Galaxy Note 9 is worse than last year's Galaxy Note 8. Here's everything you need to know in a single tweet:
Side borders are getting wider, ugly, ugly, ugly pic.twitter.com/rXiaLlDh1i

— Ice universe (@UniverseIce) August 10, 2018
Want a closer look at that image? Here you go: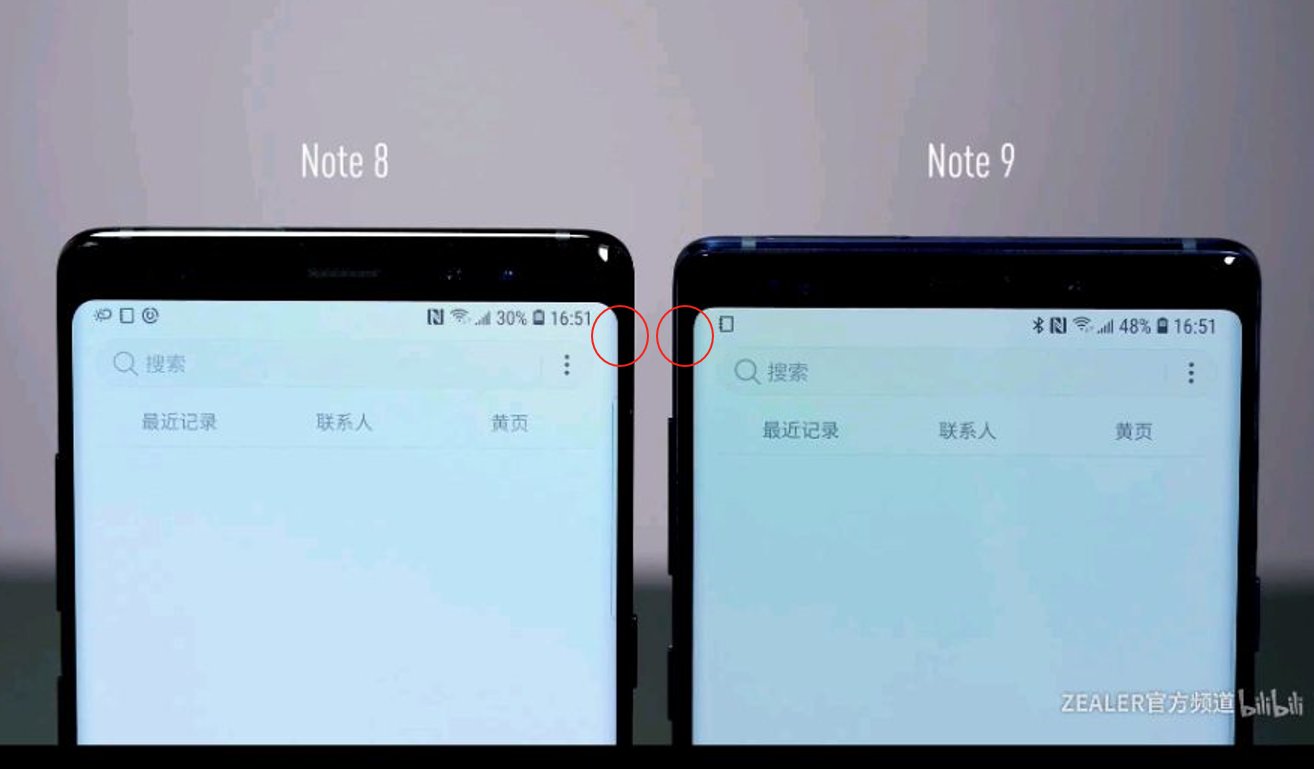 Is this a deal-breaker? No, it shouldn't be for most people. But in 2018 we're moving toward the all-screen smartphone design of our dreams. People want narrower bezels. They want practically no bezels at all. And yet as you can see in the image above, the Galaxy Note 9 actually has wider bezels on the sides of the screen than last year's Galaxy Note 8. The real shame of it is Samsung's "Infinity" display design is supposed to make it look like the sides of the screen curve down around the edge of the phone, like an infinity pool where all you see is water with no border. The Galaxy Note 9 actually takes a big step backward in terms of achieving the design goal that Samsung's own marketing name suggests.