Late last week, the release date for the Galaxy Note 8 appeared online. Korean-language site ETNews was the first to report that the Note 8 would be available on September 15th, but that isn't all that we wanted to know. When will preorders go live? Will consumers have a chance to demo the Galaxy Note 8 before it launches? Those questions and more appear to have been answered by a subsequent leak today.
Once again, ETNews leaked information about Samsung's plans on Wednesday by sharing the complete roadmap for the launch of the Note 8. As expected, the journey will begin on August 23rd, which is when Samsung is expected to unveil the Note 8 at an Unpacked event in New York City.
Following the unveiling, Samsung will hold demo events at Samsung Digital Plazas in South Korea as well as mobile carrier retail stores from August 25th through August 31st to give consumers the opportunity to go hands-on with the phone before they buy it. Then, from September 1st through September 10th, Samsung will open up preorders leading up to launch on September 15th.
You can see the entire schedule (albeit in Korean) in the leaked image from ETNews below: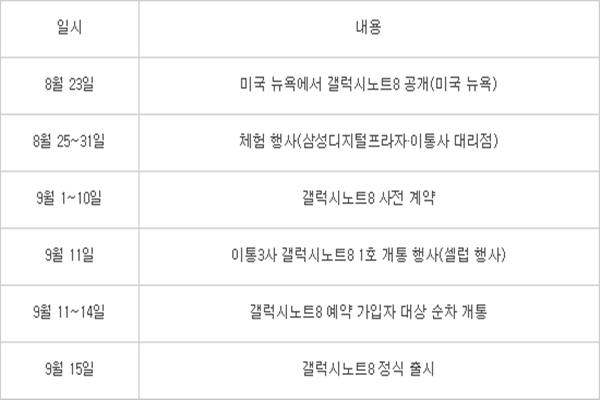 Other relevant events on the calendar include an special event for activation of first Galaxy Note 8 by three South Korean mobile network providers on September 11th and sequential activations of Galaxy Note 8 preorders from September 11th through the 14th. It's going to be a busy month.
It's worth noting that this is specifically the release roadmap for Korea, but considering how quickly the Galaxy S8 made its way to the West earlier this year, the US roadmap might look similar.