Samsung on Tuesday unveiled a brand new generation of affordable smartphones, the Galaxy A8 and Galaxy A8+ devices that make some of the Galaxy S8's best features more affordable.
Buyers looking for phones with Infinity Displays that don't break the bank will be able to check these out in stores in early January in markets around the world. But the best thing about the Galaxy A8 is that it brings good news about the next Samsung flagship, the Galaxy S9.
Check out the Galaxy A8's images in the following specs and features infographic, and look for the fingerprint sensor: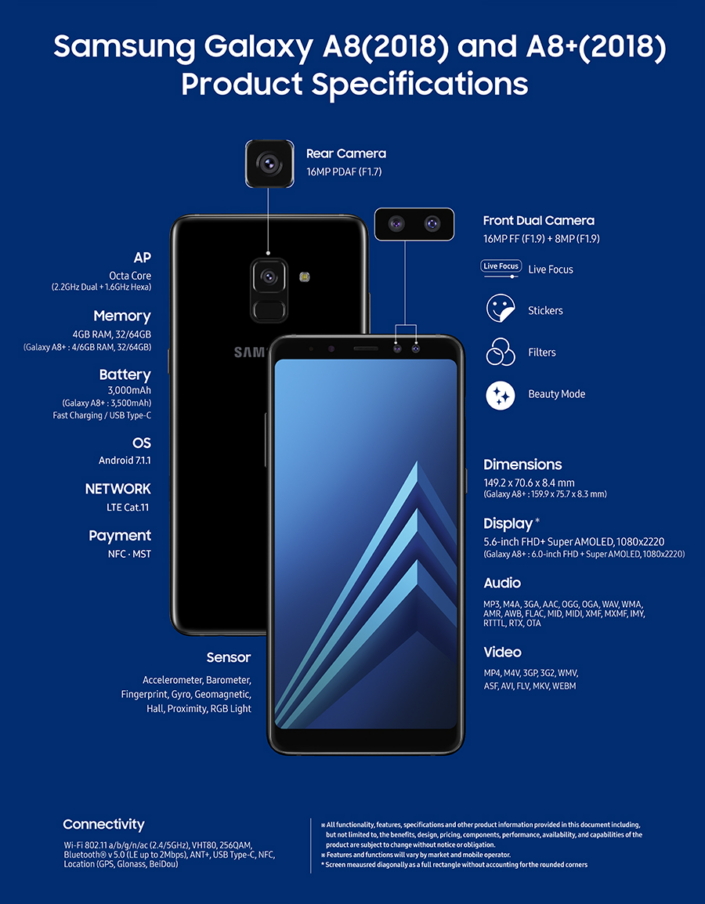 That's right, the fingerprint sensor is placed under the single-lens camera, a centrally located position that will surely be more comfortable to use. The flash, meanwhile, is positioned to the right of the camera module. It sure looks like Samsung learned its lesson the hard way and it's adapting accordingly. The fingerprint placement on both the Galaxy S8 and Note 8 models received plenty of criticism from users.
It's very likely the same camera and fingerprint sensor design will be used in other Samsung phones, including the S9 and Note 9 flagships of 2018. After all, that's what all the leaks say. We even have Galaxy S9 3D renders based on leaked CAD schematics that show exactly the same rear design.
The Galaxy A8 has one other interesting feature, a dual-lens front camera that's supposed to offer users better selfies, complete with camera effects seen on the Galaxy Note 8, which has a rear-facing dual shooter. It'll be interesting to see whether the Galaxy S9 will get a dual camera on the front. Rumors say that only the Plus model is in for a dual cam upgrade, but we're talking about the phones rear camera module.
Pricing details aren't available for the Galaxy A8 models, but Samsung will probably reveal them in the coming weeks.