Apple made headlines recently when it sued an Amazon seller over fake Lightning cables. According to the lawsuit filed by Apple, the company spent the last nine months buying iPhone cables, chargers and devices on Amazon. It determined that "almost 90 percent" of those products are counterfeit in some way.
If Apple's claims are true, there's a very good chance you have some fake iPhone accessories lying around your house. At worst, fake chargers can seriously damage your device and cause fires; at best, they'll just last for less time than a real cable. Here's how to tell the difference.
DON'T MISS: Apple's new MacBook Pro with touch bar on keyboard leaks ahead of reveal
As Lifehacker spotted, Apple has an entire support page dedicated to telling the difference between fake cables and the real thing. It's also worth mentioning that there are two different standards to look for here. Apple produces and sells its own iPhone accessories, but it also certifies third-party accessories (although not the standard USB-to-Lightning cable!) under the "Made for iPhone" program. Under the terms of that agreement, manufacturers pay a licensing fee to Apple to use the Lightning port and Apple's proprietary design and circuitry. That makes accessories more expensive, but it also makes them far more likely to work correctly.

The MFi logo should be found on the packaging of any officially certified accessory, like battery chargers, cases, docks or speakers — basically, anything that attaches to your iPhone. There's one exception to this, though — Apple doesn't certify any USB-C to Lightning cables, so any of those with an "Made for iPhone" logo is guaranteed to be fake.
As for spotting counterfeit cables against the genuine Apple product, there's plenty of details on Apple's site.
"An Apple Lightning to USB cable has "Designed by Apple in California" and either "Assembled in China," "Assembled in Vietnam," or "Indústria Brasileira" on the cable about seven inches from the USB connector. You'll see a 12-digit serial number at the end of this text."
Apple also provides a series of images to compare details between the genuine Apple cables and what you have have received.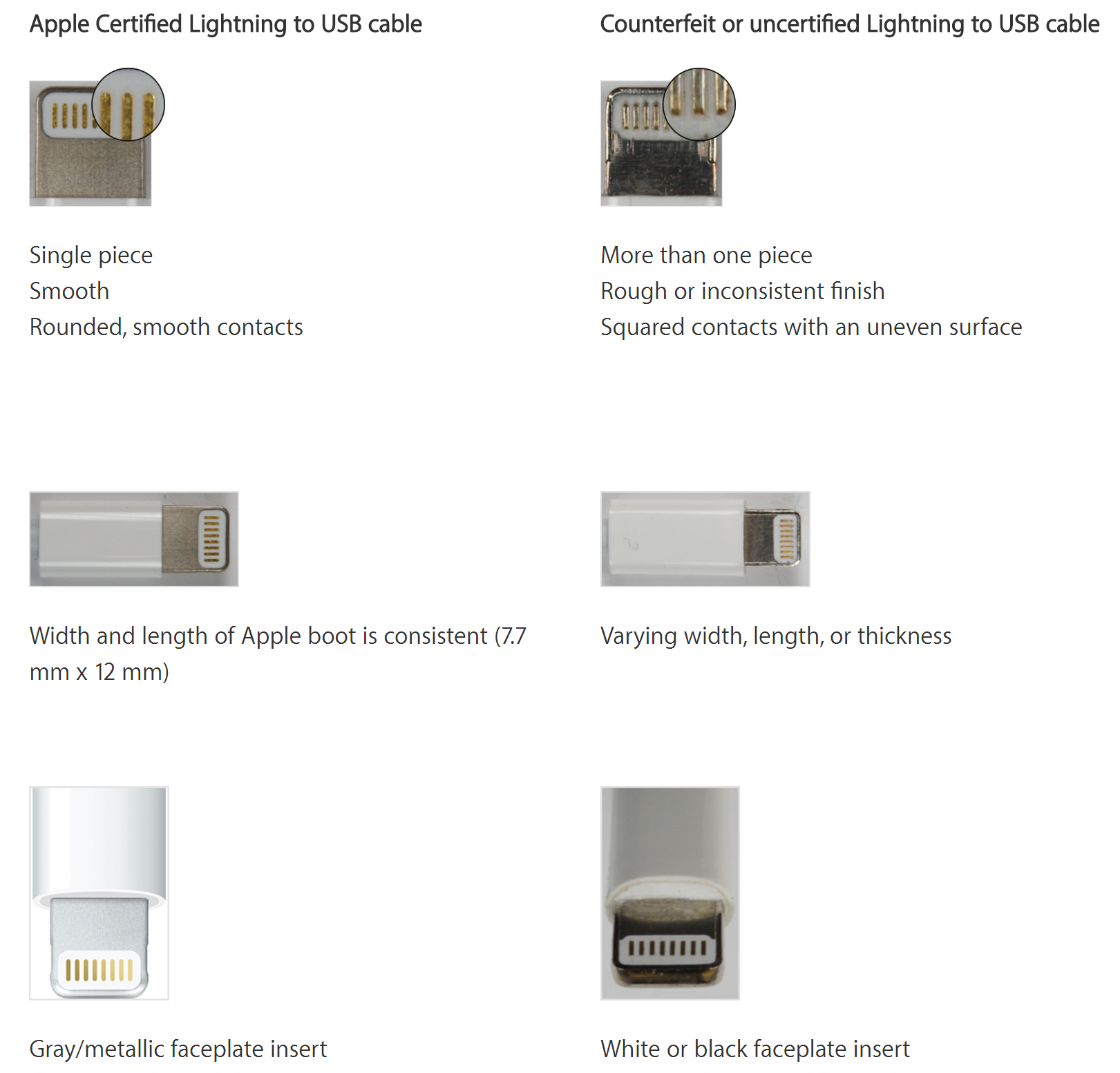 As for the chargers, the most important thing is to verify the power that the charger is capable of. USB ports and chargers can put out varying amounts of power. The big iPad chargers are more powerful than the smaller iPhone chargers, for example. Using a charger that's underpowered will damage your battery life and charge your phone more slowly, so it's always best to buy a charger that provides the maximum for USB: 5 volts, 2.1 amps.
The output voltage is normally written on a charger, and if it's not, that's a good sign that it is counterfeit. You should also look for UL or CE markings, which certify that a charger has been examined by a regulatory body.