Smart speakers are popular devices with tech-savvy consumers nowadays, and quite affordable. Well, most of them are popular and affordable. Apple's HomePod is neither, but then again, Apple sells it as a high-end speaker rather than a smart one.
If you're looking to get the cheapest possible smart speaker out there, then you can go with either Amazon's Echo Dot or Google's Home Mini. But before you buy, you should check out eBay's solid Google Home Mini deal, especially if you shop on the site a lot.
eBay users ready to spend at least $150 should also add the Google Home Mini in either Chalk of Charcoal to their cart, and apply the "PFREEMINI" code at checkout.
The only is valid through May 20th or until supplies last, and you can only score one Home Mini per account.
The deal is too good to pass up if you're an eBay regular, as you're practically scoring a free Home Mini to add to your home. If you were looking to buy more Minis for other rooms, then this deal is perfect, as you get to save $49, which is the speaker's usual retail price.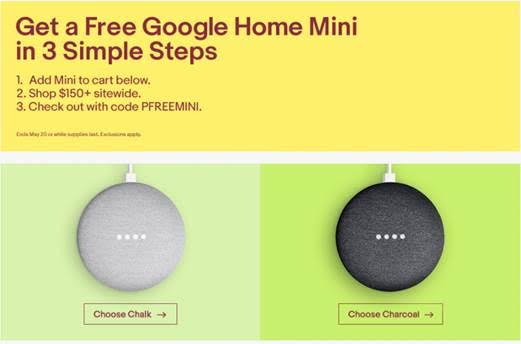 Even if you don't want to bring voice-activated gadgets into your home, a free Home Mini is still free and can be a great gift for a certain someone.
On the other hand, if you miss out on the deal, you should remember that the Home Mini is Google's cheapest Home-branded speaker, so it's often included in deals and promotions such as the one eBay is currently hosting.