It's been a very interesting year for smartphones. Samsung's Galaxy line is hitting new highs while Apple's iPhone X broke new ground with its edge-to-edge-to-edge display and sky-high price. But while these flagships stole the show, the one thing that we might remember most about 2017 is that it was the year that many tiny Chinese smartphone manufacturers decided that they wanted a piece of the US market.
Doogee is one of those companies, and its newly-launched Doogee Mix 2 is yet another great example of an Android smartphone with some impressive capabilities at a bargain bin price point. With four cameras, fingerprint sensor, face unlock, and a six-inch display, it boasts a flagship design for a fraction of the price, but that doesn't mean you won't notice the compromises.
Specs wise, the Doogee Mix 2 looks pretty solid on paper:
OS: Android 7.1
Chipset: Helio P25
RAM: 6GB
Rear camera: 16MP + 13MP dual lens
Front camera: 8MP (130°) + 8MP (88°) dual lens
Display: 5.99″ 1080×2160, 18:9 aspect ratio
When you hold it in your hand the very first thing you'll notice is that it's quite heavy. I'm a fan of heavy phones — generally speaking they tend to feel more durable, even if that's just a placebo — and the Mix 2 weighs in at 210 grams (just over 7.4 ounces). For comparison, the iPhone X weighs 174 grams, while the Galaxy Note 8 weighs 195 grams. Yeah, this is a beefy phone.
Most of that weight is likely due to the huge battery, which is rated at 4,060mAh. It'll get you through the day and then some,
The body is glass over metal, and it's both quite slippery and very prone to fingerprints. That being said, the phone is undeniably attractive. I was sent the silver (they call it champagne gold) version for review and it really is an eye-catching device. The rear is almost a perfect mirror, which might be a bonus if it weren't for the fact that I'm constantly in fear of dropping it. The phone comes with a screen protector as well as a case, which is a nice little bonus, and you'll definitely want to equip both.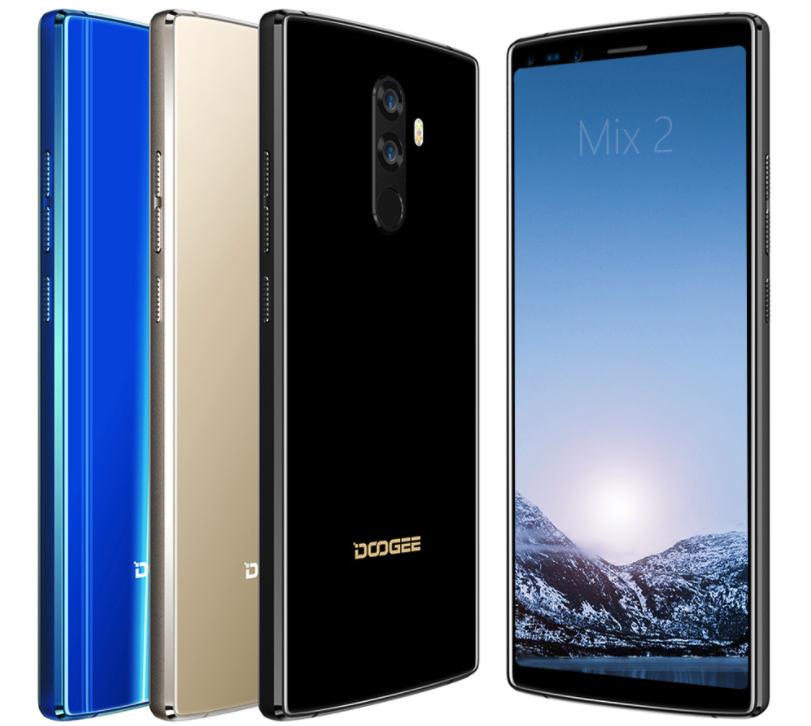 Performance wise, the octa-core processor and healthy helping of RAM make things feel quite snappy. I'd recommend ditching the default Android launcher for one of the other fan favorites, but aside from that I didn't experience any real issues with app performance or speed. I tried out a handful of games — Pokemon Go, CSR Racing, and a few others — and they all played quite well. You're not going to be blown away by anything this $249 phone can do, productivity wise, but I highly doubt you'll be disappointed, either.
If there's one aspect of the Mix 2 that reveals it to be the budget smartphone it truly is, it's the camera. The rear-facing dual lenses fall well short, despite boasting large sensors. In bright sunlight you'll get some great shots, but anything other than the clearest of conditions will result in blurry photos, especially if your hand isn't perfectly still. Curiously, the smaller, front-facing dual-lens camera actually provided superior results for many of the photos I took. If you're a selfie addict, you'll be well taken care, but the rear camera won't be winning any awards.
A couple of other downsides here include the lack of a headphone jack (shocker) and some spotty face unlock recognition. I'd say the face unlock feature works about a little better than half of the time, which isn't great, but that's pretty comparable with many other Android phones so I'll give it a pass there. On the plus side, the fingerprint sensor works pretty much flawlessly, and if you can get used to dropping your print on the rear of the device without searching, unlocking is a no-hassle affair.
For the seemingly insane price of $249, this is a seriously solid smartphone. Yeah, there are some drawbacks — the rear camera being the biggest — but that might be a small sacrifice if you just want a speedy, solid Android phone without breaking the bank. Doogee sells the Mix 2 right from its website (via Alibaba's AliExpress) for its suggested price of $249, but you can nab it for as low as $199 during regular flash sales on several import sites, including BangGood and GearBest.