Twitter may be too small to attend a tech summit at Donald Trump's New York lair, but the social network is still the preferred communication method for the president-elect. Trump keeps expressing his views on Twitter, a practice that might continue even after he takes office in January. But Trump isn't always very truthful on Twitter, and many of the claims he made using the social network during the campaign and after the election have been debunked by the media.
But you don't need to follow news sites to see if president Trump just lied to you. Now there's a tool that tells you in real time if that tweet you just read represents the truth, or whether it's just one more lie.
The tool was created by The Washington Post and it's available as a Chrome plug-in that will fact-check Twitter posts from Trump. The "RealDonaldContext" plug-in is available as a free download and was thought up by Post reporter Philip Bump.
"We made a tool that slips a bit more context into Trump's tweets," The Post noted. "It's still in the early stages, but our goal is to provide additional context where needed for Trump's tweets moving forward (and a few golden oldies)."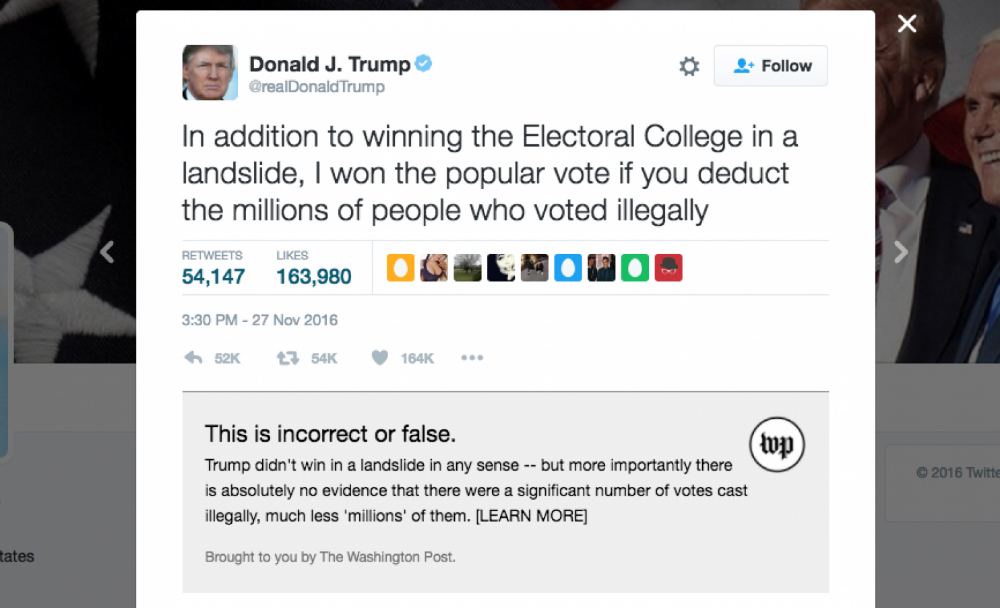 As you can see in the example image above, the plug-in adds fact-checking notes from the Post that appear as gray text beneath the tweet. You still need to click on individual tweets for it to work.
The tweet above was posted soon after The Green Party started its ill-fated campaign to recount the votes in three swing states. It was a complete lie that didn't need a fact-check. However, some of Trump's tweets might not be so easy to verify.
Each fact-check note includes a title, a short explanation, and a link to an article that explains the matter in more detail. The extension does not offer notes on Trump posts that are accurate, and the plug-in only goes back as far as November.