While the internet has understandably been distracted by a host of exciting announcements in recent months, from the reveal of Apple's Vision Pro headset to the debut of Instagram's Twitter rival Threads, generative AI is still making waves. On Tuesday, AI safety and research company Anthropic launched its upgraded large language model, Claude 2.
If you want to try Claude 2, head to Claude.ai/login and enter your email address. Input the code that you receive and then follow the instructions to create an account. You'll be asked to provide your full name as well as the name you want to be called. Confirm that you're at least 18 years old, agree to the terms and conditions, and continue.
Anthropic will then share the following warnings about Claude before you get started:
It may occasionally generate incorrect or misleading information, or produce offensive or biased content.
It is not intended to give professional advice, including legal, financial, and medical advice. Do not rely on Claude without doing your own independent research.
Once you click through all of the legal declarations, you will be presented with a chat box. Type in any prompt you can dream up to start a conversation with Claude. Here's what the AI told me when I asked about the reaction to Mission: Impossible – Dead Reckoning Part One: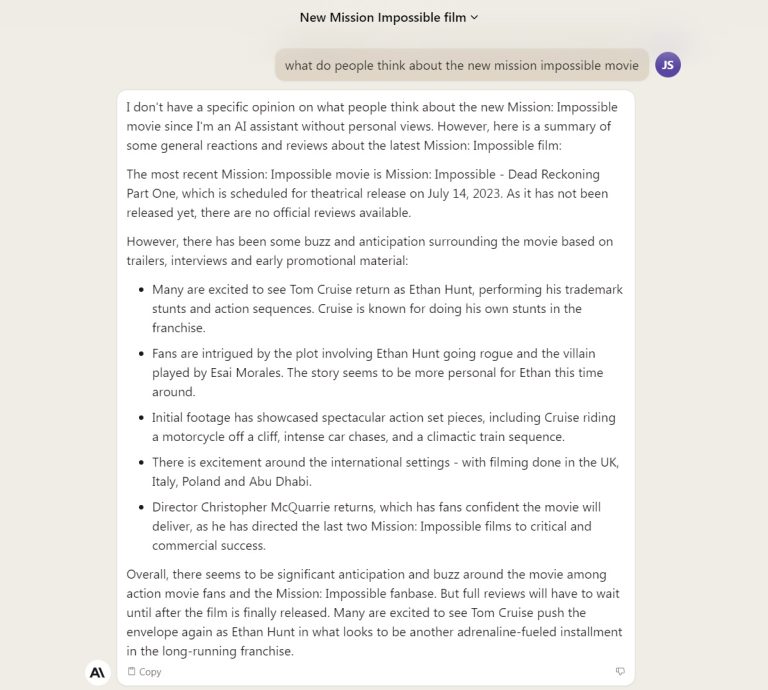 Anthropic describes Claude as "a friendly, enthusiastic colleague or personal assistant who can be instructed in natural language to help you with many tasks." The bot's test scores improved across a variety of subject matter, from math and coding to reading and writing, after the update. Users can also input up to 100,000 tokens (around 75,000 words) in Claude 2, which the model can digest, remember, and analyze in under a minute.
The Claude 2 beta chat experience is now available in the US and UK for free.