Can a sub-$500 PC tablet hybrid make you forget about Microsoft's Surface Pro 4 and embrace the increasingly popular direct-from-the-manufacturer purchasing model? Chinese gadget maker Chuwi believes it can, and the newly launched Chuwi Surbook puts Microsoft's high-end hybrid in its sights.
Chuwi has made its business model abundantly clear over the past year or so. The company takes the most basic elements of Microsoft's (and sometimes Apple's) hardware and builds competing devices for a fraction of the price the big dogs are charging. Chuwi's hardware never outdoes that of its much larger brethren, but it's done a good job of getting close enough that customers are willing to overlook their shortcomings thanks to the much lower price points. The Surbook is a fantastic example of how that strategy can pay off, though this sharp little tablet certainly isn't without its compromises.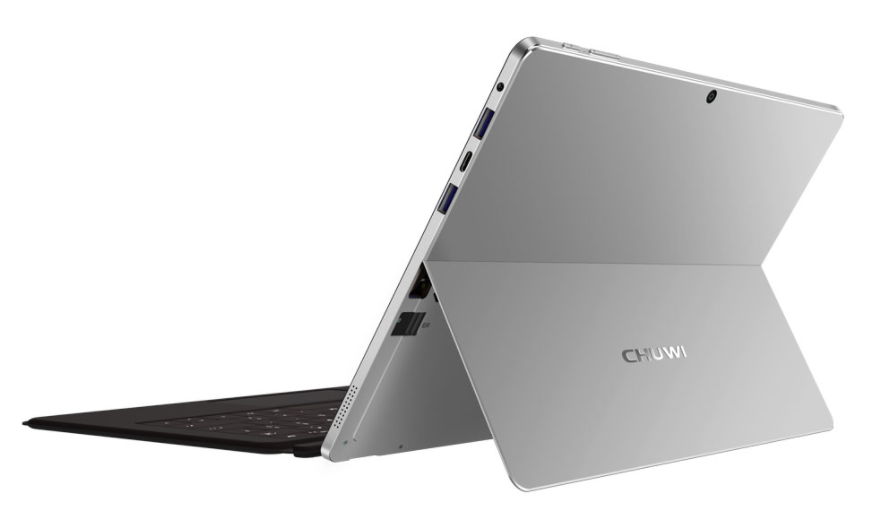 Starting with the good stuff, the Surbook is undeniably impressive in terms of design, managing to match the Surface Pro 4 in just about every aspect. Its 12.3-inch display boasts the exact same 2736 x 1824 resolution, which means the same pixel density and aspect ratio, as well as the same support for 10-point multitouch. It's available with either 64GB or 128GB of storage, and comes standard with 6GB of memory (the lowest-end Surface Pro 4 models come with 4GB).
On the CPU front, the 64-bit Apollo Lake processor is beginning to show its age a bit, but it manages to be just good enough to not get in the way of any common computing tasks. It won't stand up to the higher-end i5 and i7 options available with the Surface Pro 4, but it's performed well in testing with HD video streaming (I even streamed some 4K content just for kicks, and it didn't stutter, which is a great sign), as well as general web usage and productivity apps. You're definitely not going to be playing any high-end games on this thing, but for a $400-ish tablet hybrid I'd hope you already knew that.
One of the really fantastic things about this pint-sized PC replacement is that it's big on ports. It has two full-sized USB 3.0 ports and a USB Type-C port (which is also used for charging), and that's somewhat unheard of in the hybrid tablet space at the moment. Another bonus is the build quality, which shouldn't be anywhere near this good for the price. The all-metal case is sturdy and (I consider this a plus) heavy. It feels like a substantial machine, and if you're put off by flimsy plastic you're going to find a lot to love here.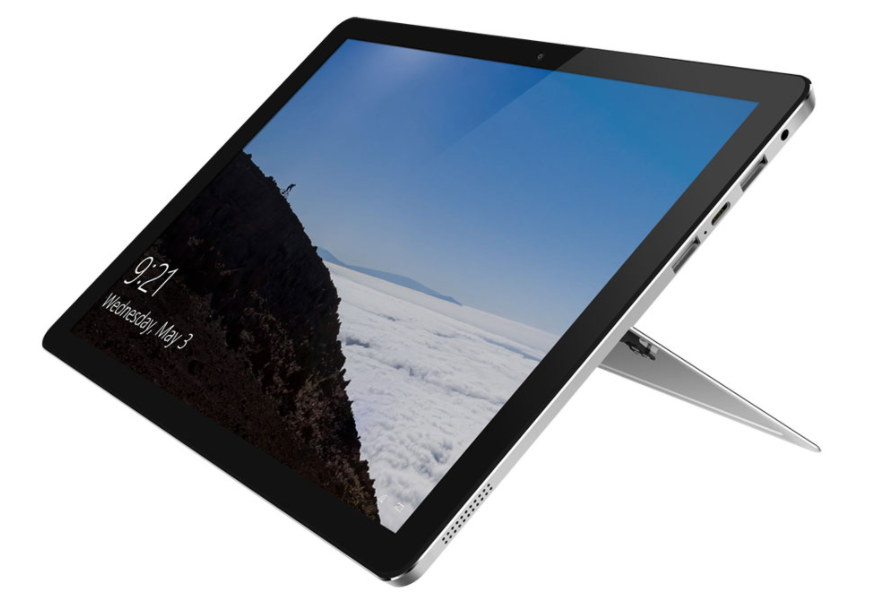 Like the Surface Pro 4, the Surbook supports a detachable keyboard. It secures via magnets, and acts as a sleep/wake feature when you "open" the keyboard by pulling it away from the display. A built-in kickstand lets you incrementally adjust the screen angle up to 125 degrees. The keyboard case is covered in a thin, felt-like fabric that's obviously a shot at mimicking the premium keyboard of the Surface Pro line. It doesn't feel particularly fancy, but it stops short of feeling cheap, which is nice.
Now, for the budget price you're paying, you expected some compromises right? Well, the backlit keyboard is appropriately clicky, but with very little key travel, which might be off-putting if you're accustomed to typing on a true laptop keyboard. Likewise, the touchpad can be a bit hit or miss, and since it provides no tactile click or feedback of any kind, it's not always easy to tell if you clicked on something or not. The issue of accidentally activating the mouse while typing rears its ugly head again here, and because Windows 10 recognizes the touchpad as a generic mouse rather than an actual touchpad, there's no easy way to set it to disable touch input while typing. The rear-facing 5.0MP and front-facing 2.0MP cameras are nothing to write home about, but they're not terrible.
This all adds up to a pretty interesting option for anyone considering a Surface Pro 4. For the price — the Surbook is up for pre-order at a price of $428.99, with the keyboard dock adding another $90 to that total, along with an optional stylus for slightly more — it's less than half of the price of Microsoft's lower end Surface Pro 4. I wouldn't recommend it as a substitute for an i7-equipped Surface Book — if you're in the market for a multi-tasking monster, this isn't the hybrid for you — but the Surbook is an incredible value for a mid-range hybrid.