Five years after acquiring MetroPCS, T-Mobile has fully rebranded its prepaid brand towards a more premium marketplace. Metro by T-Mobile, as the company is now known, has announced two new unlimited — but still prepaid — data plans, and has also upped the data limits on some of its existing offerings.
The two new plans are $50 or $60 per month respectively, and both come with "unlimited" data offerings similar to T-Mobile's One plan. The obvious advantage is that the plans are prepaid, meaning there's no contract, no credit check, and no obligations.
Both plans give you "unlimited" data, with the usual caveats. Go over 35GB of data in one month, and you'll face deprioritization, which means that your data might be slower at peak times. Both plans also limit your video streaming to 480p, so you can't have a high-definition Netflix binge on these plans, and there's no add-on for HD video. The $50 plan comes with 5GB of hotspot data, while the $60 plan has 15GB of hotspot data.
The biggest difference between the two plans is that the $60-a-month deal also gets you a free Amazon Prime and Google One membership. Google One is a subscription service that gets you a free 100GB of Google Drive storage, among other things, but the Amazon Prime membership is likely to be the big draw. At $12.99 a month, it's valuable, and since so many households subscribe already, you could save money by getting your membership through your phone plan. Sprint announced an unlimited plan including Amazon Prime last month, but it's more expensive and postpaid, so they aren't directly comparable.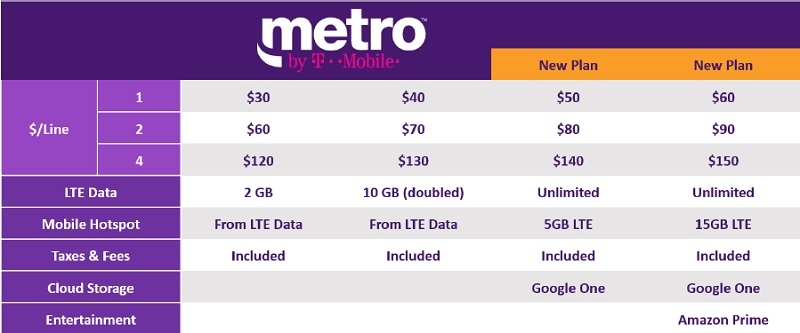 Metro's non-unlimited plans are also sticking around, with some changes. The $40-a-month plan includes 10GB of data, although you can't use any of that for a mobile hotspot. Most notably, all the plans now include taxes and fees, which is a first for the prepaid industry.
The most pressing question about Metro's rebrand is the timing. MetroPCS and the Sprint-owned Boost Mobile make up a huge chunk of the prepaid market, and with Sprint and T-Mobile trying to merge right now, their future is in question. T-Mobile has told the FCC that the merger won't affect anything because Metro and Boost go after different segments of the market, something that doesn't seem quite right when you look at their physical retail locations and the plans they offer.
By suddenly pivoting from cheap prepaid service to more expensive unlimited plans, Metro can now claim it goes after the "premium" prepaid space, while Boost Mobile manages the lower end of the market. It's a clever argument; The only question is whether they'll be able to persuade regulators that it's not just smoke and mirrors.