The entire crypto market lost tens of billions in just a matter of days. Again. We're looking at Bitcoin's worst performance for the month, as the most popular cryptocurrency in the world dropped below $8,000 again. The other digital coins aren't doing much better — and we've rarely seen any of them outperform Bitcoin.
At the time of this writing, Bitcoin was trading just under $8,000, which represents a more than 13% drop compared to Wednesday. And it's not like Bitcoin was doing any better on Wednesday or earlier this week. The other coins also saw consistent drops over the last couple of days. The other nine coins in the top 10 are currently trading anywhere between 13.13% and 21.48% lower than early Wednesday's prices.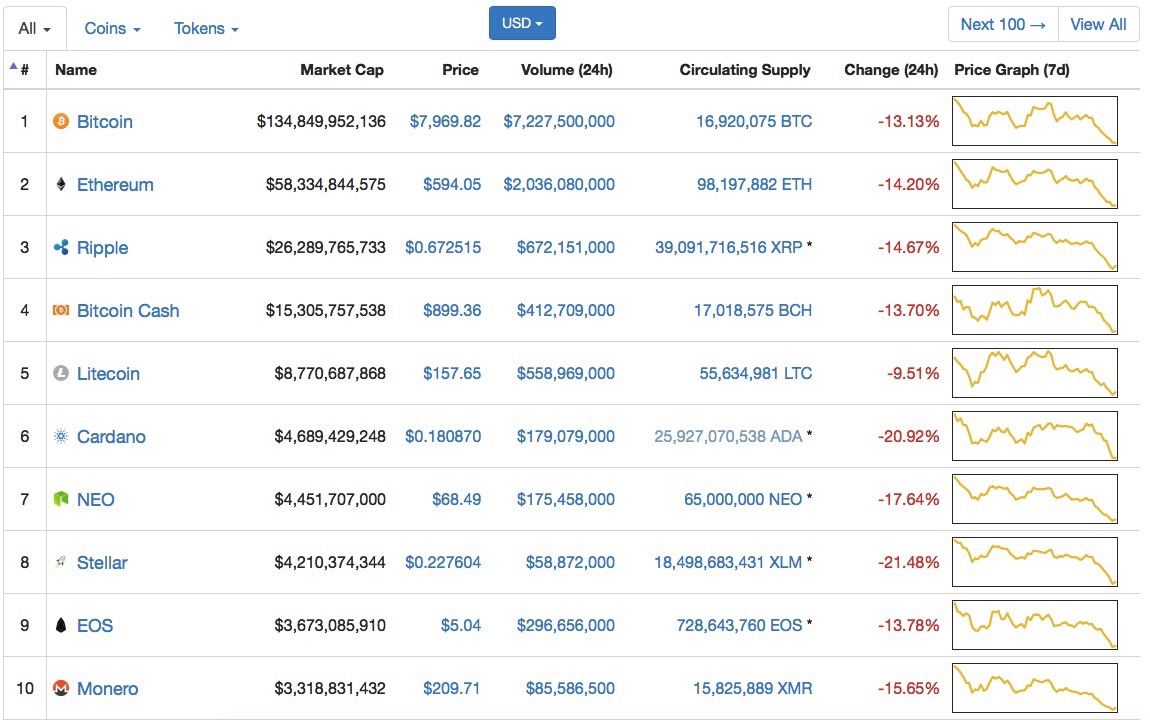 Also notable is Ethereum's performance, which dropped below $600, which is currently its worse performance of 2018. The previous low for ETH was at $689, and it all happened during the early February bloodbath. That's when Bitcoin's price dropped below $6,000 for the first time since November.
The entire crypto market is currently valued at $318 billion, down from $335 billion earlier this week, and $400 billion last week. All this might sound alarming, and to some folks who invested large sums of money in crypto trading, it is. But this is just another Thursday in Bitcoin universe, and such price swings are only to be expected.
The entire crypto market is facing increased scrutiny from all sorts of regulators around the world, who are worried that speculation on digital tokens can be used for illegal purposes, including money laundering.
Perhaps the worst news for Bitcoin and the crypto market came from Google on Wednesday. The company announced that starting June 2018, it will not allow ads on its Adwords network for anything related to cryptocurrency. We've seen this happen earlier this year with Facebook and China's most important internet companies and social networks.
Will Bitcoin plunge to new lows or recover? Your guess is as good as mine. Unfortunately, there's no way to predict which way the price will swing next, so tread lightly if you're planning to invest in Bitcoin.