The market for consumer grade Wi-Fi routers had been stagnant for more than a decade until a new trend recently swept the industry. Setting up a wireless network in one's home used to mean heading out to a local electronics store, buying the cheapest blue Linksys box in the store, and living with spotty coverage. On top of that, those old Wi-Fi routers had all sorts of issues and typically had to be restarted at least once a week — sometimes once a day — because they would slow down to a snail's pace or stop working completely. It was a nightmare.
Fast-forward to recent years, and consumers now have more options than ever when it comes to home Wi-Fi networks. What's more, technological advancements and increased competition have resulted in massive quality improvements, much better reliability and faster data speeds. The biggest strides that have been made recently have come courtesy of a new wave of mesh networking solutions that claim to improve on every aspect of the home Wi-Fi experience… but do they deliver?
We tested all of the top mesh Wi-Fi systems on the market right now, and in this post we'll show you the best of the best.
Best overall: AmpliFi HD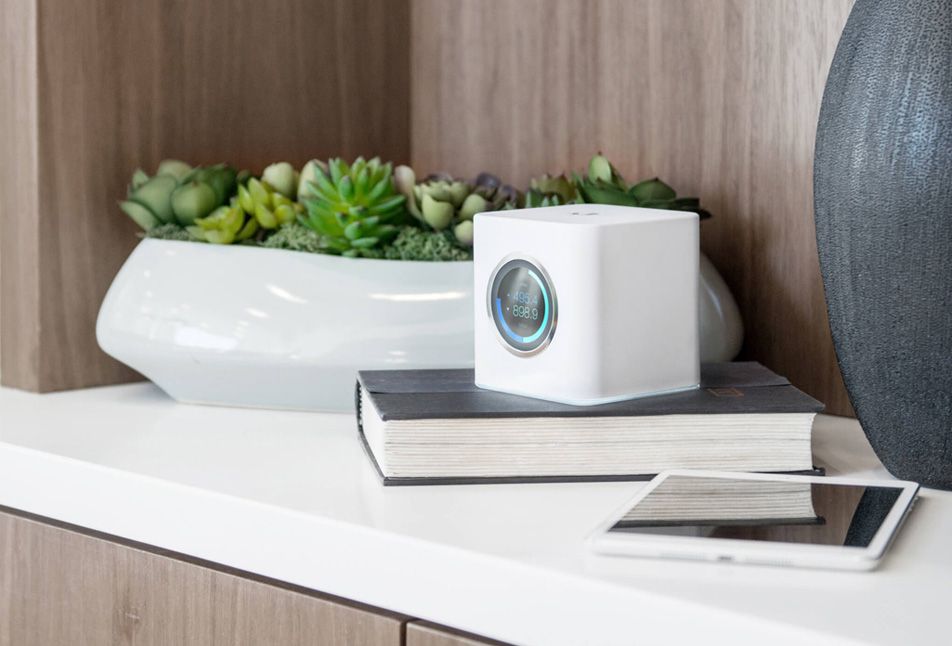 If you're a savvy user who pays for top-tier high-speed internet service and wants to take advantage of every last bit per second, there is no better mesh networking system on the market right now than the AmpliFi HD from Ubiquiti Networks. We first covered this Wi-Fi mesh system last summer before it launched, and we spent a great deal of time testing it at that point. After revisiting the system again while researching and performing tests for this article, we're even more impressed than we were back then.
AmpliFi HD is a three-piece solution that consists of a main router and two mesh antennas, which Ubiquiti calls "wireless super mesh points." Of the three mesh systems Ubiquity sells, the AmpliFi HD is the most expensive for a few reasons. First, it's the only one of the three systems with a base station and mesh antennas that all support wireless AC. Beyond network technology, the AmpliFi HD features 6 radios and 18 MIMO chains that support throughput of up to 5.25Gbps compared to four radios and speeds of up to 2.35Gbps with the mid-tier model.
It should be noted that while the AmpliFi HD system is indeed the most expensive Ubiquiti sells, it's a tremendous value. Despite outperforming every other mesh solution we tested in both speed and coverage, AmpliFi HD is still priced in line with other high-end consumer systems at $338 on Amazon.
Like most mesh systems we tested, setting up the AmpliFi HD is quite simple. The main base station connects to a cable modem via Ethernet, and the two mesh antennas plug directly into wall outlets elsewhere in the home. Indicator lights on the mesh antennas display signal strength so that users can ensure each antenna is placed at a good range from the base station, and the accompanying mobile app also displays signal strength at each of the system components.
According to Ubiquiti, AmpliFi HD is capable of blanketing up to 20,000 sq ft with Wi-Fi signal. We didn't have a tape measure quite that long, but we can confirm that every inch of the house in which we tested the system was covered, from basement to attic. In fact, we were still able to connect to the network reliably half a block away from the suburban home.
The AmpliFi mobile app used to set up and manage the system is wonderfully designed and easy to use. With the app, users can see the status of the network, perform tests and diagnose problems, update firmware, see all devices connected to the network, block network access by device, and manage a guest network that can be left on or can be made available for a certain amount of time. Users can also restrict the number of connections that the guest network will support.
In testing each mesh system, we performed a series of speed tests at specific points in and around the home, and we found the AmpliFi HD system to be consistently faster than any other system we tested. We also performed congestion tests by initiating large file downloads on multiple devices and once again, AmpliFi HD outperformed rival systems.

For power users looking for class-leading coverage, blazing fast Wi-Fi speeds, and robust features, AmpliFi HD is our recommendation.
Best system for average users: Plume
The fastest possible data speeds and control over every aspect of a network are important to some users, but not to everyone. Many (or even most) consumers just want something that works and that's simple. For these users, we recommend Plume.
Plume is a mesh Wi-Fi system by definition, but that's where similarities with other systems we tested end. In fact, it's unlike every other system out there in so many ways that it's difficult to know exactly where to begin. How about we start here: The Plume system doesn't even use a router.
This multi-unit system can have two components or 10 components depending on your needs, but each component is exactly the same. Plume calls them pods, and they plug into standard wall outlets anywhere in a home. The idea is that the user plugs in one pod in each room of the house, and then Plume's cloud-based system does the rest of the work.
It's seriously that easy — plug one pod into the wall and connect it to a cable modem via Ethernet, and then launch the Plume app to begin the setup. The app detects new pods as you plug them in, and connects each new pod to the mesh network as you go. Once you've plugged in all your pods, the system begins running diagnostics and optimizing the network behind the scenes.
Instead of using a local router to do the "thinking," Plume is a cloud-based system so all data is analyzed and managed remotely on cloud servers. No, that doesn't mean the user's web browsing history or any private data is being stored on Plume's servers. Web traffic doesn't even touch Plume's servers. Plume merely receives Wi-Fi parameter data from pods (signal strength between pods, interference, number of devices connected to each pod, signal levels, etc.) and manages the user's network remotely.
The initial optimization after setup takes between 15 and 30 minutes after the pods are first installed, and then the network is fully optimized after about 24 hours — things may be a bit slower than normal until the first 24-hour optimization is complete. After that, Plume constantly monitors which rooms have the heaviest loads and most connections, and it makes adjustments behind the scenes to ensure everything stays optimized.
Another cool aspect of the Plume system is that apart from the two Wi-Fi radios in each pod, there is also an Ethernet port on each unit. This means the user has access to a wired Ethernet connection in every room with a pod installed, though the backbone of the connection will still be wireless.

Plume sells its mesh Wi-Fi system through an online store on the company's website, where a 6-pack of pods costs $329 and a 3-pack is $179. Individual pods can also be purchased for $69 each.
Honorable mention: Netgear Orbi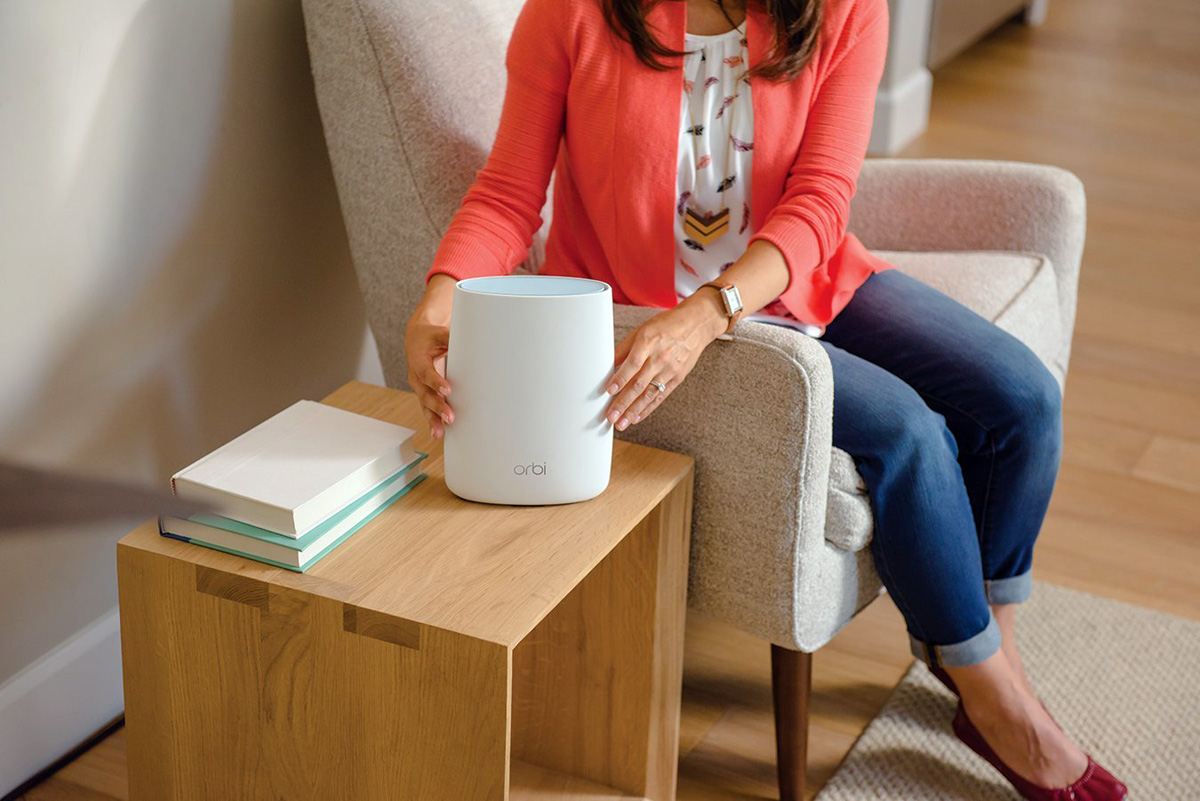 While the Netgear Orbi didn't find itself at the top of our list, the system deserves an honorable mention because it's such a great solution. Orbi is remarkably simple to set up. It also has intelligent features such as a dedicated Wi-Fi connection from unit to unit that doesn't handle any other traffic, therefore ensuring the fastest possible connection between Orbi units. In our testing, we found that the Orbi offers data speeds that rival our top pick, the AmpliFi HD.
Netgear's mesh Wi-Fi solution couldn't come anywhere close to matching the range of the AmpliFi HD system though, and it also loses points due to its high price tag. At $380, Orbi is over $40 more expensive than the AmpliFi HD despite offering less than one-quarter of the coverage of Ubiquiti's system.
—
Other systems we tested: Luma, Almond 3, eero, Portal, Google Wifi