I have a confession to make. Despite all the fantastic routers we cover here on BGR that offer cutting-edge technology and long range, I have used one of Apple's Time Capsules for home Wi-Fi for the past few years. It's not even one of the newer models, which would be bad enough. It's an old flat one, and while it does a great job of backing up my Macs, it does an awful job of blanketing my house with fast Wi-Fi signal. But I had it and it was easy, so I used it.
DON'T MISS: Inside the CT6: It doesn't take a Tesla to surround yourself with tech
I've endured years of being too lazy to do anything about all the dead spots in my house — my home office is literally 30 feet from the Time Capsule, separated by one flight of stairs and open air, and yet my iPhone still can't see the device's 5GHz network while I'm sitting at my desk. I'm not sure how that's even possible, but I use powerline adapters to connect my work computer to the internet so my phone's Wi-Fi connection isn't a huge deal.
Every so often, however, the fact that I pay Time Warner Cable almost $100 each month for internet service hits me. That's just internet service, mind you. No TV and no home phone. $100 each month for internet service that doesn't even work reliably in some rooms in my home because my router is so bad.
So, a couple of weeks ago, I decided to do something about it.
I had already tested a few different routers and was leaning toward the TP-Link AC5400 when someone from Ubiquiti Networks coincidentally reached out and offered me an AmpliFi HD system to test. I was familiar with the company's first AmpliFi router, which is one of several next-generation home networking devices. This new flock of routers look to remove the pain from home networking by offering a simplified setup process and enhanced performance. One of these next-generation routers even won a CES 2016 award from BGR earlier this year.
The timing was right, so I agreed to give the AmpliFi HD a shot — and I'm glad I did.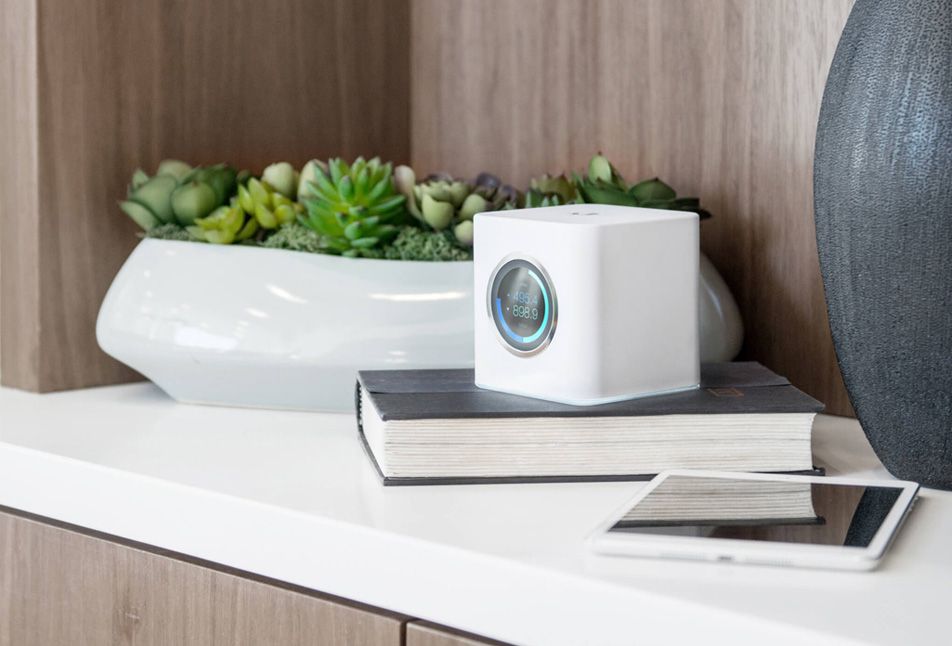 The AmpliFi router itself is an adorable little cube with a clear base that glows and a circular touchscreen display. Tapping the display cycles through different screens that can show information such as the amount of data you've transferred, real-time upload and download speeds, or a clock. And don't worry about that glowing base, because you can control the brightness or even turn it off completely. The router also has a configurable schedule feature that can turn the base and the screen off at night and back on again in the morning.
In addition to the base station are two antennas that Ubiquiti calls "wireless super mesh points." These are remote antennas that can be plugged into any wall outlets around your home to extend the AmpliFi system's range.
I'm not sure how configuring the AmpliFi system could be any simpler. In fact, you don't even have to turn on your computer. Simply download the company's free companion app on your iPhone, iPad or Android device. The initial setup of the base station took me about a minute using the iPhone app, and adding the two mesh points was just as quick once I found good spots and plugged them in.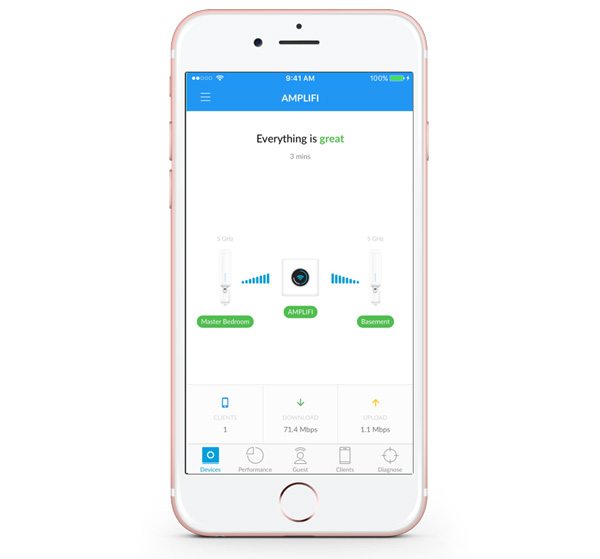 AmpliFi's app has a simple interface that makes controlling the router a breeze. From within the app, you can monitor network status, diagnose and troubleshoot any problems that arise, run speed tests, enable a guest network, and see information about all of the devices connected to the network. You can also reboot or reset the system using the app, and adjust settings such as port forwarding and security.
Some of the device's best features are hands-off, as the case should be with any wireless router. For example, band steering constantly monitors connections and steers them toward 5GHz whenever possible. The router can also monitor other Wi-Fi signals in the area and adjust its broadcast channels to avoid interference.
In terms of performance, I shouldn't even have to say that things have improved a bit compared to my old Time Capsule. With one mesh point centrally located on my first floor and the other centrally located on my second floor, I've yet to find a spot in my house where my phone shows anything less than full Wi-Fi strength. In fact, I have to go outside and walk about 50 feet up my street before the signal begins to fade.
My connection speed varies a bit depending on how far I am from the base station or a mesh point, but it's consistently fast. In my home office, where my iPhone could never even see my 5GHz network in the past, speed tests are generally within a few Mbps of my wired powerline connection. Using my Time Capsule, I'm lucky if I see speeds that are half as fast.
Ubiquiti makes three different AmpliFi models dubbed AmpliFi, AmpliFi LR (long range) and AmpliFi HD (high density). The base station looks the same with each kit, but the latter two models offer longer 20,000 sq ft range. The AmpliFi LR model has four total radios and a maximum speed of 2.35Gbps while the AmpliFi HD version has six radios and a max speed of 5.25Gbps.
The AmpliFi costs $199 and new orders ship immediately. The other two models are currently available for pre-order, with the AmpliFi LR priced at $299 and set to begin shipping later this month, and the $349 AmpliFi HD slated to begin shipping in September.