The conversation surrounding Tesla and its lineup of electric vehicles has changed over the past 12 months or so. "Electric" had been at the center of every Tesla conversation for a long time. Tesla succeeded not only in creating an electric car that was desirable and popular, it forced the entire industry to dive into EVs years earlier than they otherwise would have. A decade earlier, perhaps.
So now, conversations involving Tesla typically focus on technology. The Model S and Model X are packed full of exciting new tech, Autopilot has been a game-changer, and Tesla's over the air software update system is nothing short of revolutionary for the automotive industry. Who would've thought even a few years ago that you could park your car in the garage one night and wake up the next morning with new features?
But Tesla is hardly the only game in town when it comes to exciting new tech.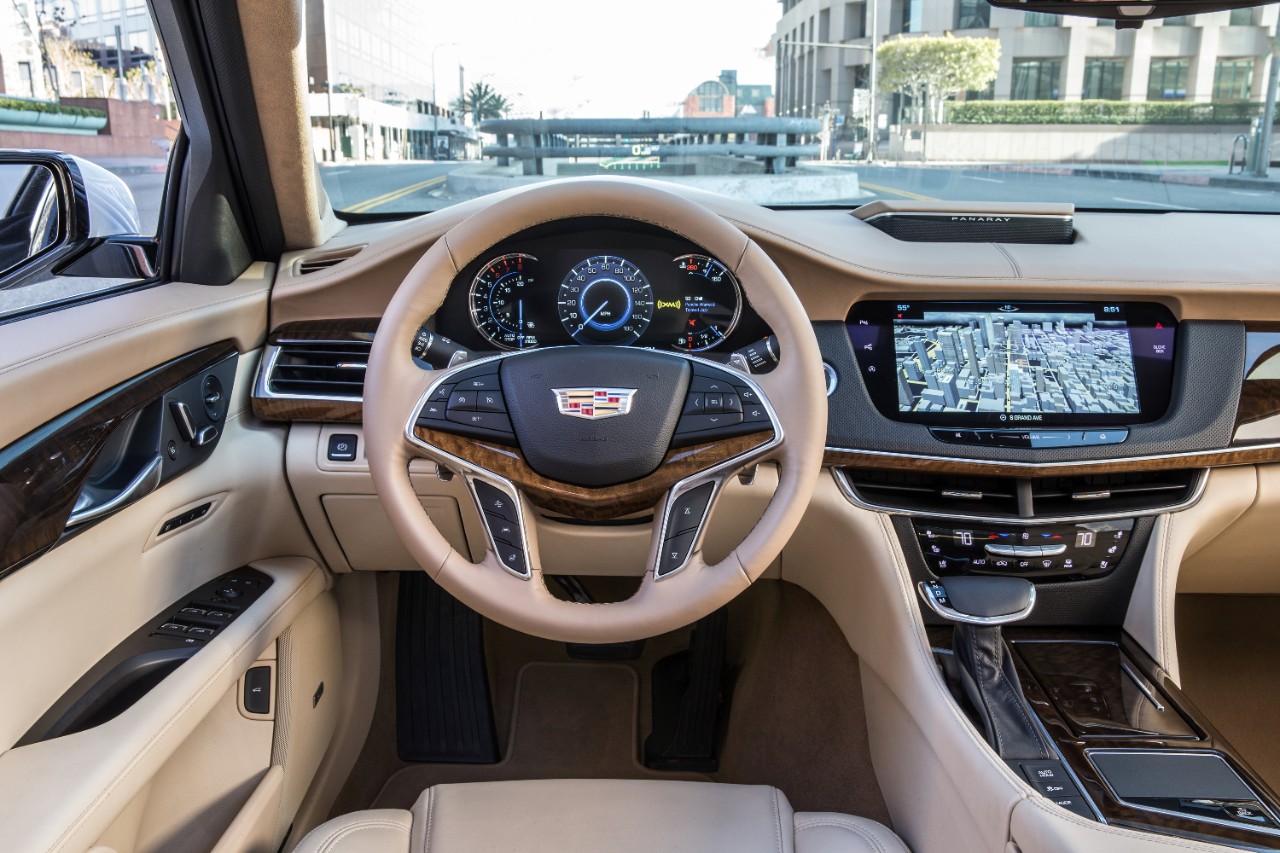 Until last month, the last time I had driven a Cadillac was nearly 15 years ago. The newer design identity that has run through Cadillac's lineup for more than a decade now is sharp and modern, but it's simply not a brand I have spent much time with. So, despite how long it had been since I had last sat in a Cadillac, I wasn't surprised at all by how sleek and sharp the 2016 Cadillac CT6 Platinum was when a loaner was dropped off at my house.
What did surprise me, however, was the incredible amount of cutting-edge tech that Cadillac managed to cram into its latest premium sedan.
The 404 hp 3.0L V6 twin turbo engine is a beast, and it had better be considering the Platinum model's 4,400 lb curb weight. The leather, wood and alcantara interior are sleek and sexy. The seats are comfortable and supple, the ride is smooth, and the exterior styling is wonderfully aggressive. But I don't want to talk about any of that… I want to talk tech.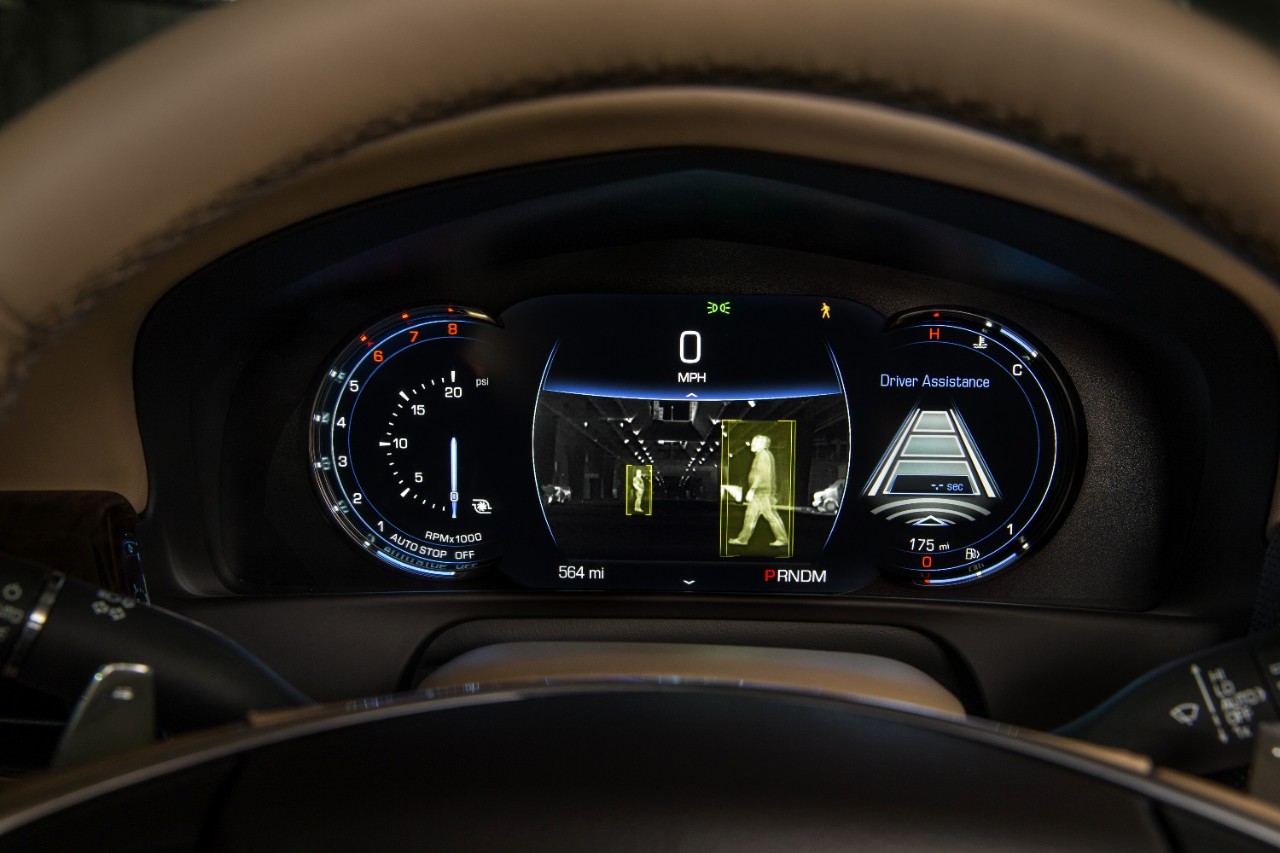 Technology is the star of the show with Cadillac's CT6 Platinum, inside and out. Some of the car's features are novel while others will be familiar to luxury car owners, but everything comes together seamlessly to create an experience that oozes luxury and convenience. Nothing is overbearing and nothing is cumbersome — the technology is there to improve your experience and to retreat when it isn't needed. It never gets in the way.
I drove the Cadillac CT6 Platinum for a week last month and while full-size cars this huge aren't typically my cup of tea, I loved every minute of it. Let's run through just a small sampling of the standout tech baked into Cadillac's new flagship sedan.
10.2-inch touchscreen control center: There are five different screens in the car, but the largest is a capacitive touchscreen with 720p HD resolution in the center console. Cadillac's CUE infotainment system can be controlled here but unlike Tesla, Cadillac also includes dedicated physical buttons to adjust commonly used features like air conditioning and audio volume. This is a much safer approach compared to forcing the driver to always hunt and peck on a huge display.
Digital dashboard: The CT6's second screen can be found behind the steering wheel, where the entire instrument panel has been digitized. The look is great, but the real benefit is the versatility. A wide range of information is available there, but one feature in particular is my personal favorite…
Night vision: When driving at night, the driver can enable a fantastic thermal imaging feature that displays a "night vision" screen at the center of the instrument panel. Night Vision (pictured above) gives drivers a clear view of things that would otherwise be invisible in the dark, and it even draws attention to pedestrians, animals and parked cars that might otherwise go unnoticed by highlighting them with yellow boxes.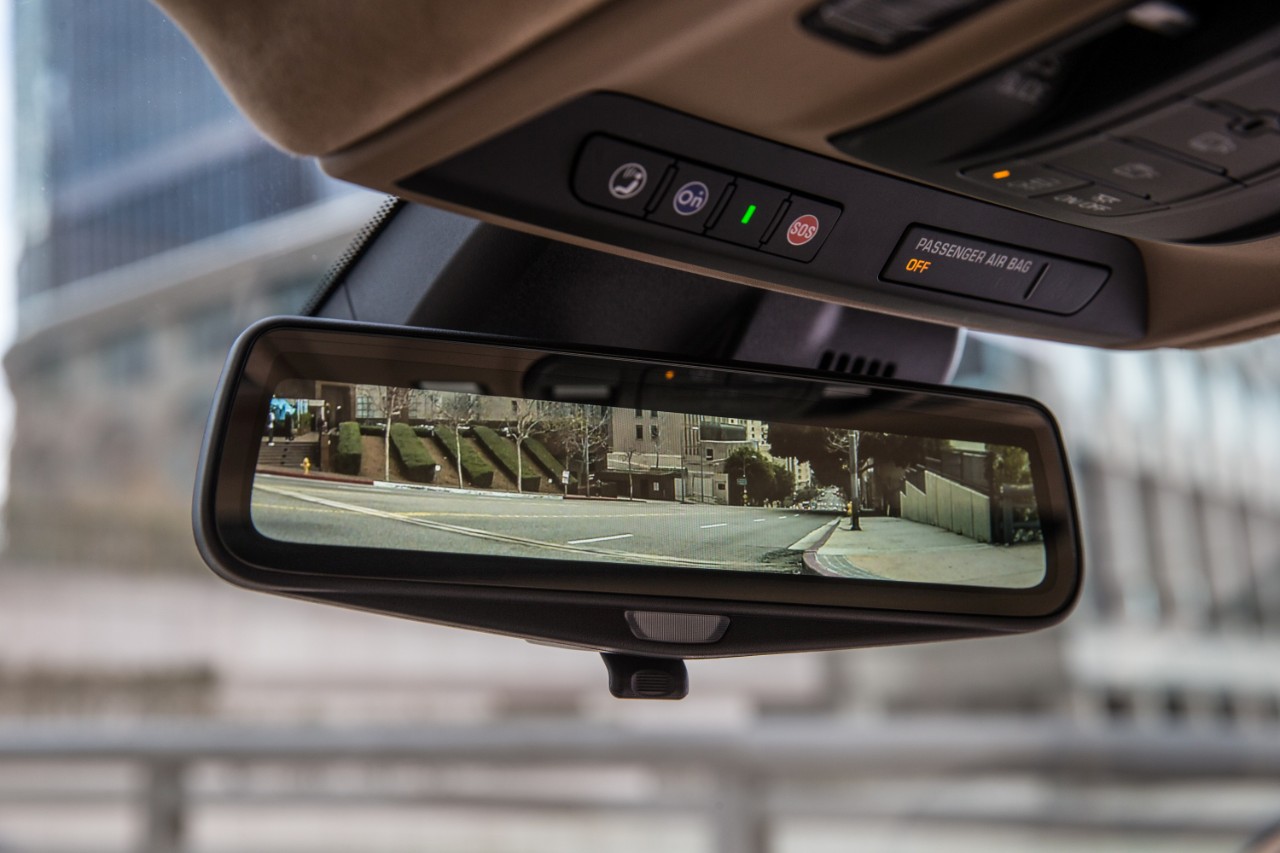 Rear camera mirror: The CT6 packs what looks like a typical rearview mirror, but it actually hides the car's third screen. Flipping the toggle that would normally switch a rearview mirror between day and night mode activates a full-screen view of everything behind the car. It's also wide-angle, so the driver has much more visibility than he or she would with a conventional mirror.
Rear multimedia system: The fourth and fifth displays in the car are only visible when the rear passengers tap a button on the arm rest (or on the wireless remote) to reveal motorized 10-inch screens that retract into the backs of the front seats. Controls and information display here, as will any media playing back from the built-in DVD player or a connected smartphone. The car also comes with two pairs of wireless headphones, one for each rear passenger.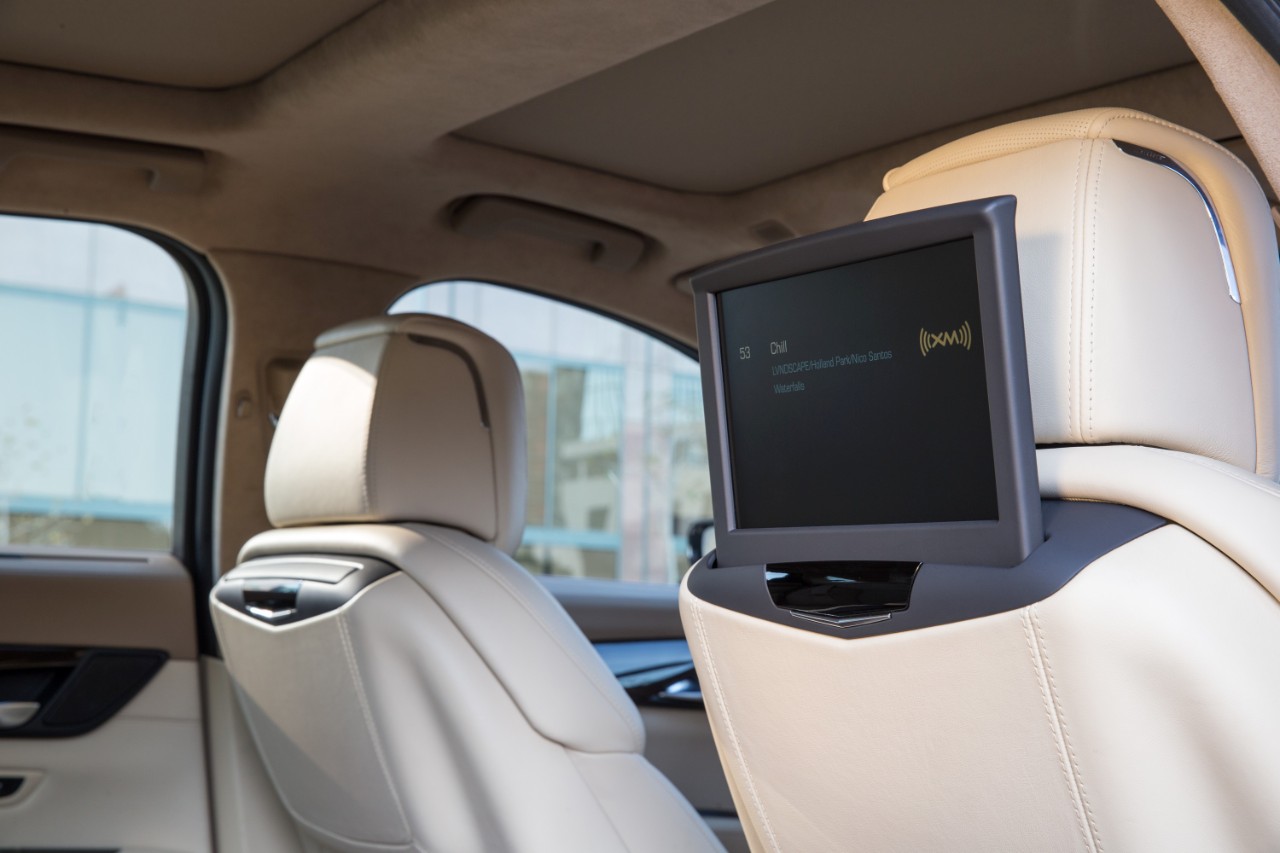 Head-up display: It might not be another screen, but the CT6 Platinum I drove included a head-up display, or HUD, that can display key information such as speed, RPM, navigation directions and warnings when pedestrians are on the road ahead.
Bose Panaray sound system: Bose audio systems sound great in any car, but the CT6 features 34 speakers — that's right, thirty-four — that are strategically placed all around the interior, including in the headrests.
Integrated wireless phone charger: Do you have a smartphone with built-in Qi wireless charging support. Place it on the covered pad just in front of the arm rest and it'll charge wirelessly while you drive.
Wi-Fi hotspot: A deal with AT&T provides 4G LTE connectivity to the car, which in turn broadcasts secure Wi-Fi for any laptops, tablets or smartphones in the vehicle.
Apple Car Play and Android Auto support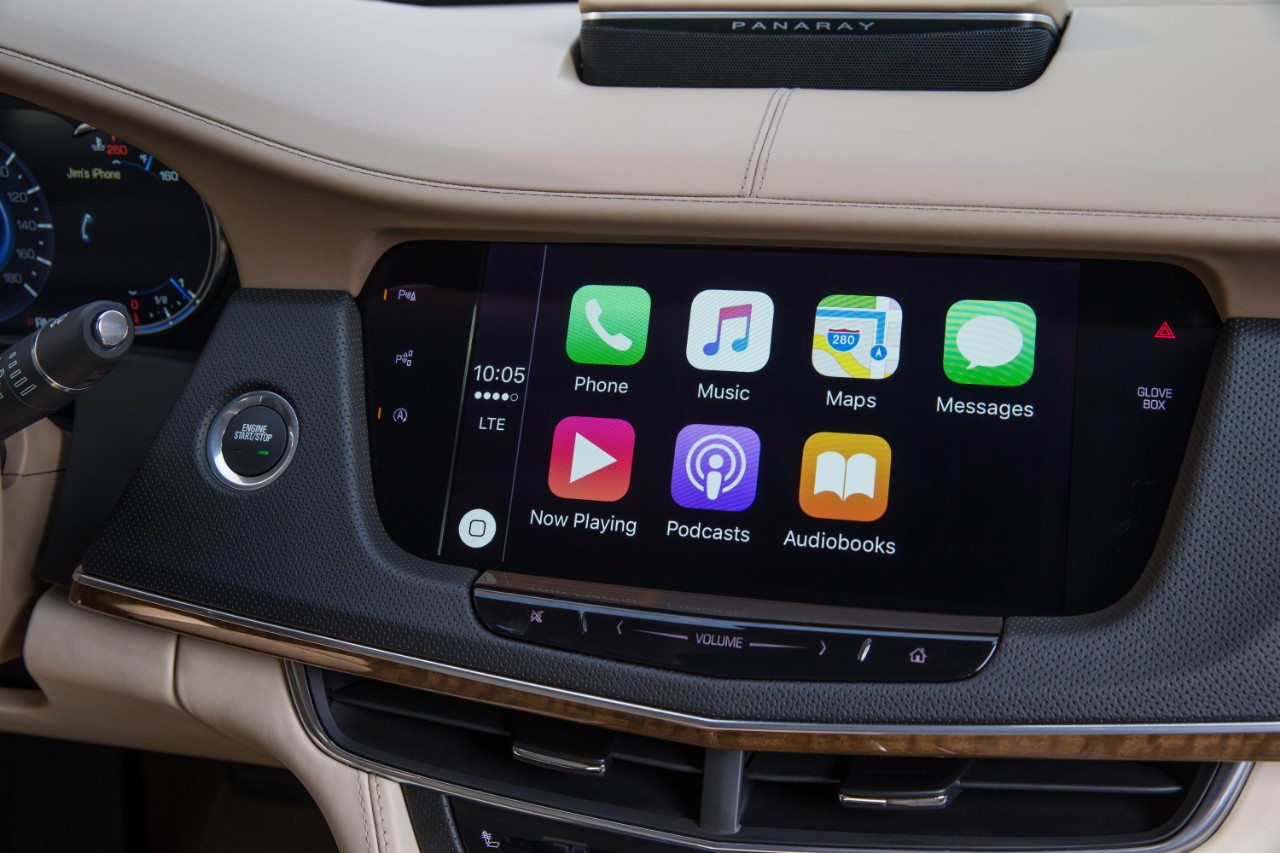 The seats: Remember how great it was the first time you sat in a car with heated seats? Well these seats are also air-conditioned. Oh, and they feature built-in massagers with five different massage programs. My personal favorite is the lumbar massage. Also of note, the rear right and left seats include heating, cooling and massaging features as well.
Quadzone climate system: Dual-zone AC is great, but this car has independent climate controls for the driver, front passenger and two rear passengers.
Haptic feedback: In a car? That's right, the driver's seat in the CT6 includes vibrating motors that are tied to the safety systems. For example, most cars with driver assist features will beep if you signal for a lane change and there's a car in your blind spot. The CT6 will beep as well, but if there's a car on your left it will also vibrate the left half of the seat. If you're changing lanes to the right and a car is there, the right side of the seat will vibrate.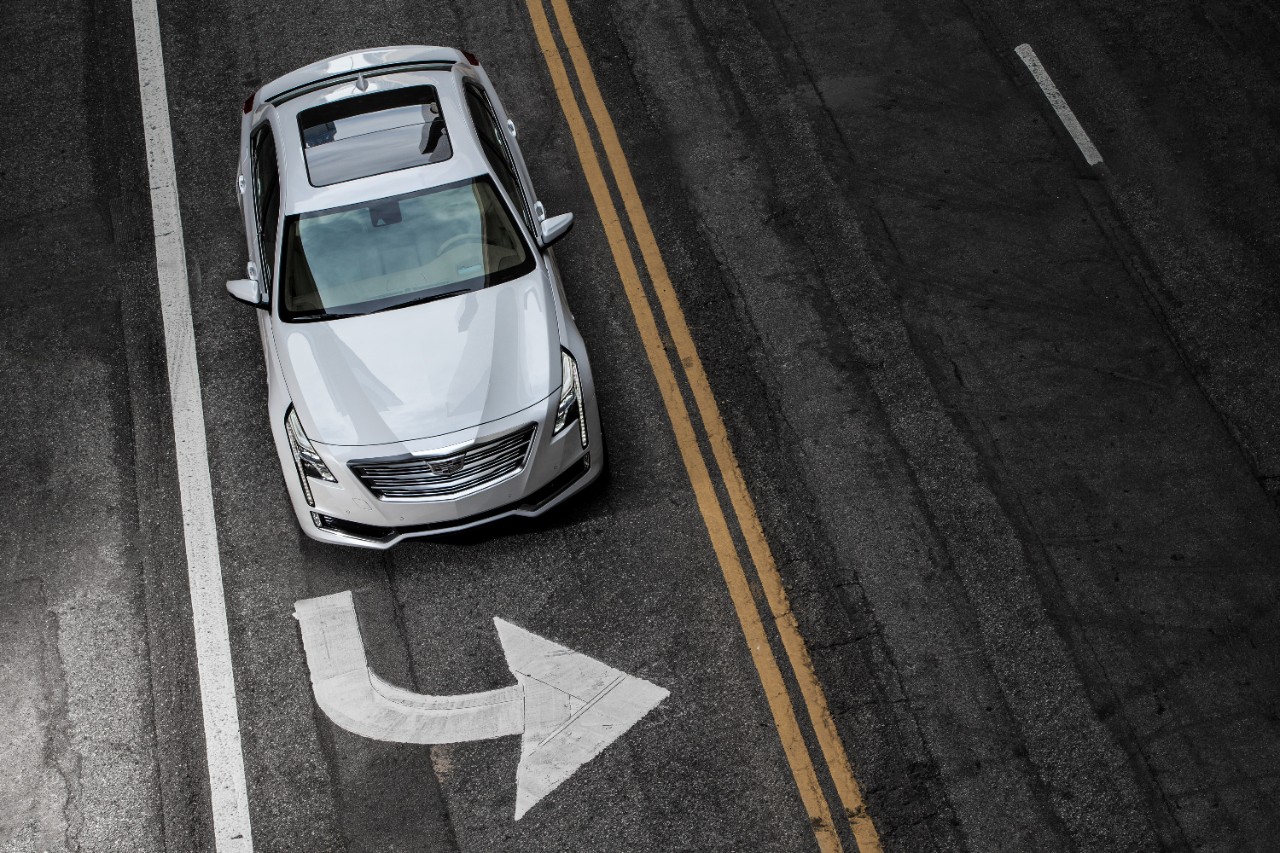 Lane departure assist and adaptive cruise control: The CT6 doesn't have an "Autopilot" feature like the Model S, but it does sport adaptive cruise control that will brake and accelerate to keep pace with the car in front of you. It also has a lane assist feature that will steer you back into your lane if you begin to drift.
Park assist: Cadillac's advanced parking system will control braking and steering while you parallel park, and it can do the same to back you into a spot in a parking lot.
360-degree cameras: Back-up cameras are great, but the CT6 has cameras and sensors all around it to give you a 360-degree view as you back up. The car also features an integrated enhanced dash cam mode that, when enabled, records all of your surroundings as you drive. When your car is parked and the sensors detect any motion nearby, the cameras will begin recording automatically.
That's just the tech.
There's plenty more to drool over in the CT6 platinum, from the comfy leather seats and a silky alcantara roof liner to the various convenience features like USB ports and a standard three-prong power outlet. Or Auto Vehicle Hold, which prevents the car from creeping while stopped at a stop sign or traffic light until the driver touches the gas pedal.
Cadillac's CT6 starts at $53,495 and the CT6 Platinum with all of the options and packages I tested has a sticker price of $88,460. That's a big jump indeed. But when you consider that similarly equipped ultra-premium sedans easily cost $120,000 or more, the CT6 is a relative bargain. In fact, Mercedes' S-Class has a base price of nearly $96,000 before you start adding any options or packages at all. A quick build on the Mercedes website to add equipment that's in line with the CT6 Platinum I drove pushes the S550 to just under $131,000, about $43,000 more than the fully loaded CT6.
There's no question that Tesla is a pioneer and its cars are full of cutting-edge technology. But Tesla is hardly alone, and the CT6 is a terrific reminder that cars from rival brands can be just as exciting and innovative.