The wait is finally over, Android fans. After months of leaks and rumors, Samsung's new Galaxy S8 and Galaxy S8+ have been unveiled. You've already read our hands-on preview of these hot new Android flagships, so you know exactly what to expect: the sleekest, sexiest, most powerful smartphones the world has ever seen. Both new models are available for pre-order beginning tomorrow, March 30, and we're willing to wager that millions of Galaxy S8 and Galaxy S8+ smartphones will be sold in the blink of an eye.
If you're an anxious Samsung fan preparing to pre-order one of the company's hot new handsets, you have a few important decisions to make. First, you need to decide if you're going to grab the smaller Galaxy S8 or if you want to cough up some extra cash for the Galaxy S8+. Then you need to pick one of the three gorgeous colors Samsung is offering in the US: black, gray or silver. Last but certainly not least, you need to decide how you're going to protect your investment — Samsung's new Galaxy S8 and S8+ are beautiful and powerful, but they're made mostly of glass so they're also quite fragile.
Lucky for you, Spigen has an army of awesome new cases that are ready and waiting to protect your Galaxy S8 and Galaxy S8+ as soon as it arrives at your door next month. In this post, you'll find 13 different case options from Spigen, each of which offer a unique design, outstanding protection, and the top-notch quality Spigen has become known for. Check them all out below along with a 2-pack of screen protectors that will fit your new Galaxy S8 or S8+ perfectly.
Samsung Galaxy S8 collection link: spigen.co/spigens8
Samsung Galaxy S8+ collection link: http://spigen.co/SpigenS8Plus
Protective Cases
Tough Armor (Galaxy S8 | Galaxy S8+)
The Tough Armor case offers military-grade protection with a surprisingly slim profile thanks to a dual-layer TPU body and a PC back. Raised lips protect the display on the front as well as the camera on the back of the phone. Finally, Air Cushion technology in all four corners ensures that the Galaxy S8 or S8+ will survive an accidental drop.
Rugged Armor (Galaxy S8 | Galaxy S8+)
A carbon fiber texture gives this sleek Spigen case a gorgeous premium look. Meanwhile, the flexible and finger-resistant TPU shell and Air Cushion technology provide best-in-class protection.
Liquid Air Armor (Galaxy S8 | Galaxy S8+)
This lightweight case is constructed with a premium TPU layer printed with a modern triangular pattern. The matte surface is fingerprint-resistant and it also provides great grip. Despite the slim, pocket-friendly profile, this case still utilizes Spigen's Air Cushion tech.
Neo Hybrid Cases

Neo Hybrid (Galaxy S8 | Galaxy S8+)
Neo Hybrid cases will be familiar to Spigen fans, but this latest model features a hot new herringbone pattern and a refined design. The TPU body and PC bumper frame offer military-grade protection, and the raised lips protect the display as well as the camera.
Wallet Cases
Slim Armor CS (Galaxy S8 | Galaxy S8+)
The Slim Armor CS case marries a dual-layer TPU cover with a polycarbonate back. Two cards fit in the case's card holder, and they're shielded from open security issues. Air Cushion technology provides impact protection while raised lips guard the screen and camera from scratches when the phone is placed down.
Wallet S (Galaxy S8 | Galaxy S8+)
Spigen's new Wallet S case is everything Galaxy S8 owners could possibly want in a wallet case. Sleek synthetic leather provides a fantastic look and feel, and three card slots found on the case's cover offer storage for cards and cash. A strong magnetic strap keeps the case closed securely, and it also allows the front flap to double as a kickstand for hands-free viewing when the cover is open.
Clear Cases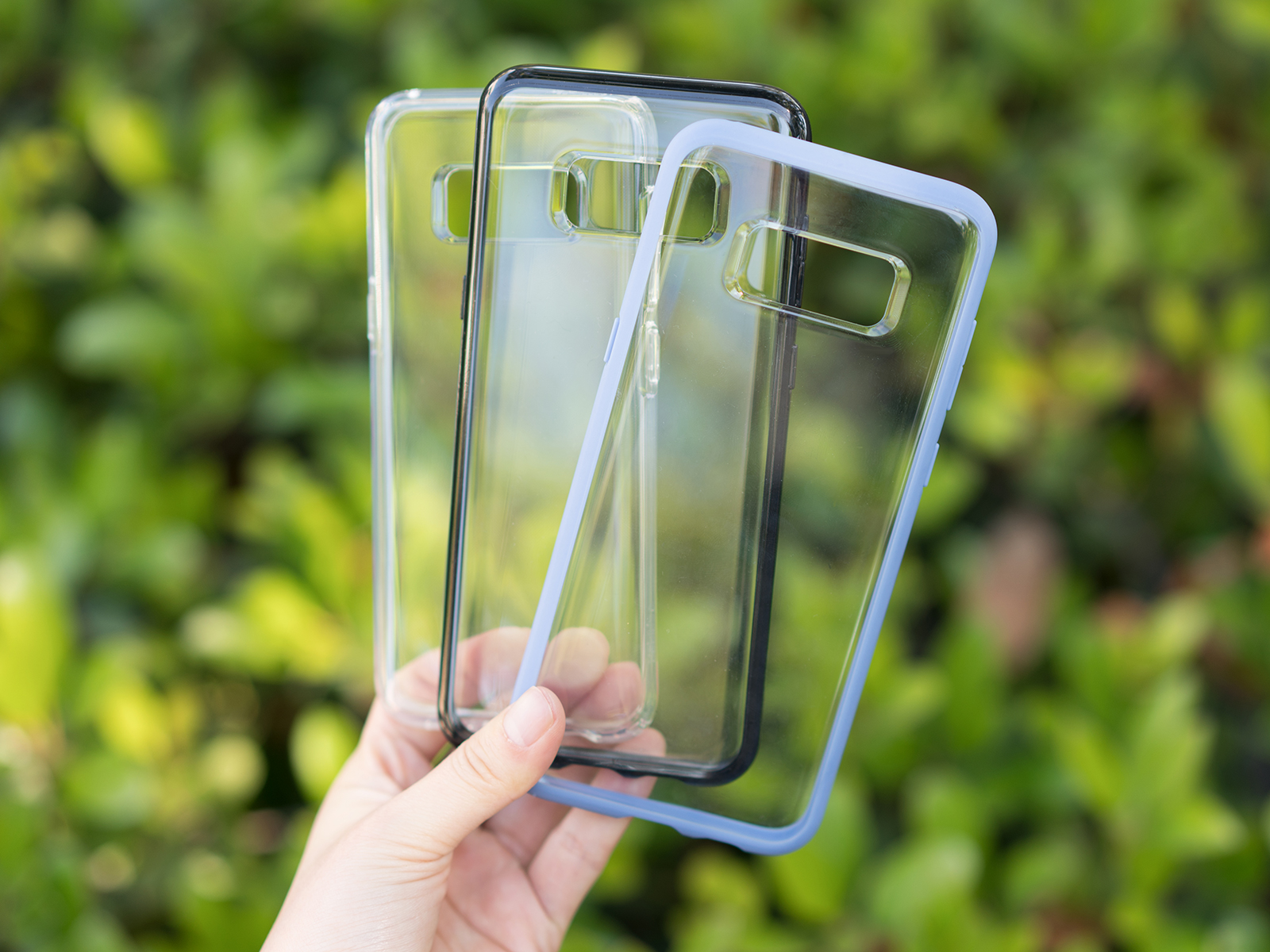 Ultra Hybrid (Galaxy S8 | Galaxy S8+)
Spigen's Ultra Hybrid case consists of a slim TPU bumper with a durable PC back. The bumper portion has military-grade reinforcement in all four corners and the crystal clear back lets you show off your Galaxy S8 or Galaxy S8+.
Ultra Hybrid S (Galaxy S8 | Galaxy S8+)
This model is just like the Ultra Hybrid, but it also includes an integrated metal kickstand that's perfect for hands-free viewing.
Liquid Crystal (Galaxy S8 | Galaxy S8+)
The Liquid Crystal case comes in clear and black, and it's perfect for showing off your new Galaxy S8 or S8+. Reinforced buttons provide perfect responsiveness while the TPU construction keeps your phone safe. Also cool is the transparent backing, which can be used for customization.
Glitter Cases
Liquid Crystal Glitter (Galaxy S8 | Galaxy S8+)
This glitter-infused TPU case might just be the boldest way to protect your Galaxy S8 or S8+ while still showing off Samsung's sleek design. The flexible TPU is easy to put on and it fits your phone like a glove.
Neo Hybrid Crystal Glitter (Galaxy S8 | Galaxy S8+)
Samsung's new Galaxy S8 and Galaxy S8+ design is incredibly sleek, but some people want a little extra flair. The Neo Hybrid Crystal Glitter case will give you just that. This case offers terrific protection from scratches and drops, but it also glistens and glimmers in the light.
Minimalistic Cases
Thin Fit (Galaxy S8 | Galaxy S8+)
Spigen's Thin Fit case is exactly what you're looking for if you want the thinnest possible case that still offers protection from drops. It's constructed out of premium rigid polycarbonate that is sturdy but also lightweight, and it even includes a hidden magnet for people with magnetic car mounts.
AirSkin (Galaxy S8 | Galaxy S8+)
This minimalistic case is perfect for people who don't like smartphone cases. At just 0.36mm thick, this barely-there polypropylene case provides the grip and scratch resistance you need without adding any bulk.
Spigen NeoFlex Samsung Galaxy S8 Screen Protector
NeoFlex (Galaxy S8 | Galaxy S8+)
You'll find everything you could possibly want in a screen protector in Spigen's NeoFlex model. The wet installation results in perfect adhesion with no lifting or bubbles. The flexible TPU offers rainbow-free clarity and it also has a special coating that heals itself from fine scratches while resisting fingerprints as well.
To learn more about our sponsored deals and sponsored posts opportunities, please email sponsored@bgr.com.