If there's one thing I have learned from my lifelong battle with email, it's this: be flexible. There are always new apps in development and new features being added to existing tools. The best tool for the job today might not be the best tool for the job tomorrow. What's more, your email app of choice could disappear at any moment, as I learned the hard way back in 2015, so you have to be willing to reexamine your options at a moment's notice. In fact, you should always be on the hunt for new tools.
When I first moved away from my go-to iPhone app back in 2015 because it was being discontinued, I landed on Microsoft's Outlook. The app is still a great choice, but it's no longer at the top of the pack. I have now begun bouncing between two different apps that offer fantastic design, reliable performance and fantastic feature sets, and I just can't pick a winner.
MUST SEE: These 5 insanely thin iPhone 7 cases are perfect for people who hate iPhone cases
First things first, which two apps are we talking about here? The first is Airmail, an email client that is packed with just about every single feature you can imagine, and yet somehow still manages to remain user-friendly and streamlined. And the second is Newton Mail, the reimagined email app from CloudMagic.
When it comes to mobile email apps, I have a few top priorities. I live and die by inbox zero, the practice of completely emptying out your inbox as frequently as possible, so I need an email app that makes clearing out your inbox as easy as possible and doesn't get in the way.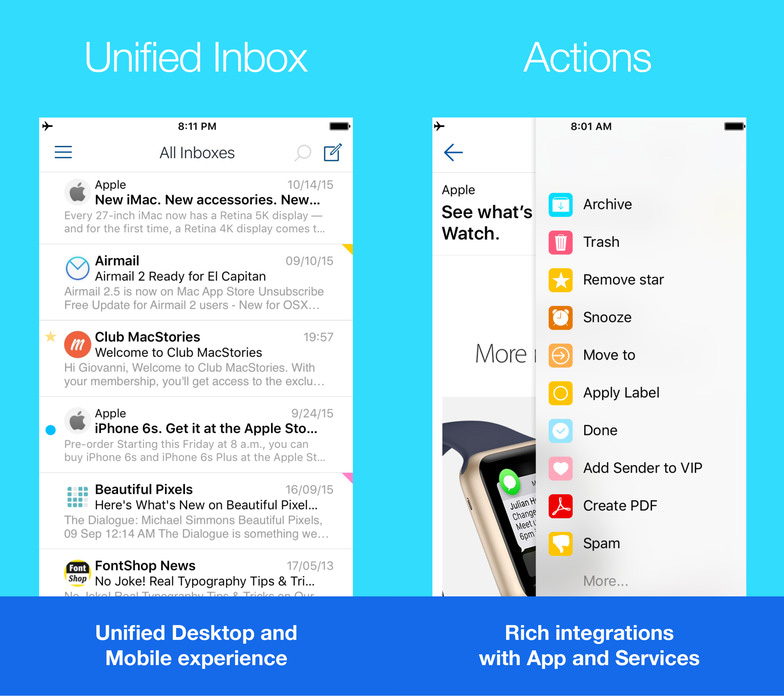 I receive anywhere from 300 to 500 or even more emails in a given day, and I fly through them in bursts. In a desktop app, that means I need a great dual-pane view and keyboard shortcuts. In a mobile app, it means I need a clean UI and support for swipe gestures.
Also important is the snooze function that has become more common in email apps of late. The feature allows you to remove an email from your inbox but have it reappear at a time you specify, and I rely heavily on snoozes. I need multiple snooze options that are all easily accessible, and I need them to be configurable — I start my day early and finish late, so 8AM or 9AM morning snoozes don't cut it for me.
Airmail has a great minimalistic interface that's very easy to power through. The app is very fast and reliable, and it's also fully customizable. If you can think of an email feature a mobile email app should have, it's there. The UI can also be tweaked and rearranged as you see fit, so the features you use most are always accessible.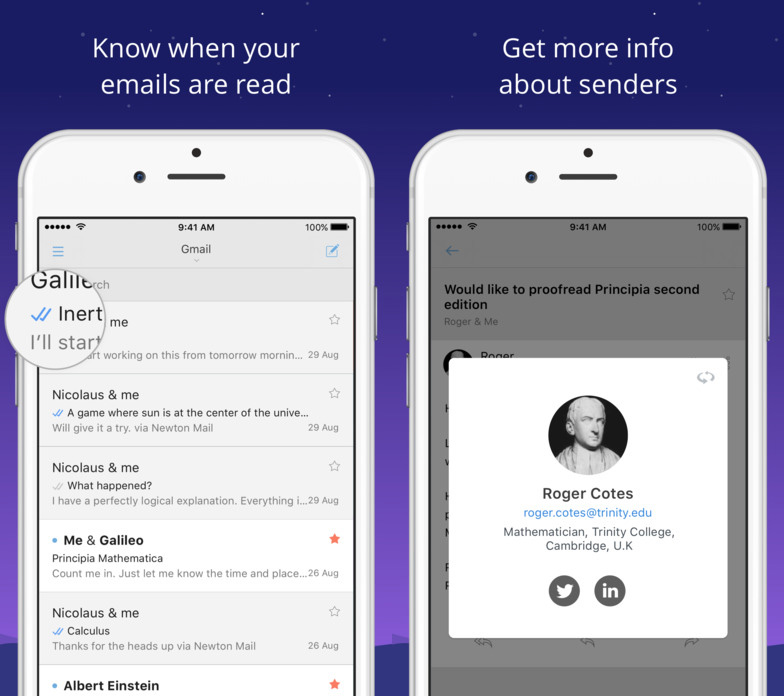 Newton Mail isn't quite as robust as Airmail, but it has all the basics covered — and then some. The app is packed with what CloudMagic calls "superchargers," which are smart features designed for power users. Examples include snoozes, the ability to connect third-party apps, read receipts, a send later option that lets you schedule when to send an email, a reminder feature that alerts you if your recipient doesn't reply after a certain amount of time, and an undo send feature.
The app's gorgeous design and the superchargers are both huge selling points for me with Newton Mail. The undo send alone has saved me on numerous occasions, and another cool feature displays a sender's profile information automatically at the bottom of an email by pulling in details from LinkedIn. The stunning design and all these great features come at a cost, however. After a free trial period, Newton Mail carries a subscription fee of $49.99 per year.
Compared to other email apps for the iPhone, an annual subscription fee that high seems outrageous. Even Airmail, as feature-rich as it is, only requires a one-time $4.99 purchase. On the other hand, $49.99 annually works out to about $4.17 each month, which is hardly a tall order for an app that you'll use constantly — excessively, even — every single day of your life.
Airmail and Newton Mail are both available in Apple's iOS App Store and as I continue my quest to decide between them, I'm curious to hear what you think of them. Message me on Twitter and help me pick a winner.