I have to hand it to Asus, the press conference it hosted on Tuesday evening in Barcelona,was quite a surprise. It's not that we didn't know what kind of flagship Asus was about to unveil, it's just that we didn't know how it will do it. Asus chose to take some serious hits at Apple but also Samsung, all while copying several features of the iPhone X.
The Asus Zenfone 5z is indeed an excellent addition to this year's MWC lineup, a phone that will cost just €479 in Europe, a lot less than we'd have expected from a phone that shares most of its specs with the Galaxy S9 and Xperia XZ. However, that phone is not available at the show, only its lookalike sibling, the Zenfone 5. So that's the phone I focused during my hands-on time with the new Asus devices.
The first thing I'll say, however, is that the Zenfone 5 would not be possible without Apple and Samsung's innovation.
It's easy to mock Apple when you're not the first company to come up with a risky design as the iPhone X. It's also easy to advertise the Zenfone 5's all-screen designs, dual camera performance, and even its animated emoji after competitors actually did the hard part, and that's inventing new phone features phone features.
It's Apple's iPhone that made dual-lens cameras possible, while Samsung's OLED expertise is to thank for Infinity displays or flexible screens that make possible iPhone X notch designs. The notch, meanwhile, is something everyone will copy in the future.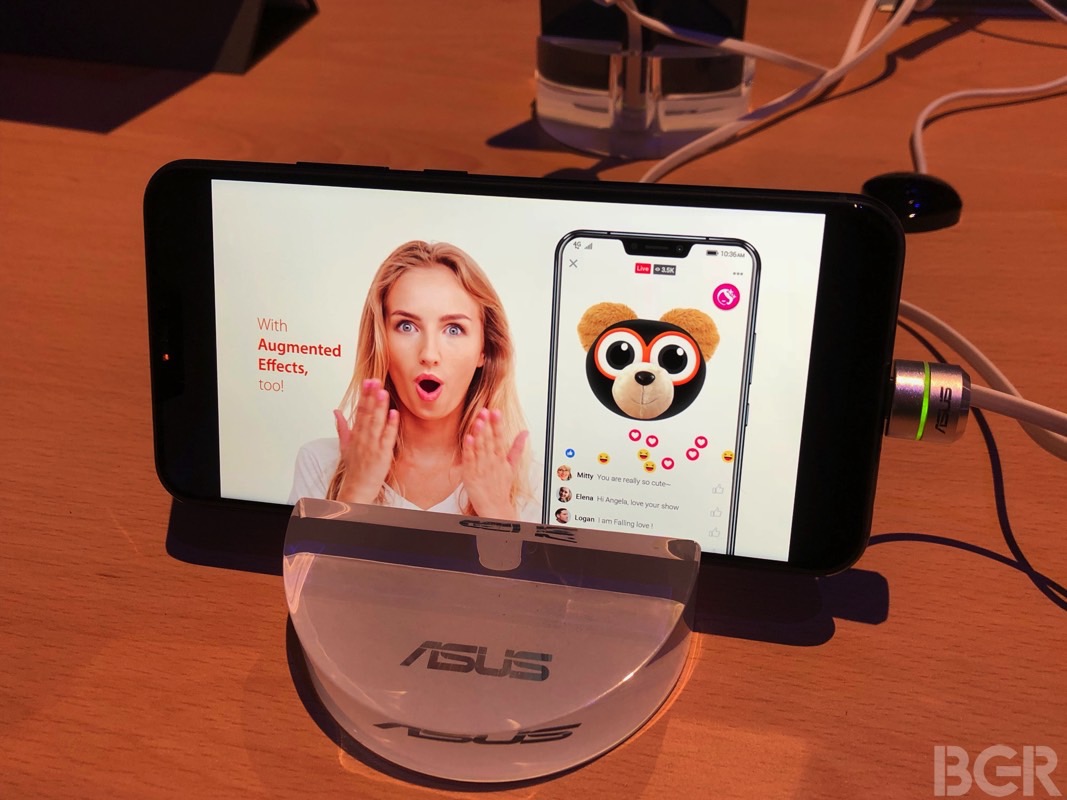 Don't get me wrong, the Zenfone 5, in particular, the Z variety, will be an awesome phone. It certainly has the specs, and the AI sounds interesting, especially the camera's artificial intelligence, although AI features can't really be tested in quick hands-on experiences. It's got a thin design, a gorgeous display, and feels great in hand. It's everything you expect from a 2018 flagship device.
But it's unfortunate that Asus wasn't able to bring the 5Z to MWC. That handset is just a cool concept on paper right now. Also, the Zenmoji doesn't work on current devices.
And don't even get me started on how Asus fixed the notch. You'll see in the following image exactly what I mean.
What Asus did was to take the best things available on mobile devices right now, and repackage into a product it calls its own. Hopefully, the AI features Asus introduced tonight in Barcelona will really shine. I'm not even going to mention the fact that Asus wasn't first to bring AI features to mobile because OKGO is incredibly annoying on the stage with their amazingly loud performance right now.