What can I say? I love those speeds and feeds. Yesterday, I wrote an opinion piece that I was "probably" going to skip the Apple Watch Ultra 2. Less than 24 hours later, I'm back to eat those words. When I wrote that piece, I had said that only a hardware upgrade that enabled new features could get me to consider upgrading to the new Ultra. At the time, I was thinking that the company may release an updated sensor to enable new health features. Instead, Apple surprised me with its new S9 processor, the first new Apple Watch processor in years.
Apple says that the new S9 processor for Apple Watch, which comes to both the Ultra 2 and the Series 9, enables new software features previously impossible on the watch — the magic words for someone like me.
Apple Watch Ultra 2 is powered by custom Apple silicon in the all-new S9 SiP. Apple's most powerful watch chip yet delivers systemwide improvements and brand-new features, including a new double tap gesture and on-device Siri with the ability to access and log health data privately and securely. Apple Watch Ultra 2 also has a new 4-core Neural Engine that can process machine learning tasks up to twice as fast as the original Apple Watch Ultra.
On-device Siri won me over
While I'm always game for a faster device, I've really been happy with the performance I've gotten out of the first-generation Apple Watch Ultra. However, using Siri with every Apple Watch I've ever had — including the Ultra — has always been a pain point for me. While the iPhone already added on-device Siri processing, the Apple Watch was left behind, requiring Siri to always process requests in the cloud.
As someone who finds themself with just their Apple Watch on the regular, this is a big win for me. I really try to leave my phone behind multiple times a day. If I head to the gym, take a walk, or go on a run, I leave my iPhone at home. It really helps me focus and is a great way to truly disconnect from most of the digital things that bombard us all day. With the Apple Watch Ultra paired with AirPods Pro, I have everything I need to stay connected enough while being able to focus on my workout.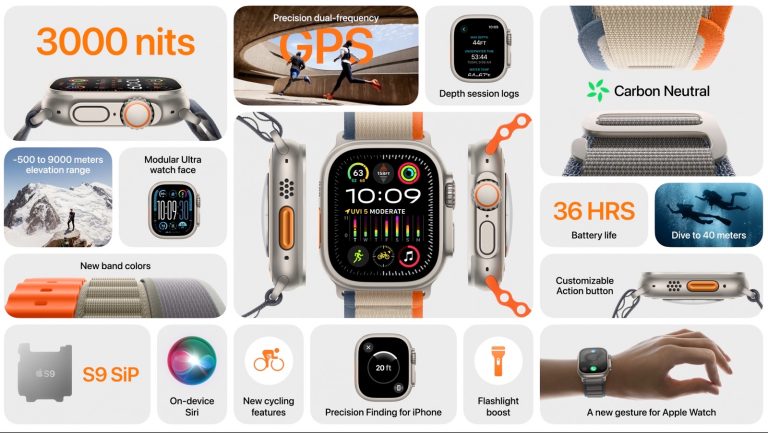 However, using Siri on my watch when I'm in these scenarios has commonly been a pain in the butt. Due to Siri always needing to connect to the internet in order to process requests, asking it to play a song — even if it is downloaded to my watch — takes too much time. It's as if everything I ask of Siri is so complex that it needs to go on a vision quest before it can come back with an answer.
With the S9 processor, Siri is finally able to process requests on the device. As long as the request doesn't need an internet connection, such as asking it to tell you the latest score of a game, it can process the request on your watch locally, making it able to respond to those requests much faster. I noticed a big difference in performance when Apple made this change on the iPhone, so I'm excited to get that benefit on the Apple Watch as well.
For the first time on Apple Watch, Siri requests can be processed on device. For requests that do not require information from the internet, like starting a workout or setting a timer, Siri does not rely on Wi-Fi or cellular networks, resulting in quicker and more reliable responses. The powerful Neural Engine also makes dictation up to 25 percent more accurate.
You can't stop me — I already ordered it
There's plenty more to enjoy about the Ultra 2: a much brighter display, Precision Finding for your iPhone, the ability to use it in even more extreme heights and depths, a freediving feature with the Oceanic+ app, and the new double-tap gesture. Jeff Williams, Apple's chief operating officer, pointed out that it's definitely still the most advanced Apple Watch you can buy.
"This year we've made our most rugged and capable Apple Watch even better. Apple Watch Ultra 2 is our most advanced Apple Watch, with great performance and feature updates. It's perfect for anyone who wants our biggest, brightest display, longest battery life, and best GPS of any Apple Watch, all in a stunning design."
While all of those other updates are great, at least for me, on-device Siri is the biggest selling point — and the S9 processor that enables it.
It should be noted that I'm one of those insane people who generally upgrade every time, so keep that in mind when you're considering the new Ultra for yourself. It's not lost on me that this second generation is not going to be for most people — especially if they already have the first generation.
While a single feature upgrade might seem like a ridiculous reason to most, it's enough for me. Enjoy waiting for Siri to "get back to you" while I'm already enjoying my audiobook on my run.