The watch above is an Apple Watch knockoff, created by a famous Swiss watchmaker, has no smart features and sells for almost $27,000. Now that's some truly impressive trolling.
From the distance, H. Moser's Swiss Alp Watch Zzzz — yes, that's a terrible name — looks exactly like an Apple Watch. It's got the same rectangular shape complete with curved edges that seem to blend right into the metal frame, and a deep black display.
However, that's not a display, and that's not a smartwatch. Apple Watch fans will also immediately recognize the absence of the Digital Crown and the side button. Also, you shouldn't be able to see the time on a Watch with the screen turned off.
This is just trolling of the highest order. H. Moser even compares the device to "a smartwatch which is powered off or in standby" in its press release, without naming the smartwatch in question.
In fact, the press release seems to make a strong case for an Apple lawsuit that would argue H. Moser is simply trying to cash in on the Apple Watch popularity. The Swiss maker might be trolling Apple hard, but the Apple Watch maker is making more money from watch sales than many Swiss companies.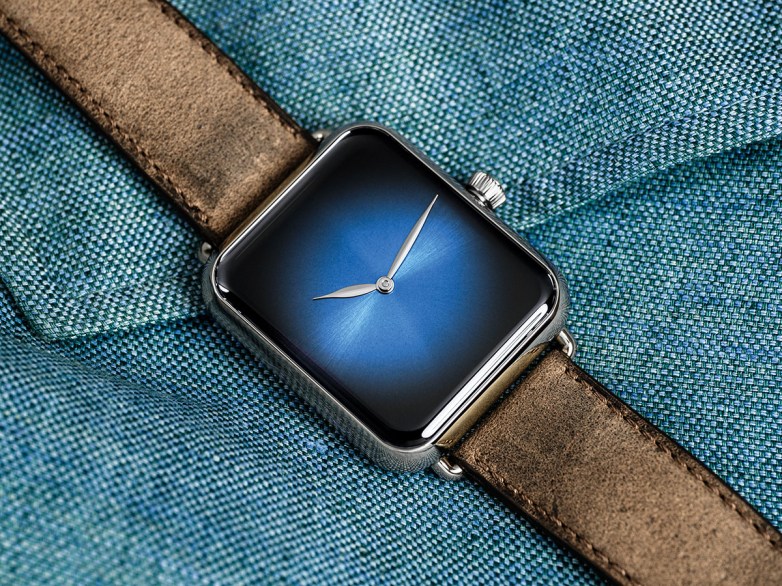 "In this watch, the now iconic model features neither indices nor logo on its dial, proving that true luxury is unmistakable, and immediately identifiable, even without obvious marketing," the press release notes. Yes, you can immediately notice it's an Apple Watch.
"The black dial — stripped not just of any signature, but also of its indices — is strictly minimalist. On this model, there is no interface: the Swiss Alp Watch Zzzz is designed to display the time, something it does beautifully. Seemingly simple, it is anything but," the press release says.
Right.
When it's not trolling Apple, the Swiss Alp Watch Zzzz does four days of life on a power reserve, after which you'll have to wind it by hand.
Aside from the Zzzz model, H. Moser is also selling an equally poorly named Swiss Alp Watch Brrrr that comes with a blue dial.
Each model sells for $26,900, and H. Moser will only make 20 units of each.