Apple will unveil a bunch of new products on September 12th, including the highly anticipated iPhone XS and 6.1-inch LCD iPhone, but also the Apple Watch Series 4, new iPads, and accessories. Marketing images for the iPhone XS and next-gen Apple Watch already leaked on the same day Apple issued media invites, with the Watch image apparently revealing a feature that's not available on any other wearable device from the competition.
Let's check out the image again:
As you can see, we're looking at a device that has a bigger screen than its predecessors, which allowed Apple to create a new user interface for the wearable, one that would accommodate up to eight Complications. It may sound like overkill, but the only way to prove the display is bigger is to create a crowded watch face like the one above, to show buyers how they'll be able to customize the device to take advantage of the extra room.
It looks like all those Complications come from default Apple apps, and Apple Watch users will instantly recognize almost all of them. That's because one of them doesn't look familiar at all, as we've never had one on the device before. It's the one in the lower left corner, the UVI Complication, which is almost surely an ultraviolet index. That's a neat trick that can help you perform UV readings yourself and determine whether sun exposure should be avoided or not.
Could it be anything else but a UV index? Not likely.
That Complication shows a UVI value of 3.6. A glance over at the UV Index below, from the World Health Organization (WHO), tells us that the color palette Apple uses almost matches the WHO's color scheme:

The same UV index scale is listed on EPA's site, in conformity with the UVI reporting established by the WHO:

To perform UV readings, the Apple Watch would need additional hardware, a sensor that would be able to complete the actual UV readings. And, after a quick online search, I'm pretty sure that Apple managed to come up with something suitable for the watch. Because here's the kind of wearable devices that can measure UV levels right now: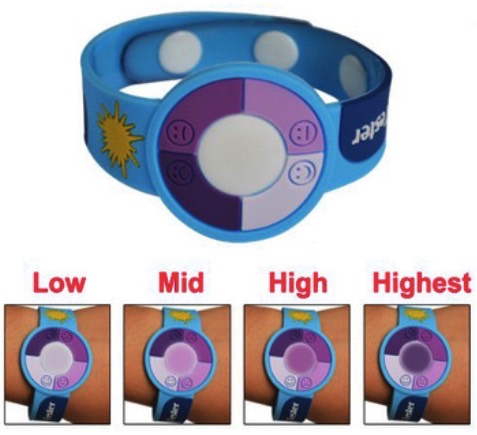 Yes, these devices are made in China and can be purchased from a bunch of places. It costs $0.50 if you buy up to 500 units, so they're pretty affordable too. They're not smart wearables, however, as they're only able to test UV exposure. So if this simple gadget can do it, then a computer like the Apple Watch would surely be able to pull it off as well.
A simpler way for Apple to report UV Index on the Watch would be to just partner up with a service that does UV Index forecasting like the NOAA, and then just use your location to offer you an estimate. It wouldn't be as cool as a built-in sensor, or as accurate, and you'll have to allow your Watch to track you at all times for the Complication to work. That said, this is the forecast for Friday, August 31st, which could be translated over on the Watch via a new Apple app that sources its data from the NOAA or any different weather service.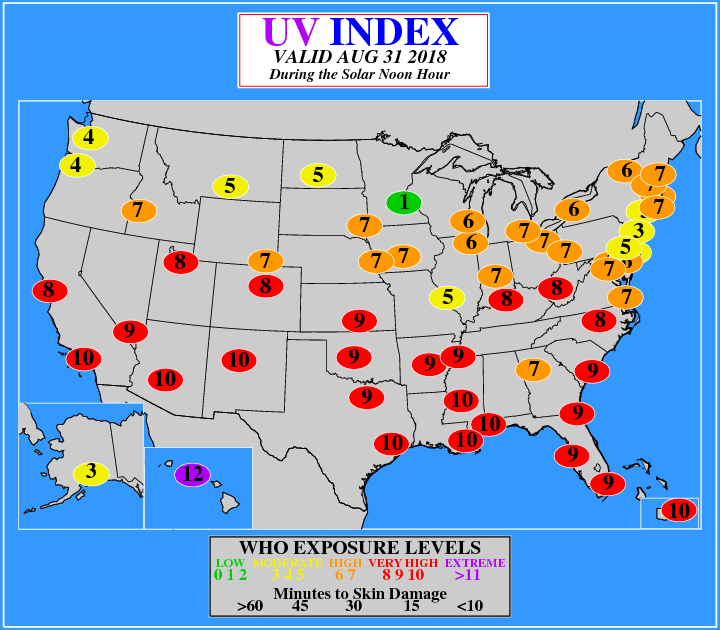 There's always a chance that the UVI Complication comes from a non-Apple app, but that's not what Apple does with marketing materials. Assuming that it is a third-party app, then the Apple Watch would still need a sensor for UV readings.
Finally, if Apple created a UV sensor small enough for the Apple Watch Series 4, why not put one inside the 2018 iPhones as well? After all, health is very important to Apple, and more people buy iPhones than Watches. 
We'll learn more about the Apple Watch 4's health abilities on September 12th, when Apple unveils it.