Later this year, Apple will introduce several new features for AirPods Pro 2 owners. Most of them seem to focus on hearing aid functions. Some of the new features aim to prevent hearing loss, while others improve how you interact with people while using your AirPods. Apple has also made a bunch of improvements on the user experience, making it much easier to connect AirPods between all of your devices.
For example, with Adaptative Audio, AirPods Pro 2 owners will be able to enjoy a dynamic blend of Transparency mode and Active noise Cancellation together based on the conditions of a user's environment to deliver the best experience at the moment.
With Conversation Awareness, people will be able to start a conversation while listening to a song. This function reduces background noise and amplifies a person's voice in front of you. And with Personalized Volume, Apple will use machine learning on AirPods Pro 2 so the earbuds can "understand conditions and listening preferences over time to automatically fine-tune the media experience" and protect your ears in the long run.
Interestingly enough, Apple already offers some hearing aid features. The Apple Watch can warn you when you're in a loud environment; AirPods Pro 2's Transparency function reduces loud environment noises, such as in concerts or when you pass through a construction zone. In addition, there's a headphone safety feature that your iPhone can analyze headphone audio and reduce any sound that is over a set decibel level.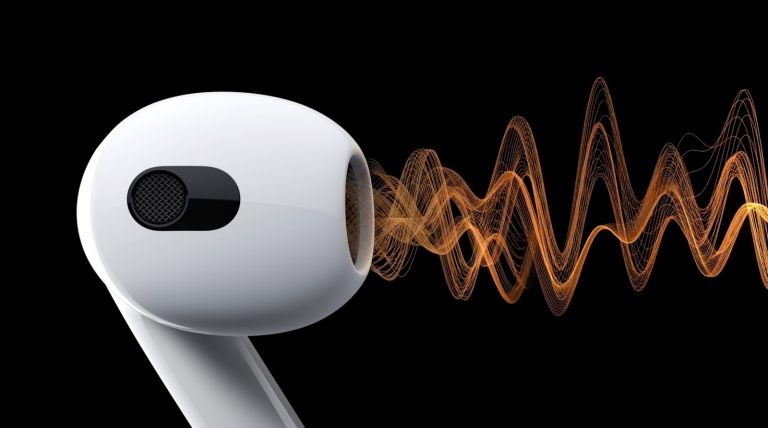 These new hearing aid features make even more sense when you learn that CDC research showed one in every six to eight 12- to 19-year-olds in the US has measurable hearing loss, likely due to excessive noise exposure.
An article by The Wall Street Journal shows that younger Americans seek help sooner than previous generations. While there was a stigma with hearing aid earbuds, brands are making them "cooler," and with FDA establishing a category for over-the-counter hearing aids last year, some headphone brands joined this market to make hearing aid devices more similar than ever to regular wireless earbuds.
While Apple can't promote AirPods Pro as a hearing aid device, a recent study showed that these wireless earbuds are almost as good as premium hearing aids that cost thousands of dollars.
Thanks to that, Apple could change how it positions AirPods, as it could seek FDA approval, according to a report by Bloomberg. After all, this is a $10 billion-a-year market that's "ripe for reinvention." That said, the publication even believes Apple will add a hearing test feature for an upcoming AirPods Pro model.
The company is working on a new hearing test feature that will play different tones and sounds to allow the AirPods to determine how well a person can hear. The idea is to help users screen for hearing issues, not unlike how the Apple Watch ECG app checks for heart problems. The hearing test could 'Sherlock' — or make irrelevant — existing apps like Mimi. (Apple held a meeting with its developers a few years ago.)
BGR will keep following the latest AirPods rumors and what features Apple is planning to bring to its wireless earbuds brand. We've also created an overview on what we deem the best AirPods are for you, your style, and your budget.