Apple is venturing into the world of live music even deeper with its latest updates to Apple Music and Apple Maps.
In a press release, the company announced new concert discovery features in both Apple Music and Maps. Apple says that, in both apps, the company is tapping into the concert discovery feature that Shazam, the music discovery app that Apple acquired years ago, launched last year.
With Apple Maps, the company has introduced 40 new guides that showcase some of the best venues in popular music hubs across the globe. Apple says that, at launch, it has guides for Chicago, Detroit, Los Angeles, Nashville, New York City, and San Francisco in North America; Berlin, London, Paris, and Vienna in Europe; Tokyo, Melbourne, and Sydney in the Asia-Pacific region; and Mexico City in Latin America.
From landmark Viennese symphony halls to cutting-edge techno clubs in Brooklyn and Tokyo, these hand-picked selections — currently spanning over 10 cities — are all music fans need for an unforgettable night out. Apple Music Guides also allow fans to browse venues' upcoming shows directly from Maps through Shazam's concert discovery module — part of a suite of features that Shazam introduced last spring, leveraging concert information from the world-renowned event recommendation and artist discovery platform Bandsintown.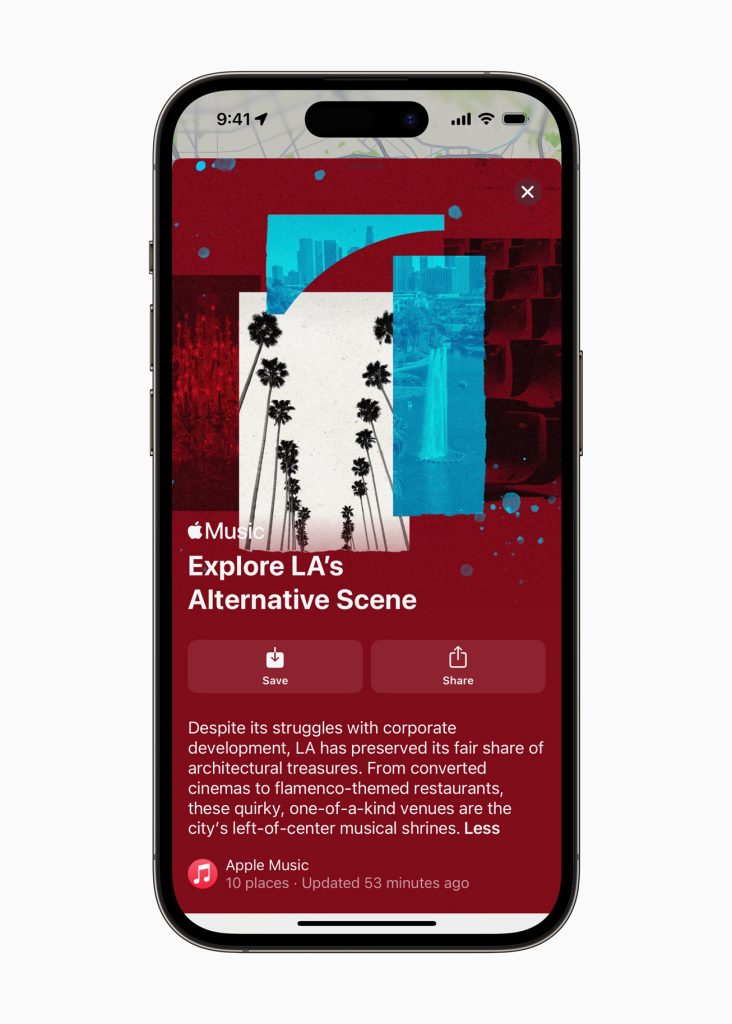 In Apple Music, the company has added a new "Set Lists" section that highlights some of the biggest tours going on in the world right now. Users will be able to check upcoming concerts for the artists featured on Set Lists using the concert discovery technology from Shazam.
On Apple Music, the brand-new Set Lists space shines a light on a selection of major tours, letting fans listen to set lists and read about the productions. For the first time on the app, fans will also be able to browse artists' upcoming shows in their area by launching Shazam's concert discovery module.
Both the updates to Apple Music and Apple Maps are available today. The company is obviously adding the feature to compete with Spotify, which has had a section highlighting live events for a while now. It'll be interesting to see how far Apple wants to venture into live music outside of its own Apple Music Live events.
The announcement comes on the same day that the company rolled out a number of new accessibility features — one of which allows you to recreate your voice using just 15 minutes of audio.
It's interesting to see Apple make these announcements when we are so close to WWDC kicking off in June. Apparently, Apple has a lot to talk about to leave these things out of the keynote. That mixed reality headset is going to take up a lot of time.