After taking first place every year since 2010 in Laptop Mag's survey of the best and worst laptop brands, Apple has dropped to fifth place in the 2017 edition of the survey. Participants voted on six criteria for each brand, and while Apple scored well on reviews, design and support, it took a beating in value and selection. Apple has always sold its laptops at a premium, but in 2017, consumers don't think they're worth it.
While Apple tumbled all the way down to fifth, Lenovo shot back up to the top spot from all the way down at fourth in 2016. Reviews for Lenovo's latest machines — especially the long-lasting ThinkPad laptops — have significantly improved this year, as has Lenovo's customer support and dedication to innovation.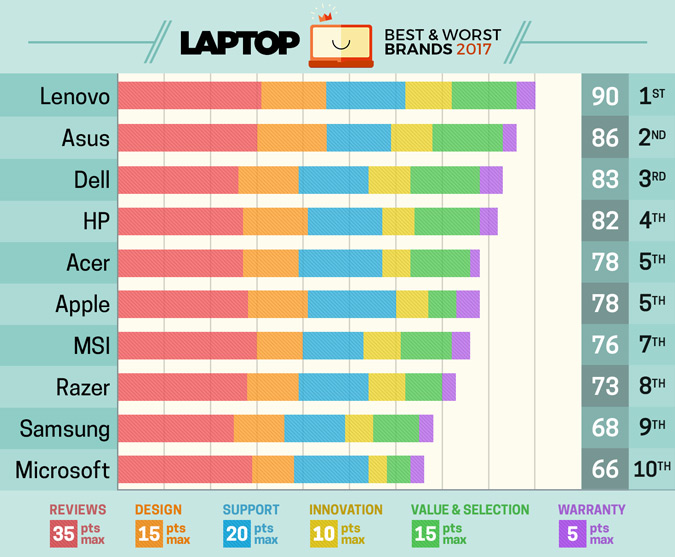 Behind Lenovo at the top of the list, Asus and Dell swapped spots, with Asus snagging Dell's title of runner-up this year. Of all the brands featured in the survey, Asus consistently has the best reputation with gamers and is constantly pushing the limits when it comes to design. Warranty and support are somewhat lacking, but that hasn't stopped Asus from climbing into the upper tier and outperforming Apple.
HP managed to sneak in above Apple at number four while Acer actually tied with Apple for fifth. Apple beat Acer in five of the six criteria, but Acer crushed Apple when it came to value and selection.
Apple clearly saw the writing on the wall before this survey came out, as it went so far as to invite a group of journalists to the Apple Campus last week to pass on a message to consumers that the Mac brand was still a priority for the company. By the end of the year, we expect to see new MacBook models.