If you thought that this might be the year that Google finally solved its Android fragmentation problem, I have some bad news for you. As of July 6th, Android 7.0 (the most recent version of the OS) is running on 11.5% of Android devices. That's 4.4% higher than May 2nd, but don't forget that Android 7.0 first began rolling out to Nexus devices in August 2016. Quite a wait for double-digit adoption.
Breaking down the numbers a bit further, Google's Android Dashboard shows that 10.6% of Android users have upgraded to Android 7.0, but that only 0.9% have reached Android 7.1, which rolled out last October. To put those figures into perspective, Apple claims that 86% of iOS users are running iOS 10 as of July 5th. iOS 10 was released in September, a few weeks after Android 7.0.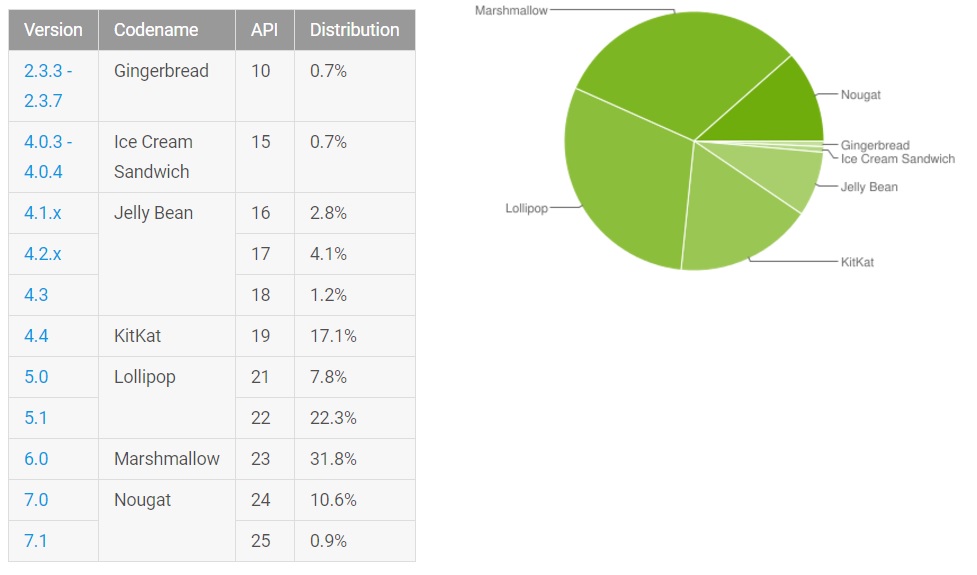 With just weeks left until the launch of Android 8.0, nearly a third of Android users are still running Android Lollipop, which encompasses versions 5.0 and 5.1. While Android 6.0 Marshmallow has finally surpassed Lollipop's market share, 30.1% of Android users are still working with an OS from 2014.
Meanwhile, 17.1% of Android users are still running 4.4 KitKat and 9.5% (or greater) are using phones with versions between 2.3.3 Gingerbread and 4.3 Jelly Bean. Nearly 60% of Android users have yet to upgrade to an operating system that rolled out after October 2015. That's not a good sign.
Google has promised that Android 8.0 will "make it easier, faster and less costly for manufacturers to update devices to a new version of Android," but we've heard that line before. We remain cautiously optimistic that Android's distribution numbers will become more respectable in the near future.