An photo captured deep inside the hull of a British ship sunken during World War II just took home the top prize for Underwater Photographer of the Year, and one glimpse at the haunting image is enough to see why. The photo, called 'Cycle-War,' was shot by Tobias Friedrich, and it's nothing short of mesmerizing.
The award-winning picture was snapped inside the cargo hold of the SS Thistlegorm, a British Merchant Navy ship which was barely a year old at the time of her sinking. The ship was one of many casualties of the war, and the photo is like a glimpse back in time.
Having set sail from Glasgow, Scotland, on June 2, 1941, and bound for Alexandria, Egypt, the SS Thistlegorm was packed to the gills with military equipment. Rifles, ammunition, and aircraft parts were packed into crates for eager troops, while military trucks with motorcycles neatly lined up in their beds sat in long rows. Fate had other plans.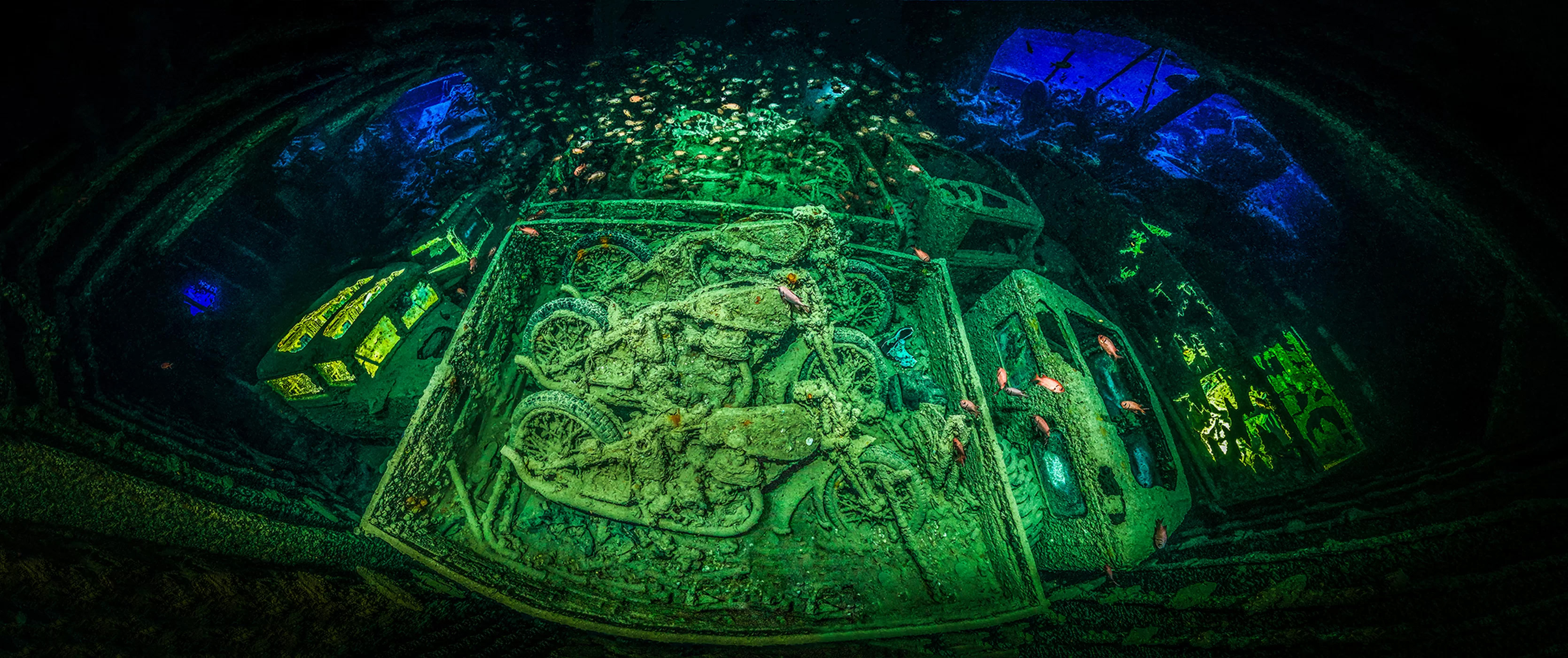 Unfortunately for the crew and the British war effort, a pair of German bombers spotted the ship and dropped two bombs which caused serious damage to the vessel. The bombing also ignited some of the ammunition stored on board, leading to further damage and ultimately leading to its demise. The ship has been sitting on the sea floor since that day, and while its huge collection of war relics has long since been claimed by corrosion, its cargo is still largely recognizable.
"For a few years now I had had this image in mind as the motorcycles on this truck inside the SS Thistlegorm lie so perfectly together, but you can only barely capture it because the wall is very close and you can't move backwards enough to capture the whole scenery," Friedrich explains. "As a result I had to create a panoramic image of the same scene to capture the whole cargo deck, including some lights that give the image more depth."
The judges seemed to be quite taken with the photo as well, awarding it the first place prize and declaring it "a quite extraordinary shot." We certainly can't argue with that.