Four Seasons Resort Orlando
The most magical place on earth is located right in the center of the most magical place on earth.
Pros
Location
Amenities
Service
Dining
Experience
Cons
Four Seasons won't let me live there
What's the first thing you think of when you think of Disney World? The Magic Castle? The Tower of Terror? Mickey?
I immediately think of the Four Seasons resort in Orlando, my version of the most magical place on earth.
Now, Orlando might not be the top destination for a traveler if you're not planning on visiting local attractions like Disney World, Universal Studios, the water parks, and more. But as someone who has stayed in many different Orlando properties over the years, the Four Seasons really does set the bar higher in every single way. It's so good, I have recommended it to friends and family even if they are not going to the parks. And here's why.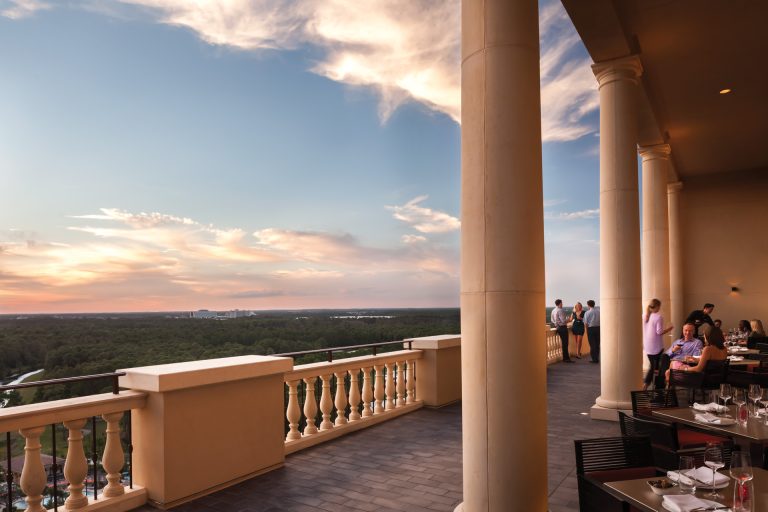 As the only non-Disney resort on Disney property, the Four Seasons exudes the feeling that this is not just another hotel near the theme parks. It's a bustling mix of luxury, relaxation, amenities, and technological innovation that manages to integrate the magic of Disney with the Four Seasons brand seamlessly.
Location: Center of the magic
The Four Seasons Resort's placement in Orlando is almost too good to be true. Situated within the gates of the Golden Oaks community, it is strategically distanced from the theme parks, keeping the Disney magic as close as a 7-8 minute car drive, but far enough to maintain its tranquility.
This fantastic location lets you dive headfirst into the thrills (and exhaustion) of Disney, and when the day ends, return to the serene oasis that is the Four Seasons. I'm not even exaggerating a little, because coming back to that property after monorails, lines, boats, $40 cheeseburgers, 100-degree sun, and screaming (mostly happy screams) children is the ultimate unwind.
When you first arrive at the property, you make your way through the guard-gated Golden Oaks entrance, one that includes both residential properties and the actual Four Seasons resort.
Service, as expected, is excellent all around, and the hotel makes every effort to accommodate any and all requests. For instance, when I stayed here last minute, the on-site Disney planning center was able to get us tickets to the parks we chose even when they were not available anymore through the regular Disney channels.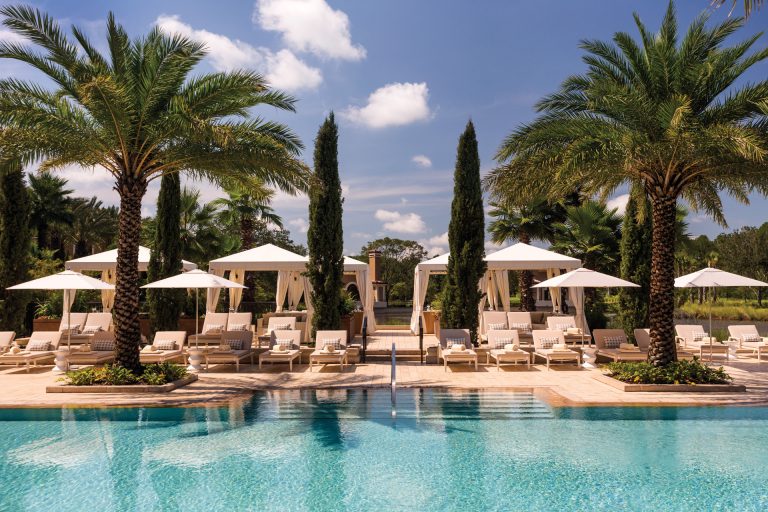 And when we wanted to see the fireworks at night, also last minute (are you noticing a theme, here?), a magical solution appeared — something called, no not kidding, a Minnie Van! Through a partnership with Lyft, these Minnie Mouse-wrapped SUVs can be booked, and the bonus is that they can drop you off directly at Magic Kingdom, eliminating the hassle of taking the monorail or that boat vessel thing. If that's not magic, I'm not sure what is.
Just don't count on it always being available, as after hours the demand is high and the SUVs are few. Ask me how I know.
Accommodations: Luxury and comfort
Moving on to the hotel rooms themselves plus the suites, they are classic Four Seasons. Sophisticated, clean, luxurious. Each room combines Four Seasons opulence with a touch of a Disney-inspired whimsy. Things like warm hues blended with plush fabrics, inviting you to sink into that world of tranquility after a day filled with long Disney adventures. The suites, depending on what exact one you have chosen, each showcase tasteful design and comfort, and most offer balconies with breath-taking views of the nightly firework displays at the parks.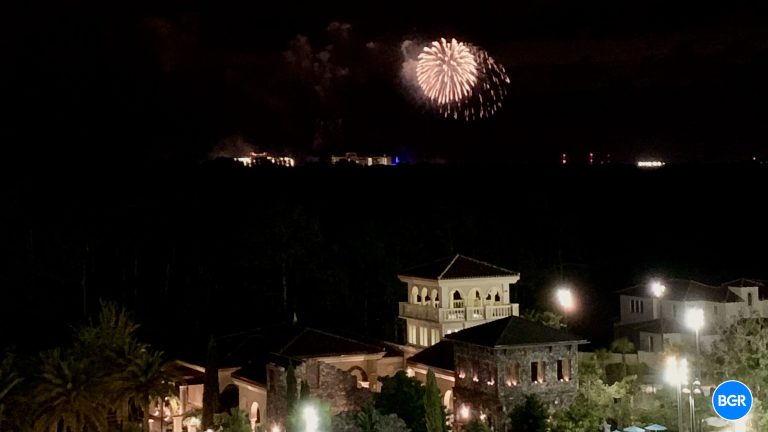 We could see the fireworks clearly nightly from our balcony, truly incredible views.
Water Park and Amenities: Oasis of fun plus relaxation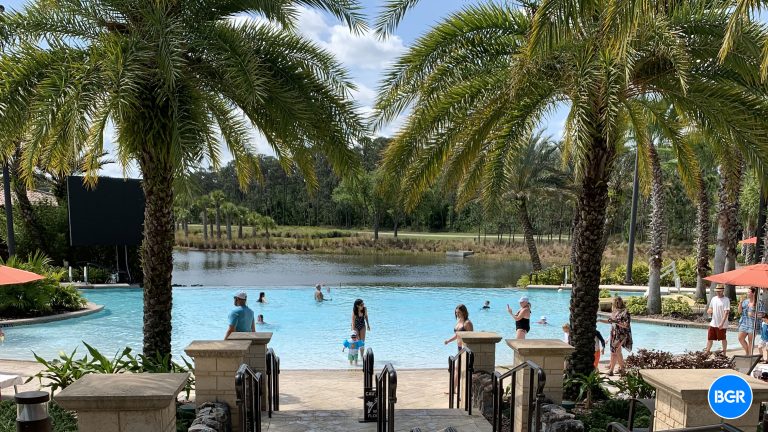 When I said that you should consider the Four Seasons Orlando resort even without a Disney trip planned, this is part of it. The resort's water park and amenities are no less than a mini-Disneyland themselves. Starting with the 5-acre Explorer Island, featuring a huge family pool, winding lazy river that goes around the resort, splash zones, to an adult-only pool with underwater audio, the water amenities cater to everyone.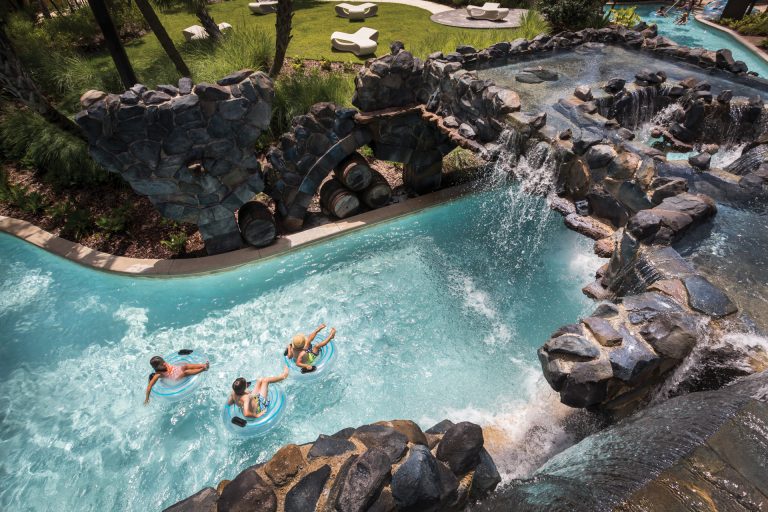 Adding to the mix are a Tom Fazio-designed golf course and a world-class spa, not to mention the multiple award-winning restaurants, each serving great food.
Ravello offers solid Italian-inspired cuisine for breakfast and dinner, and Capas is a one Michelin star Spanish steakhouse situated at the top floor of the property, with balconies and viewing of the entire Walt Disney property around you.
Disney but not at Disney: Your personal fairy tale
So, the Disney integration at the Four Seasons Resort isn't merely an alliance that seems somehow unpossible between two corporate overlords; it's a beautifully woven tapestry of magic and luxury service. The resort's in-room celebrations package, character breakfasts, and on-property Disney planning center are thoughtfully integrated to ensure your experience is as seamless and magical as possible.
The Good Morning Breakfast with Goofy and Pals, held twice a week, offers a charming start to the day, while the Disney Character Dinner at Ravello offers an enchanting end. We have done multiple character breakfasts, and they are always fun, and always done perfectly. Any photos taken can also be connected to your Disney PhotoPass so all your pictures from your experience are all in the same place.
If you want to take it to the next level, the Four Seasons can even help coordinate private character breakfasts or meetings for you and your family.
Four Seasons App: Finally, let's talk about the tech
The final and perhaps most modernistic feature of the resort is the Four Seasons app and digital service, a tech-based product and service that caters to guests that are comfortable directly interacting with the service team from a device vs. a phone call. The app itself is available on your iPhone or Android device, and helps to turn your phone into a digital concierge, available 24/7. It allows guests to make reservations, order in-room dining, book spa appointments, and even chat with a Four Seasons team member in real-time. Launched around 2017, it has slowly expanded the properties that it's available at.
The technology behind it is impressive, and the app's design is intuitive. Its functionalities streamline your stay without losing the personal touch that Four Seasons is famous for.
Need a crib for your baby because you forgot? A few taps and it's done. Want to book a last-minute character breakfast for your kids? Use the app. Wife is pissed at you because you forgot the crib? That was the one thing the app couldn't help me much with, unfortunately.
While not new, nor specific to this property, the app extends from your own device to a dedicated tablet in your room. This is so useful, and it's nice to see the Four Seasons actively competing with other hotel brands on the digital tech side. Room service menus and ordering, housekeeping requests, valet, and more can all be done at your leisure without calling a single person on the room phones.
The service that I have used has always been reliable, and feels smooth across different operating systems whether it's Android or iOS. I also liked the way it handles real-time data and personalization, adapting to the needs and preferences of each user and request without feeling cold.
During my stay, I interacted with it for the following:
In-room dining: High-quality images and detailed descriptions made ordering enticing and a breeze.
Real-time chat: This feature gives guests direct access to a Four Seasons team member 24/7, able to answer questions or fulfill requests anytime, anywhere. This real-time messaging service uses only human representatives, no chatbots, no AI nonsense.
Spa appointments and amenities: Guests can book spa treatments or golf tee times directly through the app, selecting their preferred time slots and services. The app also provides detailed information about all hotel amenities that I found helpful.
Disney services: In true Four Seasons Orlando fashion, the app also includes information and access to Disney services such as the Disney planning center and dining reservations for character breakfasts.
Should you stay at the Four Seasons Orlando?
As you can tell, the Four Seasons Resort Orlando is more than just a luxury hotel near Disney World. As mentioned, I have stayed at almost all the other properties in Orlando over the last 30 years, and the delta between those and this is wide.
And what it boils down to is not even anything specific. It is not just the exquisite suites, the perfect location, or the world-class amenities that set it apart, but it's the holistic experience that places it on a pedestal of its own.
It just so happens that the most magical place on earth is located right in the center of the most magical place on earth.