The Honor Magic Vs is an excellent foldable phone that gets all the basics right — and then some.
Pros
Great design
Stunning screens
Good camera
Top-tier performance
Cons
Expensive
Software takes some getting used to
Foldable phones are having a moment. Since their inception, foldable phones have been more or less a novelty. Cool, to be sure; but uncommon, expensive, and sometimes poorly built. But many of the top Android phone makers have now released their own foldable phones, and while they still aren't cheap, they are much more widely available, and much more accessible. Honor is now on its second generation of foldable phone — following the Honor Magic V with the newly-announced Honor Magic Vs.
The big claim to fame for the Magic Vs is that there's no gap between the screen when it's folded. That's actually a pretty big deal. By being able to fold flat, the phone should be stronger as debris from your pocket will have a harder time wedging itself between the two sides of the screen. That's not to mention the fact that it simply looks better, and will be thinner in the pocket.
But the Magic Vs is still pricey, and still has to deliver in other key areas — like camera and performance. The verdict? Foldable phones are getting seriously good.
Honor Magic Vs design
As mentioned, design is perhaps one of the most important aspects of the Magic Vs. The Magic Vs is slimmer and seems more refined than many other foldable devices out there — thanks in large part to the complete lack of a gap between the screen when folded.
When folded, the device is a relatively slim 13mm, while when unfolded it sits in at only 6.1mm. That's only a fraction smaller than the Galaxy Z Fold 4 unfolded, but almost 3mm slimmer than the Z Fold 4 when folded. That definitely makes a difference when you're holding the device, or even when it's in your pocket.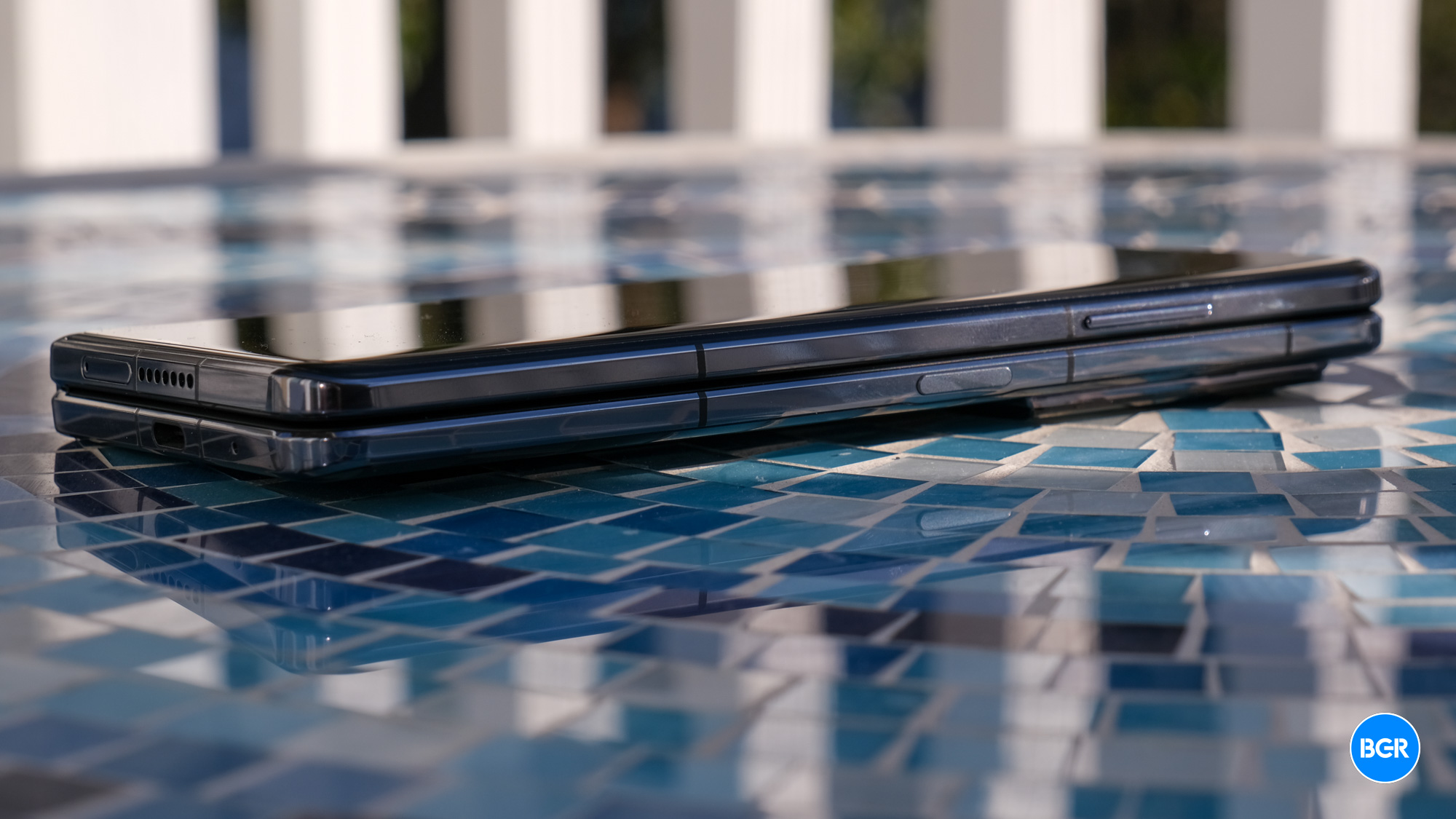 On the front is a 6.45-inch display with a hole-punch cutout for the front-facing camera in the middle at the top of the display. The interior display measures in at a larger 7.9 inches, with the cutout being located on the right side of the top of the display. In both cases, the front-facing cameras are unobtrusive and small, and while in future generations it's likely the cameras will be located under the display, for now I don't mind the cutouts.
On the bottom of the phone, you'll find the USB-C port and the SIM tray. When unfolded, on the right is the power button, while on the left are the volume buttons. When folded, these are all on the left side, but they're staggered in a way that makes them still accessible.
The power button also houses a fingerprint sensor, which I found to be quick and accurate the majority of the time. It generally worked quite well, and made it easier to get into the phone quicker.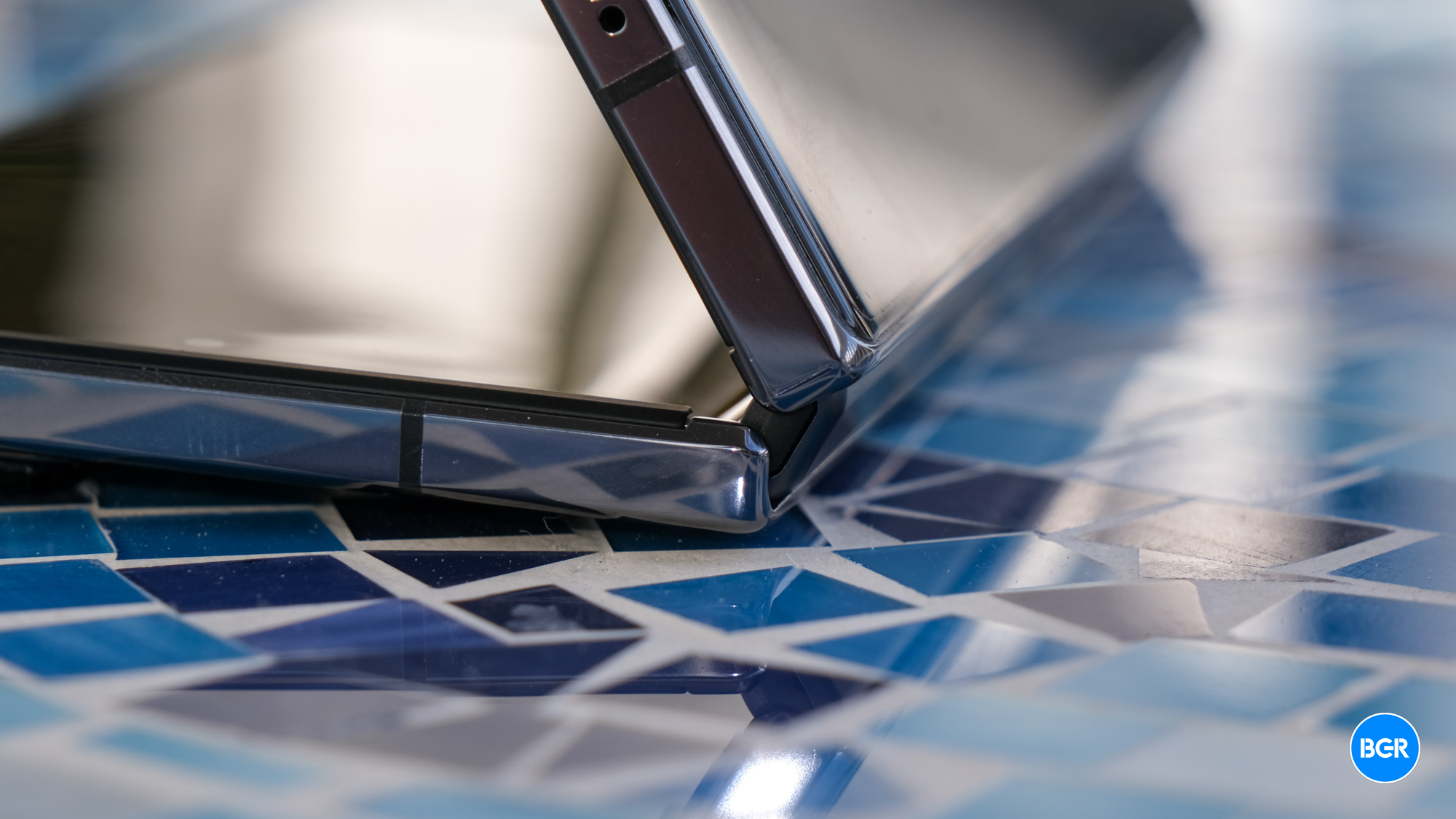 The back of the phone houses the rear-facing cameras. The camera module is relatively large, and the result is that the device won't sit flat on a table — though these days, that's rare anyways. Like many other modern phones, the camera module is rectangular, and houses three cameras.
Generally, I really like the design of the Magic Vs. Much of that comes down to the better-engineered hinge on the device. When folding and unfolding the device, the hinge felt premium and strong. I did find myself wanting more of a lip to unfold the device though.
Honor Magic Vs displays
The Honor Magic Vs features two displays, and they're both relatively high-end — though even higher-end screens might have been nice.
First, the outside display. When folded, you'll use a 6.45-inch OLED screen with a 2,560 × 1,080 resolution and a 120Hz refresh rate. I found that the display felt smooth and responsive, and easily crisp enough to read small text. I don't mind the fact that the display is 1,080p, and I'm glad it still has a 120Hz refresh rate.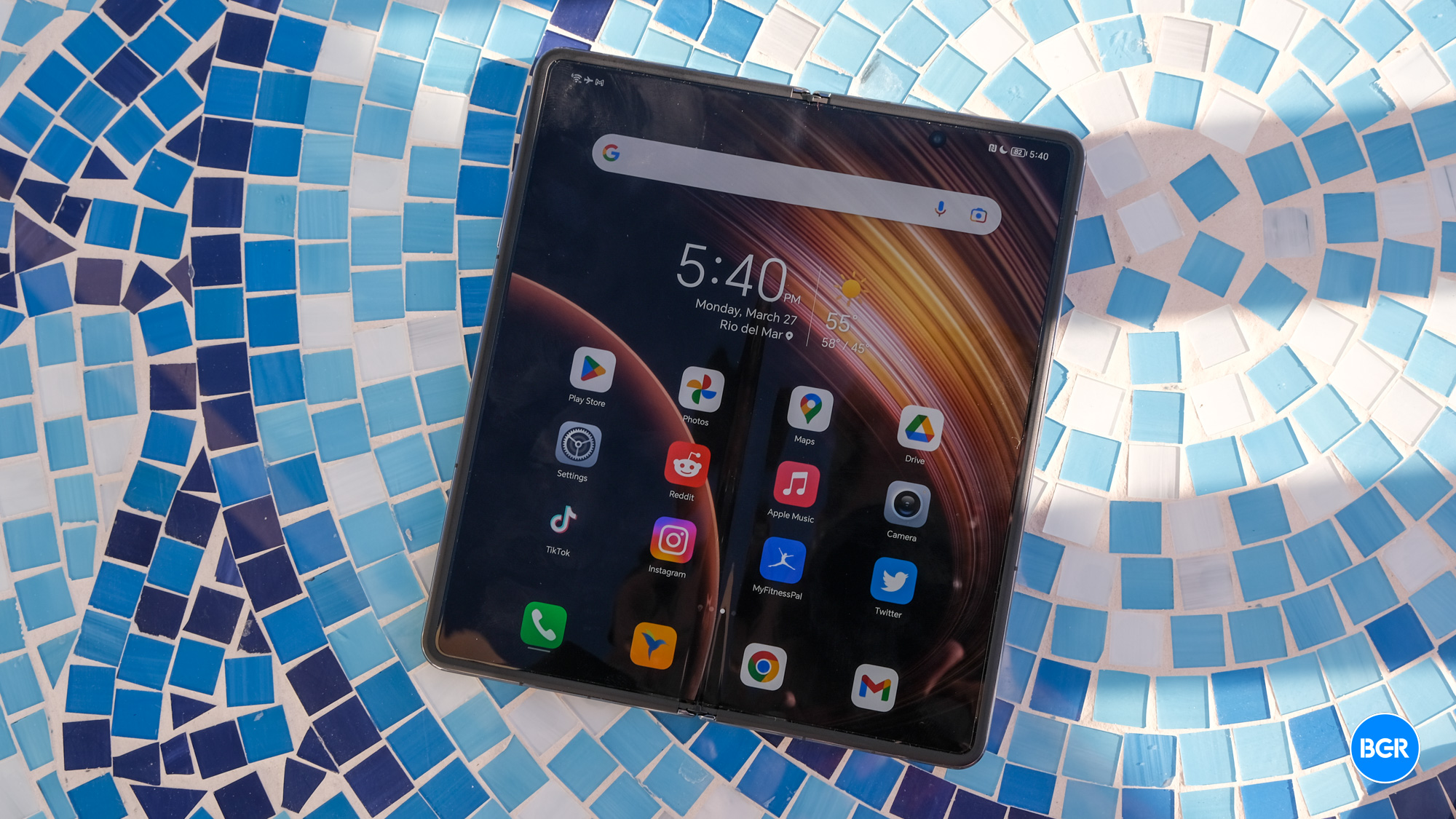 The larger inside display isn't quite as high-end. It's an OLED panel with a 2,272 × 1,984 resolution and a 90Hz refresh rate. The higher resolution here is necessary, given the size of the screen — but the lower 90Hz refresh rate is a little disappointing.
Now, moving from 60Hz to 90Hz is a much more noticeable jump than moving from 90Hz to 120Hz, but when much of the competition offers 120Hz panels, and this phone's own outer screen is 120Hz, the interior display really should have had the higher refresh rate.
Still, despite the lower refresh rate, the screen still looks quite good. It's vivid and colorful, and easily gets bright enough to use even in bright environments.
Honor Magic Vs performance
Under the hood, the Magic Vs is no slouch — but Honor has made another decision that's somewhat head-scratching. The device comes with the Qualcomm Snapdragon 8+ Gen 1 processor, which is last year's flagship chip from Qualcomm. It's particularly strange that there's no Snapdragon 8 Gen 2 here given the fact that Honor's other MWC releases do have the higher-end chip.
Still, the Snapdragon 8+ Gen 1 is easily powerful enough for all use cases at this point in time. In this device, it's coupled with 12GB of RAM and 512GB of storage. Multitaskers will find that the phone can easily keep up with all that app-switching, while gamers will appreciate the low load times and high frame rates.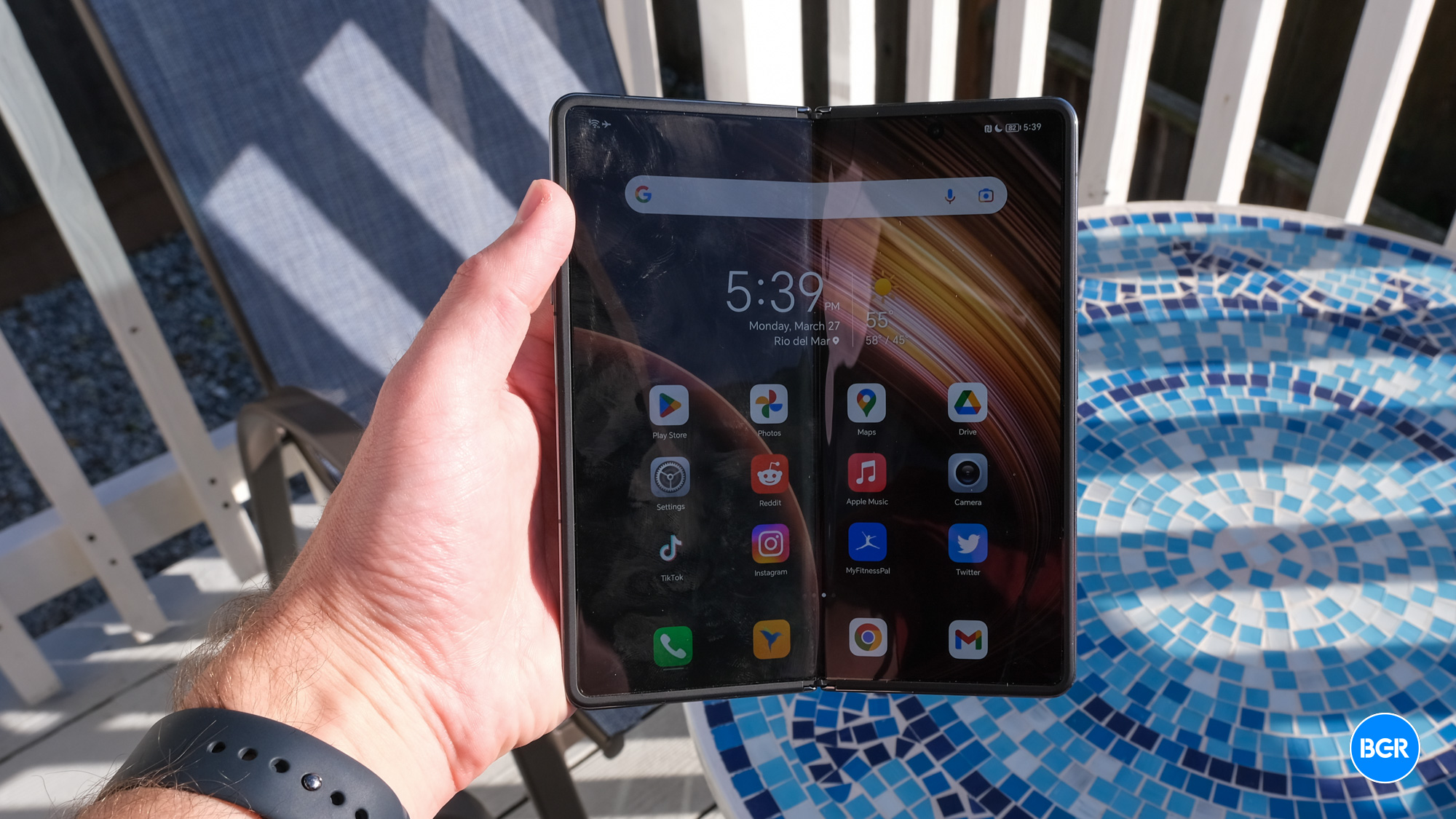 The real disadvantage to having a Snapdragon 8+ Gen 1 will come at the end of the phone's life, rather than at the beginning. The newer Snapdragon 8 Gen 2 will likely be supported by Qualcomm for an extra year, and as the phone ages, the extra performance would have been handy.
But that doesn't take away from the fact that it's still a very powerful phone, and all users should find it more than powerful enough. Here are the benchmark results I achieved with the phone:
GeekBench 6: 1,705 single-core, 4,445 multi-core
3DMark Wild Life Extreme: 2,802
These results are quite good, and more or less what we would expect from a Snapdragon 8+ Gen 1-equipped phone. We haven't tested many phones with the new GeekBench 6 test, but the phone beat Snapdragon 8 Gen 1 phones, but did not beat Snapdragon 8 Gen 2 phones, or the iPhone 14. Exactly as expected.
Honor Magic Vs battery and charging
Powering everything is a 5,000mAh battery, and it was easily able to get me through a full day of decently heavy use. Now, it couldn't really get that much further than that — and if you're looking for multi-day battery life, you won't really get that here.
But still, the battery life here isn't bad for a phone with two screens. That's perhaps one of the advantages of the 90Hz interior display.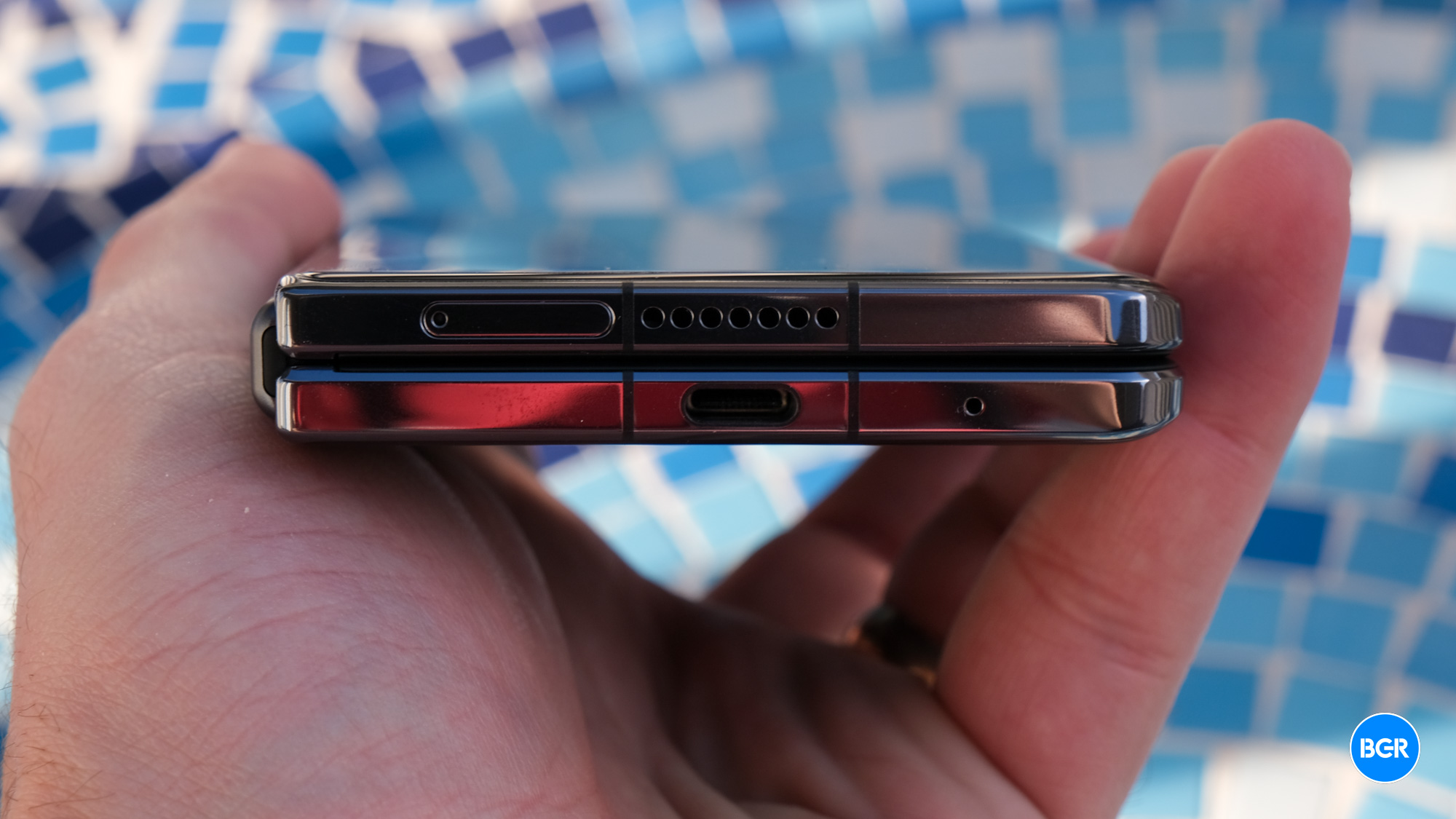 The device can charge pretty quickly too. It supports a charging speed of up to 66W with Honor's SuperCharge technology, and that should allow you to get from 0 to 100% in 46 minutes, which is pretty compelling.
The fast wired charging slightly helps make up for the complete lack of wireless charging here. I'm not quite sure why Honor chose to omit wireless charging in 2023, and I really missed it. I have wireless chargers in my office and bedroom, and use them whenever possible.
Honor Magic Vs camera
On the back of the phone can be found a triple camera array with a 54-megapixel main camera with an aperture of f/1.9, a 50-megapixel ultrawide camera with an f/2.0 aperture, and an 8-megapixel telephoto camera that has 3x optical zoom and an f/2.4 aperture.
It's a versatile camera that hits all the important points. I'm glad there's no cheap macro camera here. But there are still a few missing features here. For example, the phone doesn't offer optical image stabilization on any of the cameras, which could result in less crisp images and shakier video.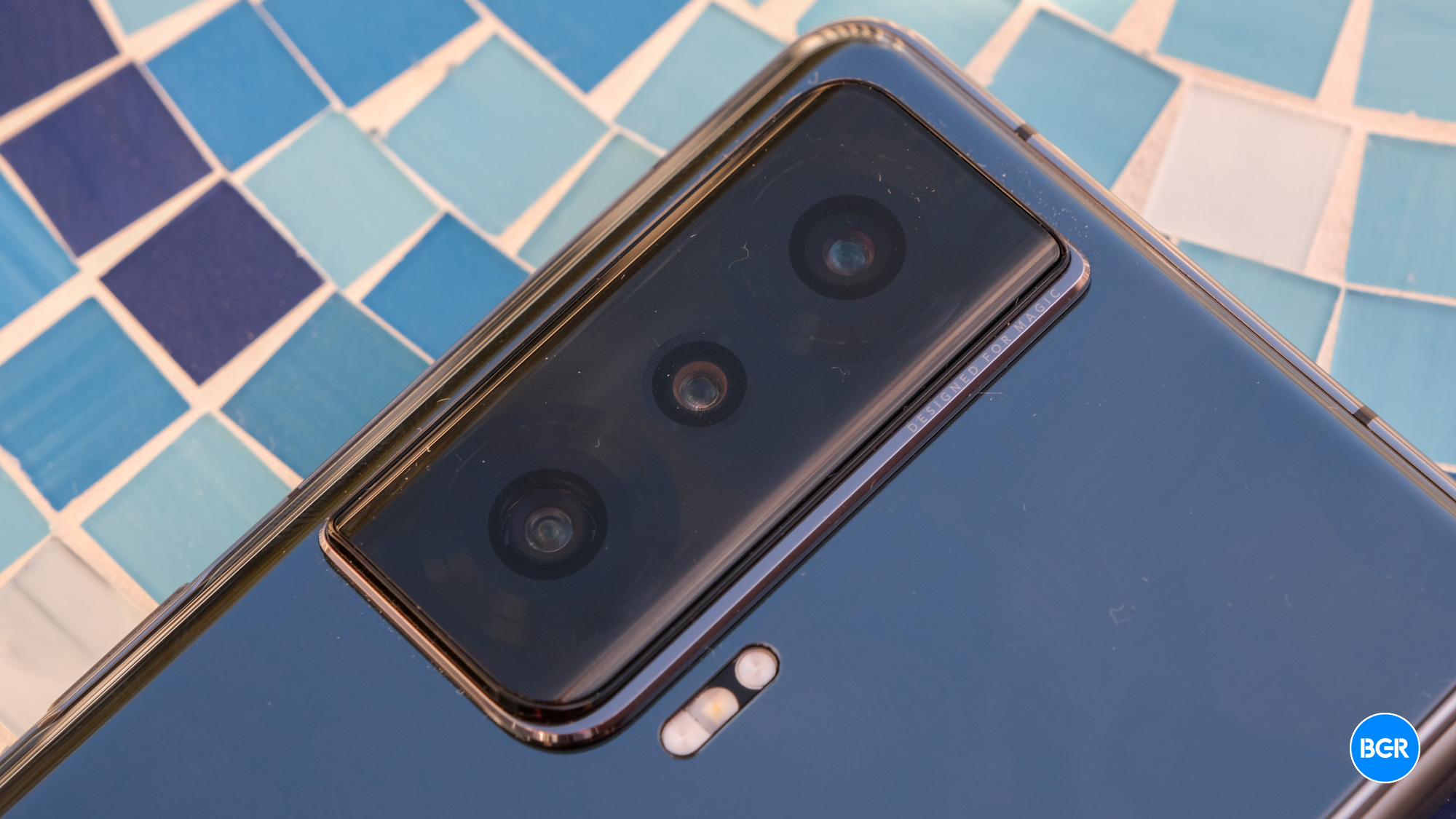 But for the most part, the camera performed pretty well. In well-lit environments, images were crisp and colorful, and while perhaps not quite as vibrant as some of the competition, most will be perfectly happy with what's on offer here.
That's true across the different lenses. In well-lit environments, all three rear-facing lenses were able to produce relatively detailed, vibrant images. Images weren't necessarily completely consistent between the different cameras, offering slightly different color reproduction, but they were pretty close — and most won't notice the differences in day-to-day use.
The phone was able to perform well in low-light images too. It still captured generally good detail overall, and delivered enough brightness to make subjects easy to see.
Video is one area where the lack of optical image stabilization does come into play a little. The phone is able to capture 4K video at up to 60 frames per second, which is fine. And the colors look pretty good. But at times, video can feel a little shaky, and generally, it's not as high quality as the iPhone and Galaxy S23 Ultra.
On the front, the Honor Magic Vs comes equipped with a 16-megapixel camera, and it's not bad. Colors were decently vibrant, and detail was clear and sharp. Of course, images weren't as consistent as on the back, but that's to be expected.
Honor Magic Vs software
The Honor Magic Vs comes with Honor's MagicOS 7.1 operating system, which is based on Android 13. I personally don't love the software skin — it comes with too many extra apps and isn't as stripped-back as software like that on Google's Pixel phones.
One example of features I don't like is the lack of an app drawer. Instead, all of your apps have to be organized across home screens, and while you can kind of make your own makeshift app drawer by having one main home screen and one second home screen with apps organized in folders, many Android users will be used to the app drawer.
An app drawer would help keep all those extra apps organized, too. The device comes with Honor's own email app, along with a range of other extra apps, like Honor's App Store. If you're anything like me, you'll likely hide many of these apps in a folder, as you can't uninstall them.
Still, despite the extra apps and less scaled-back look, MagicOS certainly isn't as bad as some other options. You'll get used to the overall look and feel.
The other issue is the fact that Android developers still, in 2023, haven't all built great apps for larger displays. The Twitter experience on the phone when unfolded is simply bad — despite the fact that it's quite good on iPhone. Hopefully, foldables and more Android tablets will continue to push developers to make better Android apps.
Conclusions
The Honor Magic Vs is a seriously great foldable. I really like the more premium-feeling design, and the lack of screen gap really does make a difference. It's not perfect — the lack of optical image stabilization is a bit of an annoying miss, as is the fact that it doesn't have the latest and greatest chip. But it does push the concept of a foldable forward, offering a premium, high-quality experience in a phone that can unfold into a tablet.
Foldable phones are still pretty expensive, though. The Honor Magic Vs will come at €1,599, which is a lot more than a non-foldable phone.
The competition
The obvious competition to this phone is the Samsung Galaxy Z Fold 4. I prefer the design of the Honor Magic Vs, plus it performs about on-par with the Galaxy Z Fold 4, and offers a similarly good camera. Generally, I prefer the Magic Vs to the Galaxy Z Fold 4, but they both offer among the best foldable phone experiences right now. That said, the Galaxy Z Fold 4 is cheaper than the Magic Vs, which may influence your decision.
Should I buy the Honor Magic Vs?
Yes, but only if you're willing to pay for it.