MacBook Air (15-Inch, M2)
The 15-inch MacBook Air fills a big hole in Apple's MacBook lineup. But ultimately, how does it perform?
Pros
Great design
Solid price
Excellent performance
Super-long battery life
Great speakers
For years, Apple has had a bit of a hole in its MacBook lineup. It has offered the small performance one, and the big performance one — and it has offered the small cheap one. But what about the buyer who wants an inexpensive big-screen laptop experience? That would be a laptop that just… makes sense.
Well, that laptop is finally here — or back. The 15-inch MacBook Air comes stock standard with Apple's M2 chip, along with a similar design as the 13-inch model. And, it only commands a $200 premium — meaning that for the first time in a long time, you can get a large-screen Mac for under $2,000.
At first glance, there are no surprises here. But how does the 15-inch MacBook Air perform in the real world? I've been using the laptop for a while now to find out.
MacBook Air (15-inch) design
The 15-inch MacBook Air offers no surprises in the way of design. What does that mean? Like the 13-inch model, it's a thin, modern-looking laptop that will look great on any desk.
The laptop isn't actually thinner than the 13-inch model, but considering the fact that it has a larger footprint, it certainly feels like it. In fact, it's actually slightly thicker than the 13-inch laptop, coming in at 0.45 inches thick, instead of 0.44mm.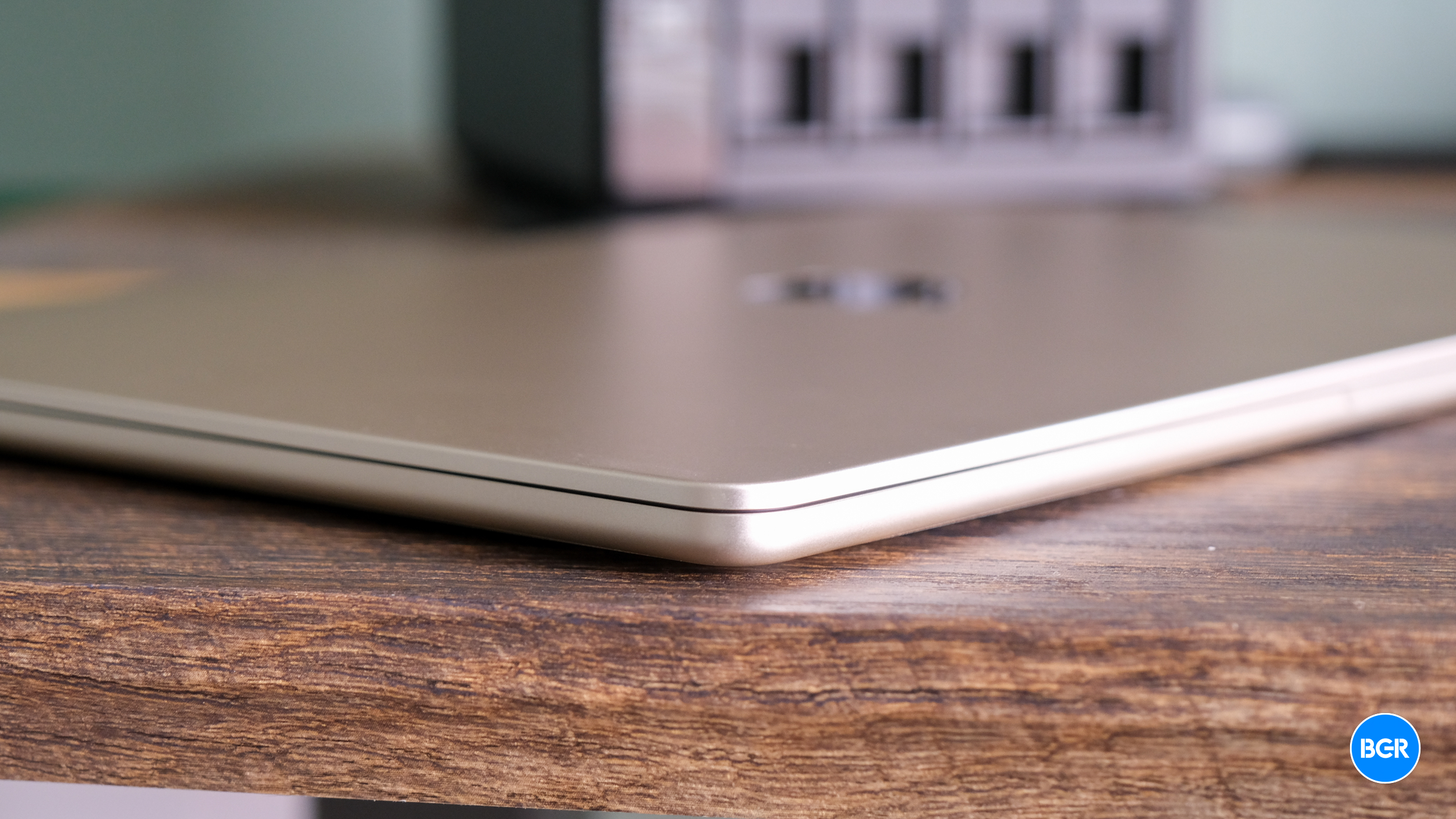 The laptop has a flat-edged design, and I quite like the look. I did love the tapered look of the MacBook of old. However, this new look feels like it fits better with the rest of Apple's devices. It's also available in Silver, Starlight, Space Gray, and Midnight, and they all look great. I'm reviewing the Starlight model.
On the left side of the laptop can be found the MagSafe 3 charging connector, along with two Thunderbolt ports. On the right side, you'll find a headphone jack. I understand that for a wider port selection, Apple wants customers to consider the MacBook Pro — however, I still wish that at least one more Thunderbolt port was available on the right side.
Generally, the 15-inch MacBook Air looks great. Sure, it doesn't change much in terms of design, but that's not necessarily a bad thing.
MacBook Air (15-inch) keyboard and touchpad
Apple has long left behind the controversial Butterfly keyboards — these days, Apple keyboards feel great, offering a good amount of travel and a tactile feel. As someone who spends the day typing, I loved typing on the MacBook Air keyboard.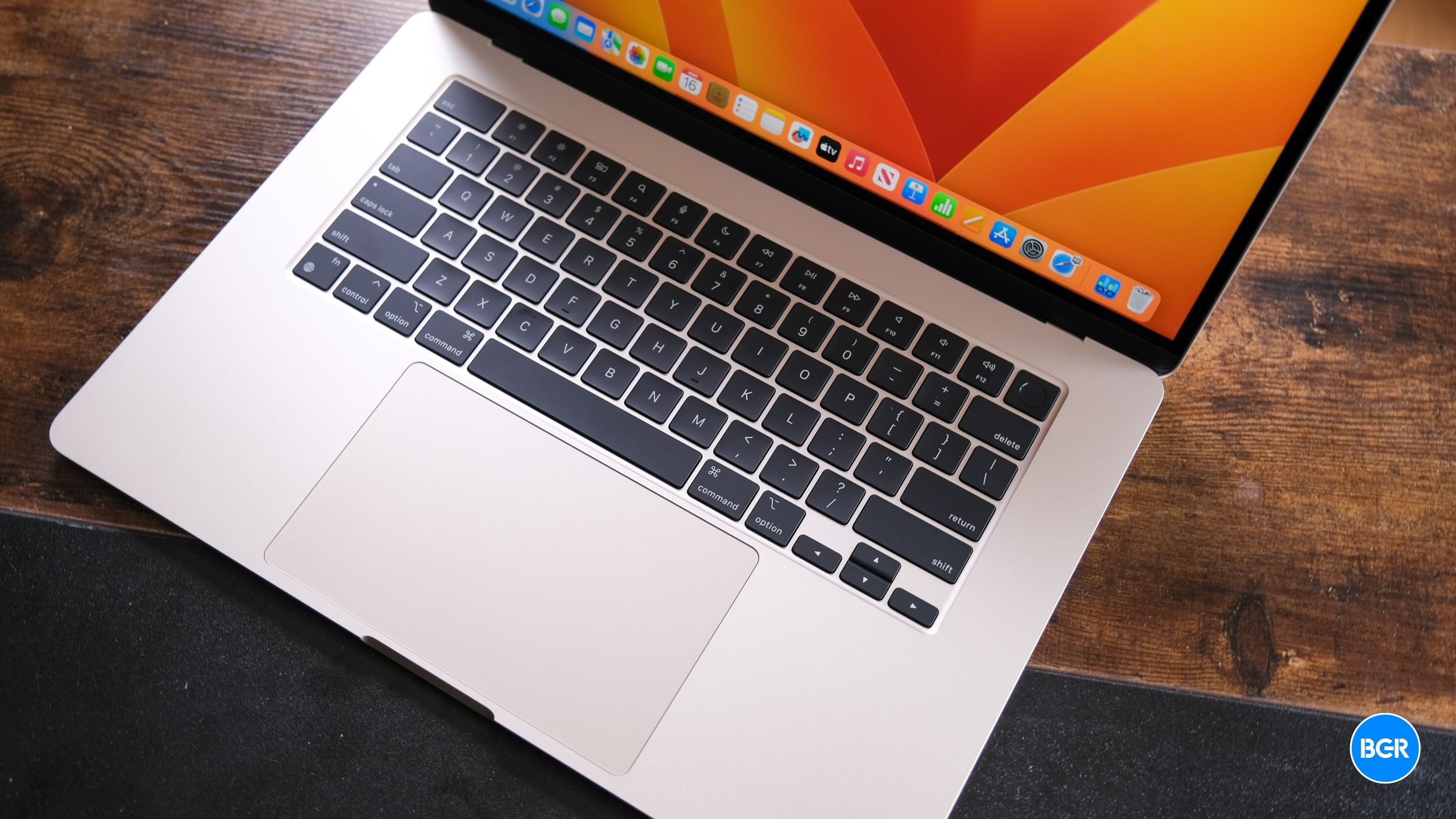 Apple keyboards may have gone through a rough time a few years ago, but Apple trackpads have always been great. That remains true here. The trackpad is big, premium-feeling, and responsive. It makes zipping around the software incredibly easy.
MacBook Air (15-inch) speakers and microphone
The speakers on the 15-inch MacBook Air sound excellent, too. They're bigger than the 13-inch model's, and the result is a deeper, rounder sound overall. Bass is much more well-rounded — and overall I find the speakers on the 15-inch MacBook Air to be among the best-sounding laptop speakers out there.
The microphone is also great. The laptop has a three-microphone array, and I found that it was able to easily pick up my voice for video calls.
MacBook Air (15-inch) display and webcam
The main event here, of course, is the larger display — up from 13 inches to 15.3 inches. It has a 2880 x 1864 resolution and can deliver a brightness of up to 500 nits.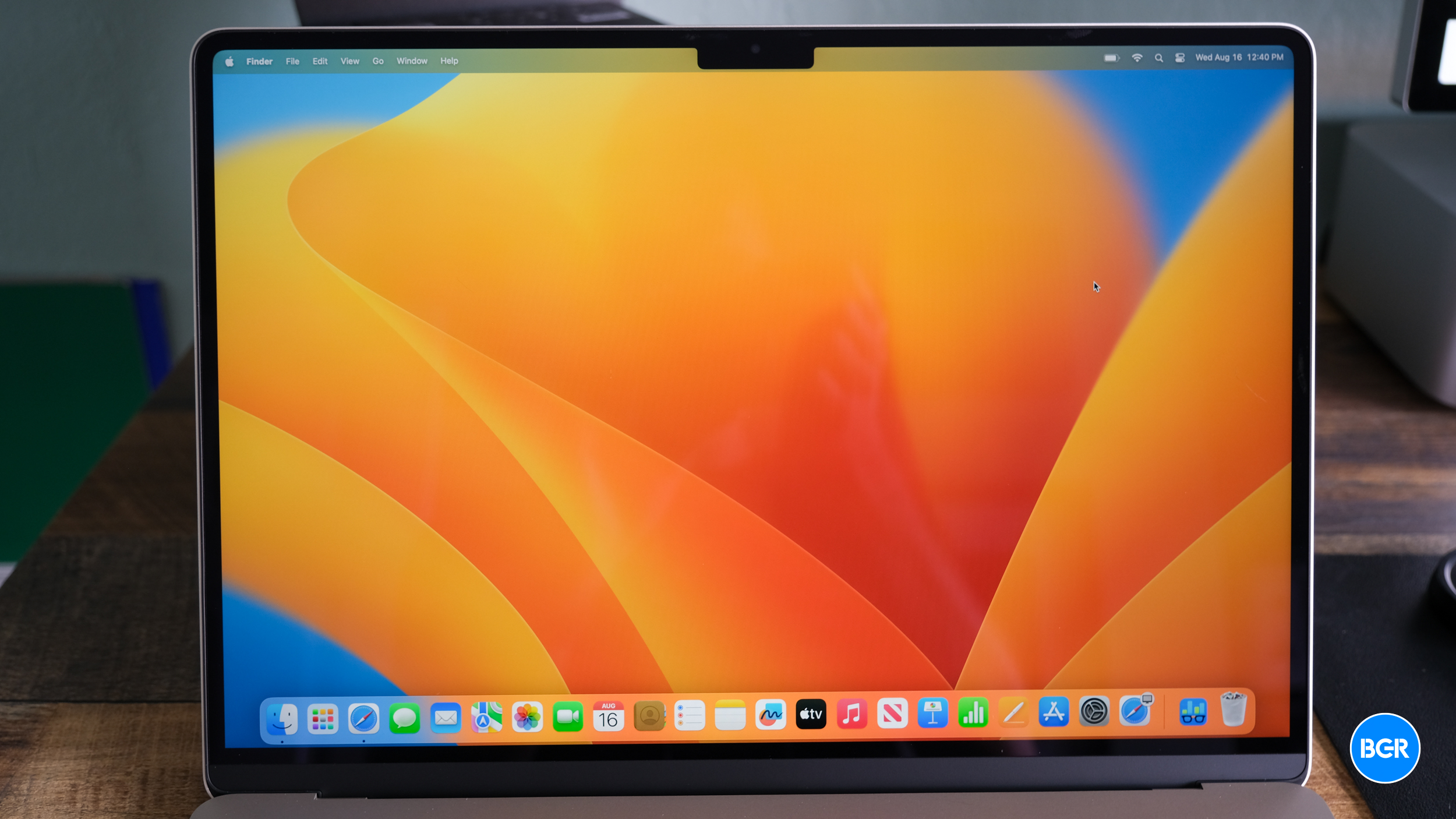 The laptop loses no quality in gaining a larger size. Apple is still using LED panels on its laptops instead of OLED ones, and the refresh rate still caps out at 60Hz — so you aren't really getting cutting-edge display technology here. Still, thankfully, most will find the display to look excellent.
The display is interrupted by a notch, but you'll barely notice it, especially on a screen this large. Also, Apple does a good job at hiding it further through software, which helps.
The webcam, hidden beneath the notch, is good too. It's a 1080p webcam, and it's the same one that we've seen in other recent MacBook models. Your video calls will be nice and crisp.
MacBook Air (15-inch) performance
Under the hood, the 15-inch MacBook Air comes with an M2 chip, coupled with either 8GB, 16GB, or 24GB of RAM. It's the lowest-performing of the MacBook lineup — but still an incredibly high-performance machine.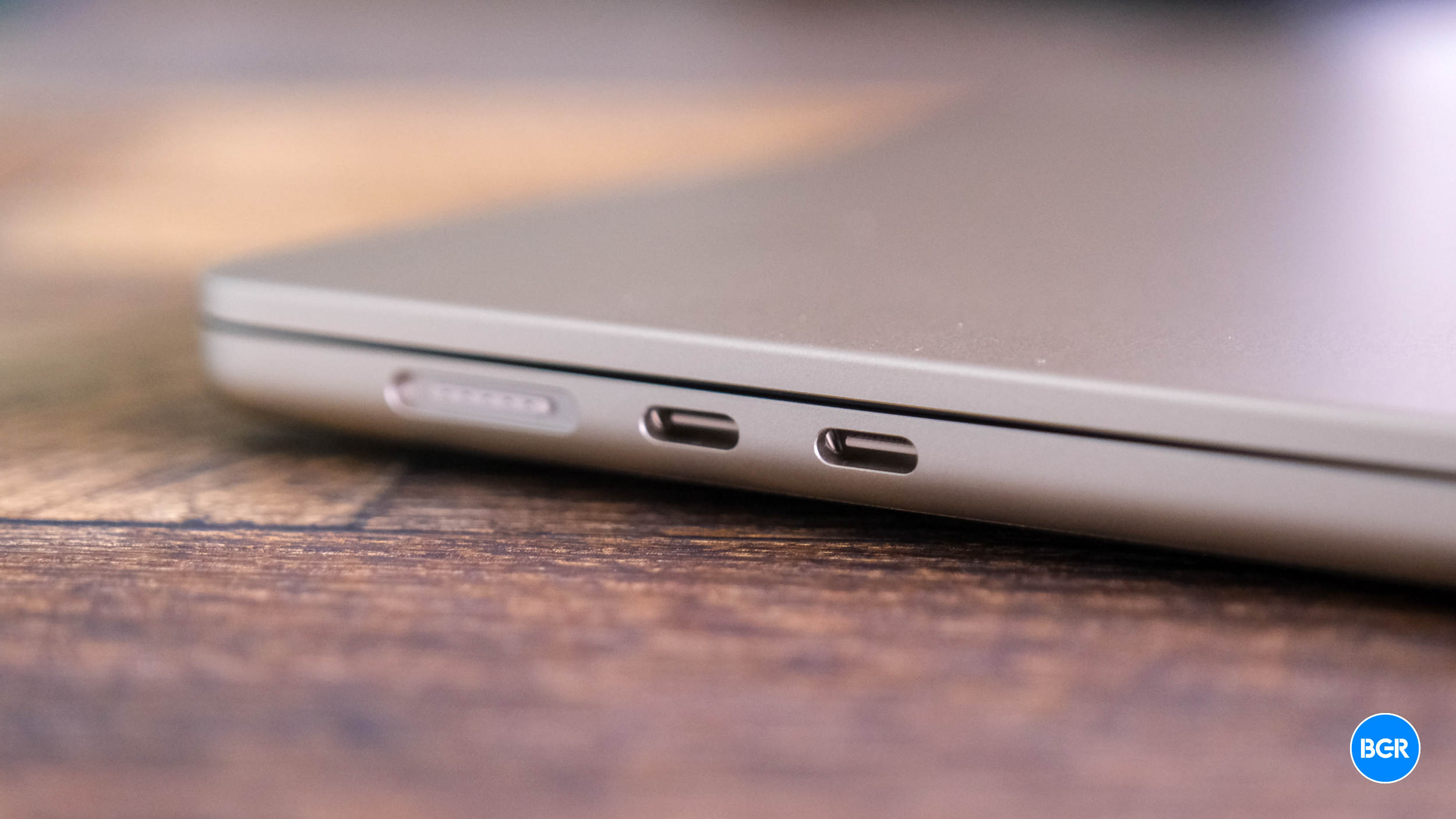 We're now in our second generation of Apple Silicon chips, and they're still head and shoulders above the competition when it comes to balancing performance and battery life.
In day-to-day use, the 15-inch MacBook Air performed excellently. It breezes through tasks like web browsing and emails, so if you're mostly looking for a machine that can handle tasks like that, then you'll be perfectly happy with the Air. It can also handle more complex tasks though, like audio recording and editing — and I was able to perform basic video editing tasks on it, too. That said, if you are really looking for a video-editing machine, you'll probably want to upgrade to the MacBook Pro.
MacBook Air (15-inch) battery
One of the biggest advantages to Apple Silicon laptops has been the monster battery life — and indeed, the 15-inch MacBook Air continues that tradition. The laptop boasts an excellent battery life that is even better than the already excellent battery life on the 13-inch model of the MacBook Air. In practical terms, you'll easily get a full workday of battery, and well into a second, before needing to charge.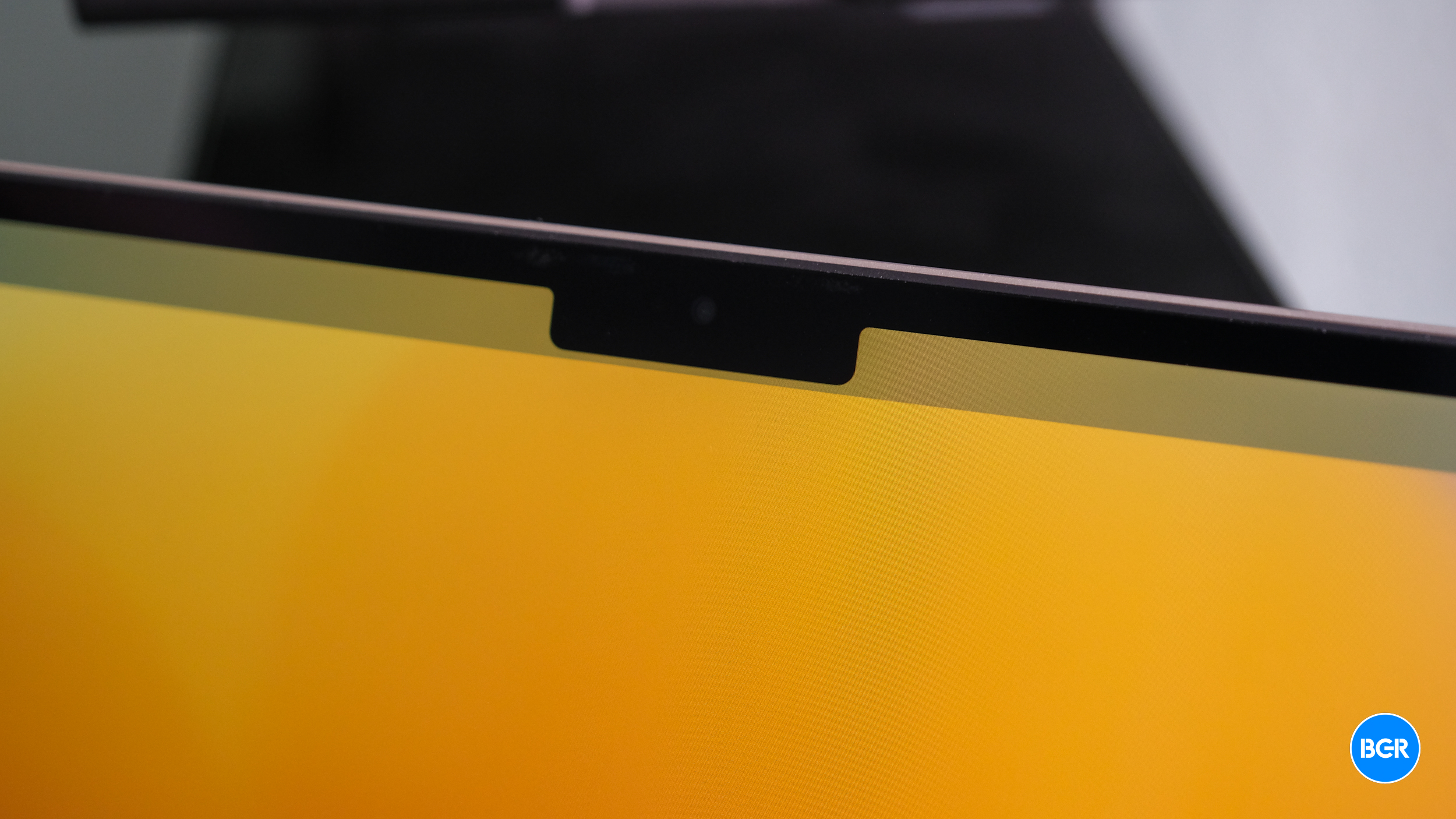 The excellent battery life means that you can treat using the laptop a little differently than you might have in the past. I've stopped really worrying about battery life, for the most part. While I used the MacBook Air exclusively during the time I was testing it, in my normal life, I use a mix of a Mac Studio at my desk and a MacBook Pro everywhere else. I normally only have to charge every few days when I just plug it in overnight.
The MacBook Air charges relatively quickly, though not as fast as some of the competition. The laptop fully charged in a little under two hours, which isn't bad — though you won't reach those charging speeds with the dual-port USB-C charger that Apple offers with the laptop by default.
MacBook Air (15-inch) software and features
This version of the MacBook Air ships with macOS Ventura, which is the latest stable version of macOS. The laptop will get the update to macOS Sonoma when it launches in the fall.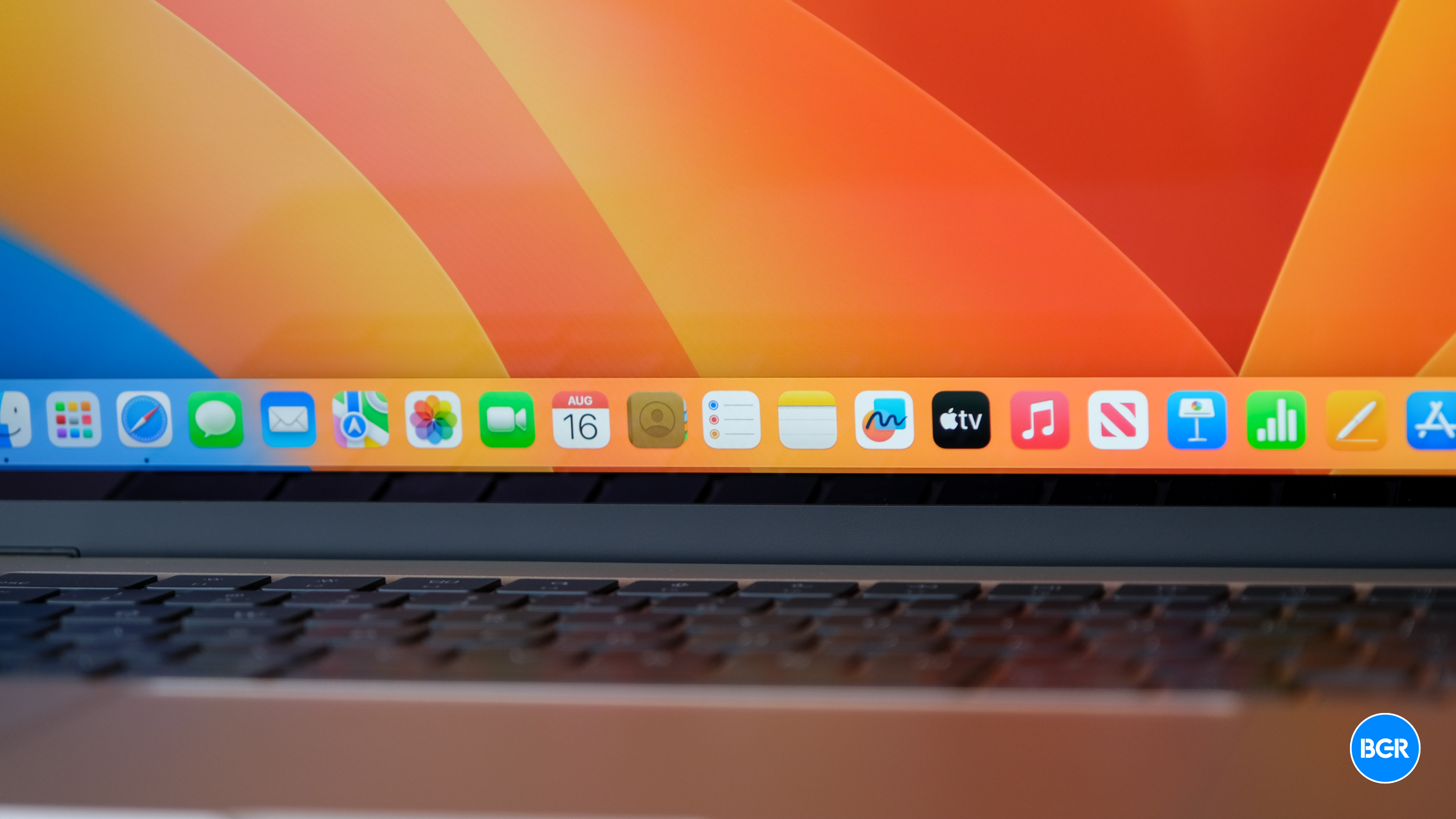 When it comes to additional features, there aren't many here that you wouldn't expect. Like other MacBook models, the laptop offers a Touch ID fingerprint sensor that works very well, and you'll get all the Apple features that you would expect, like Continuity.
Conclusions
The MacBook Air is so obvious, it's a wonder it took Apple this long to create it. That said, better late than never. I personally prefer compact laptops, so I'm glad that you don't really miss out on features by going for the smaller model. But the option of a larger model is always helpful — and I suspect we'll see two sizes of MacBook Air for the foreseeable future.
The competition
If you're an Apple user, there are a few other models to consider. You could get the more compact 13-inch model, and you should if you want something that's portable with similar performance. You won't miss out on features by going for the 13-inch model — just a smaller screen, smaller battery, and slightly worse speakers.
Alternatively, you could go for the MacBook Pro. Most simply don't need the better performance on offer by the MacBook Pro and can deal with the more limited port selection on the Air with dongles and hubs. If you're a demanding video editor or need a better-performing machine, however, you may want to go for the Pro model.
Should I buy the MacBook Air (15-inch)?
Yes. If you want a 15-inch laptop that performs excellently and are willing to spend the money for a MacBook Air, this model is the way to go.