Since buying Whole Foods last year, Amazon has been working aggressively to get as many of its million of Prime members to shop in-store as possible. In the time-honored retail fashion, that really just means extra discounts and savings for Prime members.
Amazon announced this morning that Whole Foods savings will be available Wednesday to Prime members shopping in 10 more states, including Arizona, Georgia, Hawaii, Oregon, North Carolina and Washington. The discounts include exclusive sales on a small number of products — sales only available to Prime members — plus an extra 10% off most other on-sale items in the store.
The exclusive Prime discounts are significant, working out to 30-50% off some expensive items:
Organic yellow nectarines and peaches, $1.99/lb., save $2/lb.
Made-in-house pork sausage, no antibiotics, $3.99/lb., save $3/lb.
Wild sustainably caught yellowfin tuna steaks, $15.99/lb., save $9/lb.
Annie's Natural Macaroni & Cheese, buy one, get one free
Essentia Water, 1.5L bottles, 4/$5
Self-serve tea cookies by the pound, 50 percent off (one-day sale, June 15)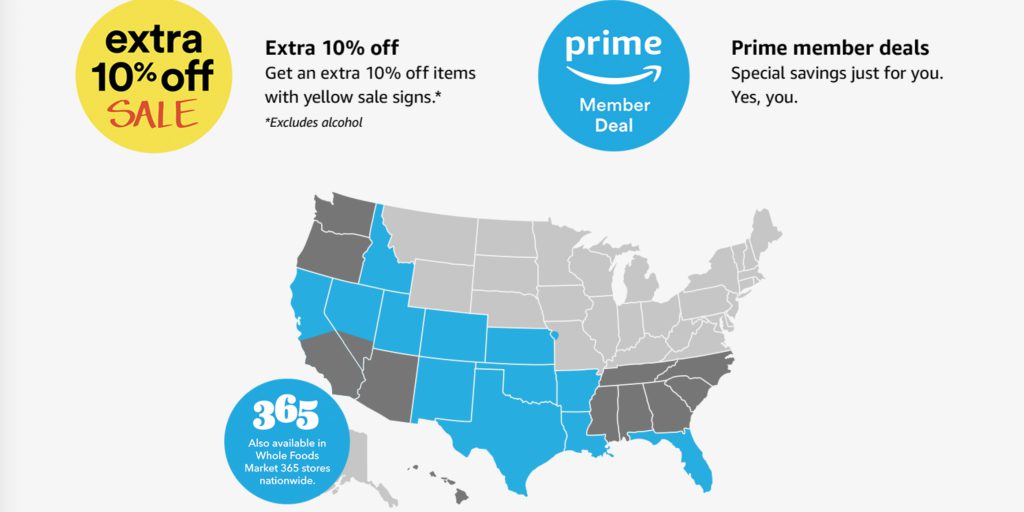 The 10 percent extra discounts are on any on-sale items that have a yellow sign, excluding alcohol. Amazon says that should include "hundreds" of items within the store, but obviously your experience is going to be more local.
In order to get discounts, Prime members need to download the Whole Foods Market app on their smartphones and link their Prime membership. In addition to the savings it announced today, Prime members also get free two-hour delivery from their local Whole Foods, and can pick up packages or ship returns from the local Whole Foods store. There's also an Amazon Rewards Visa card that gets members an additional 5% cash back when shopping at Whole Foods.
Whole Foods discounts for Prime members are active now in the following states:
● Alabama
● Idaho
● North Carolina
● Arizona
● Kansas
● Oklahoma
● Arkansas
● Louisiana
● Oregon
● California
● Mississippi
● South Carolina
● Colorado
● Missouri (Kansas City only)
● Tennessee
● Florida
● Nevada
● Texas
● Georgia
● New Mexico
● Utah
● Hawaii
● Washington