As expected, Hurricane Harvey has taken a significant toll on Texas since making landfall on August 25th. Hundreds of thousands of people have been affected by the storm throughout Southeast Texas and the Caribbean, but Houston bore the brunt of the damage, with an estimated 9 trillion gallons of rain having fallen in the region by Sunday afternoon. Reading about the devastation is one thing, but in order to truly grasp how catastrophic Harvey has been, you need to see what Houston looks like now.
On Monday, CNN published a collection of before and after photos from Houston, Texas, showing what a massive impact the storm has had on America's fourth largest city. And as if photos like the one I chose to put at the top of this article aren't affecting enough, the interactive feature on CNN will leave you speechless. Here's a sample of one of the photos, just to give you an idea: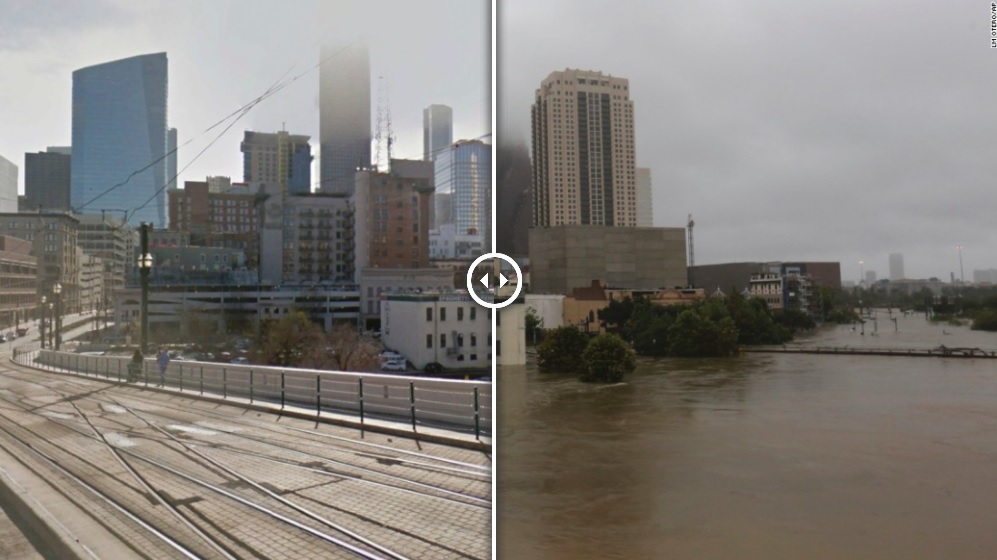 Since making landfall, Harvey has weakened to a tropical storm and retreated back into the Gulf of Mexico, but Texans are far from out of the woods. As recovery and rescue efforts continue, CNN reports that Tropical Storm Harvey "could still dump up to 15 inches of rain on portions of southeastern Texas and southwestern Louisiana" before making landfall once again near the Texas-Louisiana border on Wednesday morning. In other words, this will likely get worse before it gets better.
If you want to lend a hand to the victims of this historic storm, there are countless ways to do so. You can donate $10 to the American Red Cross by texting HARVEY to 90999, you can donate to the Salvation Army by texting STORM to 51555 or you can donate directly to Mayor Sylvester Turner's Hurricane Harvey Relief Fund. Check The New York Times for a more expansive list.