There are so many things that you can accomplish with your iPad. It's a premiere tablet that allows you to do almost anything on a computer. An iPad can do so much, and you'll need the best iPad cases to protect yours.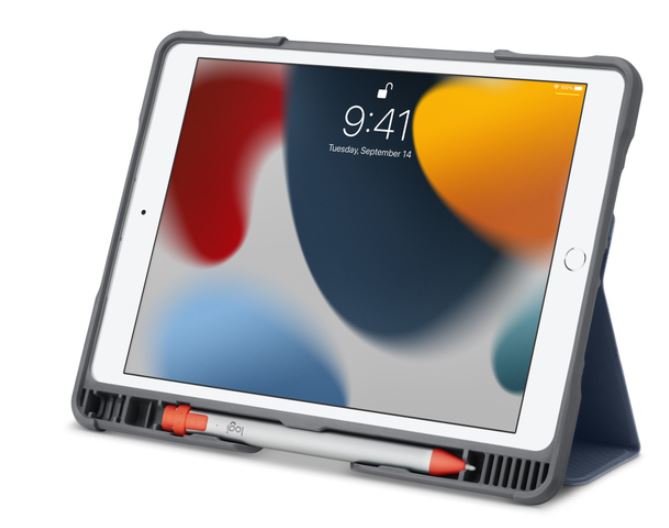 There are so many different iPad cases on the market that it can be difficult to know which ones are good.
Luckily, we've found our choices for the best available iPad cases, so you don't have to do as much digging.
Let's take a look at the picks we've hand-selected for you.
BGR may receive a commission
Is there a difference between an iPad case and a cover?
A cover usually will just attach to the back and then flip over to shelter the screen. But it usually provides little protection from falls.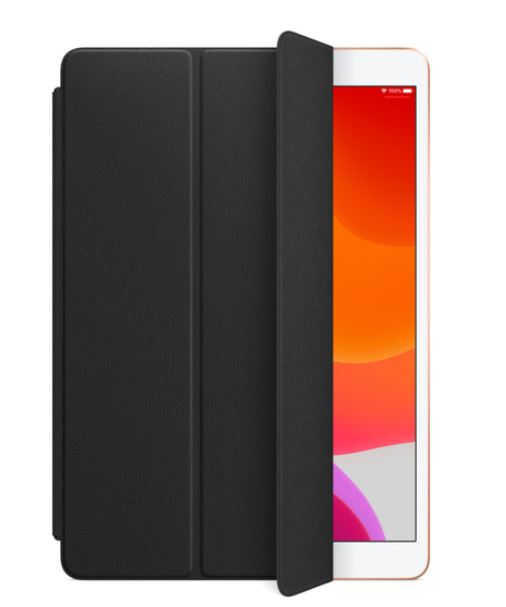 A case is the overall body frame that will protect your device against falls but may not cover the screen.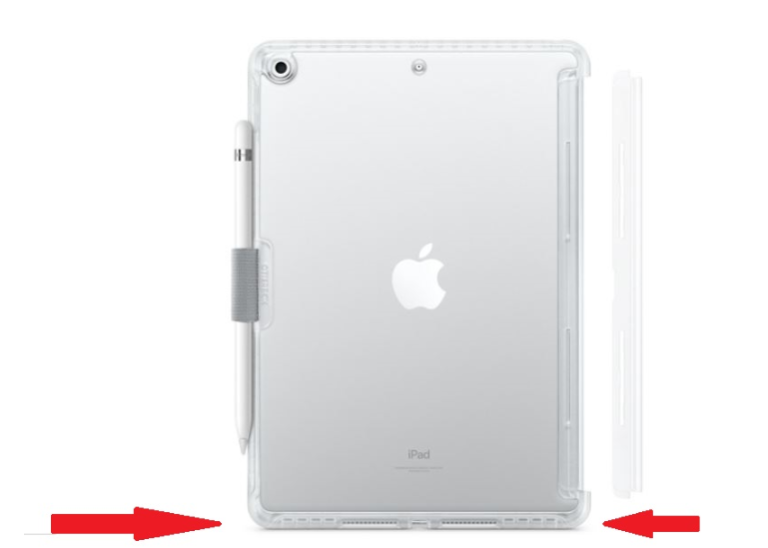 Are the best iPad cases even worth it?
It really depends on how much you trust yourself to keep your iPad safe. If you're prone to accidents, the case will pay for itself likely. Whether or not you should consider a screen protector is another story, but when it comes to using a case, almost everyone would be better with one.
What are some of the very best iPad cases to buy?
JETech Case for iPad Air 5/4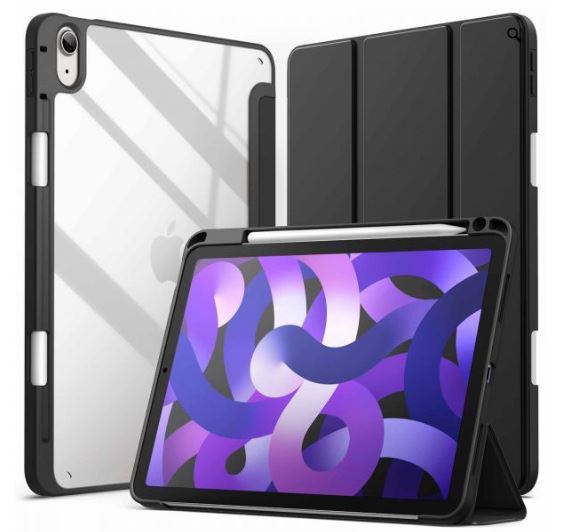 This iPad protector looks similar to the official Apple case for iPads and is a more affordable alternative. It remains one of the best iPad cases for those on a budget.
Sure enough, it may not entirely feel like the Apple iPad case but will protect your device with its flexible build. It has a tri-fold front cover that will hold up your device as a durable viewing stand.
Further, it has precise cutouts for easy access to its speaker, buttons, and ports. It comes in a wider variety of color specifications like Rose Gold and Navy blue, unlike Apple's.
Best convertible iPad cases
ZUGU case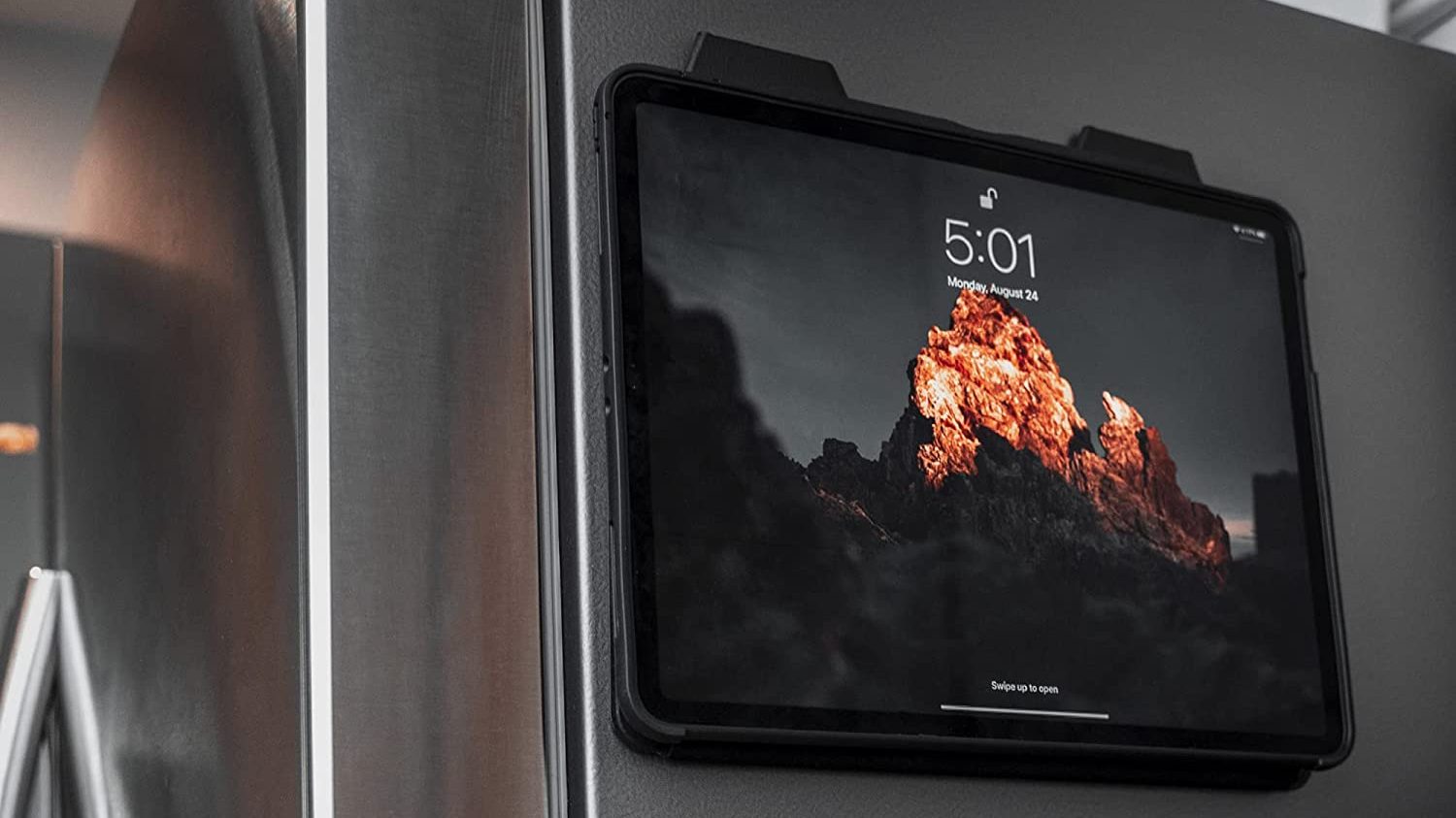 Pros: Options for every version of the iPad, eight different angles, synthetic leather
Cons: Adds a little bulk to your iPad
Not only does the ZUGU CASE provide excellent protection for your iPad, but it also provides you with a portable stand, so you can prop it up and use it more easily.
Because of that, you'll be able to pick the most comfortable position fort. This version is compatible with the iPad 10.2″ 7th, 8th, and 9th Gen versions. But there are other versions of this that can cover 9.7″ versions of iPad 6th Gen and the iPad 5th Gen, as well as the iPad Air 1.
You can feel the durability of the dual injection PC/TPU shell that has passed military-grade drop tests from five feet. Because of that, it is a little bulkier than other models. But you pay for the durability.
The case is magnetic, so you can even hang it from a metal area to make using and viewing simpler. It has an internal fiberglass structure to cradle your iPad and leave you feeling comfortable having it in the case. ZUGU CASE covers all AppleCare+ repair costs for cracked screens, so you won't have to worry about that if it happens.
Best mini case
LEDNICEKER Kids case for iPad Mini 1 2 3 4 5
Pros: Built-in handle, two kickstand legs
Cons: No screen protection
The iPad Mini has become an extremely popular version of the tablet. For those of you looking for a case for your child or yourself, the LEDNICEKER Kids Case for iPad Mini 1 2 3 4 5 is a great choice.
Even though it says it's a kids' case, it can be used by adults.
It covers the backs and sides while extending above the surface to protect as much of the iPad as possible. The built-in handle makes it so simple to carry that you can swing your arms while walking down the street.
More reasons this is a great choice are the two kickstand legs that turn this case into a stand. You don't have to worry about the camera and button controls, as those sections of the foam are carved out for easy access. If your child has a new iPad Mini from 2021, they can get a case from SUPNICE, which is listed under the LEDNICEKER store on the Amazon store.
Best heavy-duty iPad cases
Rantice iPad 9th Generation case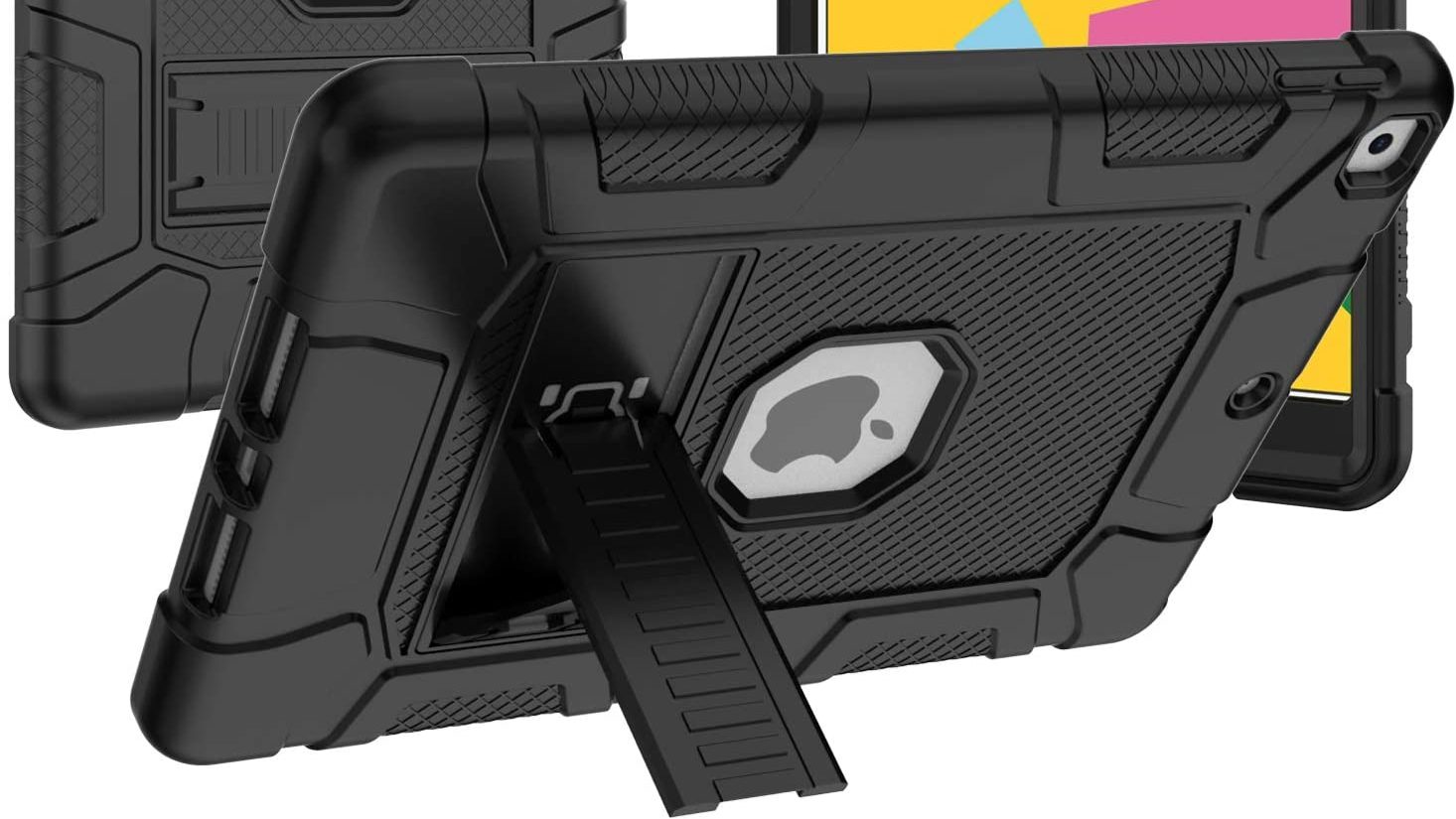 Pros: Three-layer design, built-in kickstand
Cons: No slot for an Apple Pencil
For those who are worried about dropping their iPad or are nervous about giving one to their kids, the Rantice iPad 9th Generation Case is rugged in both design and performance. It is a great option if you have the 7th, 8th, or 9th Gen 10.2-inch iPad. There are versions for older iPads as well.
The case is built with a shockproof exterior, meaning it'll handle just about all the typing, gaming, or video watching you'll put it through.
You'll notice it fits your iPad snugly, so it's hard to take off but easy to carry. The soft, silicone outer core absorbs any damage and protects your tablet from harm. It has three layers to prevent scratching and the need to get it fixed. It comes in 16 different colors, meaning you have several colors to choose which best suits your taste.
The back also features a kickstand that lets you hold it horizontally or vertically. You don't have to take off your case to reach your ports. It also ensures that your ports are lined up correctly.
However, this heavy-duty case does not have a slot for the Apple Pencil, so you will have to find a place to store it. This won't set your bank account back much but will provide you with a lot of protection for your iPad.
Best for Apple Pencil
Akkerds case
Pros: Made from durable leather, built-in Apple Pencil holder
Cons: Not compatible with other iPads
The Akkerds Case will help you use your iPad more efficiently. That's because this has a built-in Apple Pencil holder. Using an Apple Pencil lets you get the most out of your iPad. If you have one, you need a place to store it. This allows you to keep it with your iPad.
This is meant for the 7th, 8th, or 9th Gen 10.2-inch iPad. It only works with these. It is made from durable PU leather and TPU. The four corners and the back cover maximize the protection.
The built-in magnetic strip provides auto sleep and wake features. You'll still have full access to all the controls and features. This has a tri-fold design that gives you multiple angles for viewing. There are ten colors to choose from.
Best iPad cases for iPad Air
TiMOVO case
Pros: Raised bezel to protect the camera, multiple colors
Cons: The cover flips open but doesn't secure while you're using the iPad
The TiMOVO Case is perfect for the iPad Air 4th Generation. The front PU leather and back hard PC cover provide full-body protection. It'll work against scratches, shocks, drops, and impacts. There is a raised bezel that protects the camera lens. This is slim and lightweight, adding no extra bulk to your iPad Air.
This is one of the best iPad cases because it supports Touch ID functions. There are precise cutouts to give you full access to the controls. This has auto wake-and-sleep functions. It is a trifold stand design similar to the previous option.
The sleek profile is comfortable to hold. It will also hold your Apple Pencil. It won't ding your savings much either.
Check out our picks for the best tablets!
Apple Smart Folio cover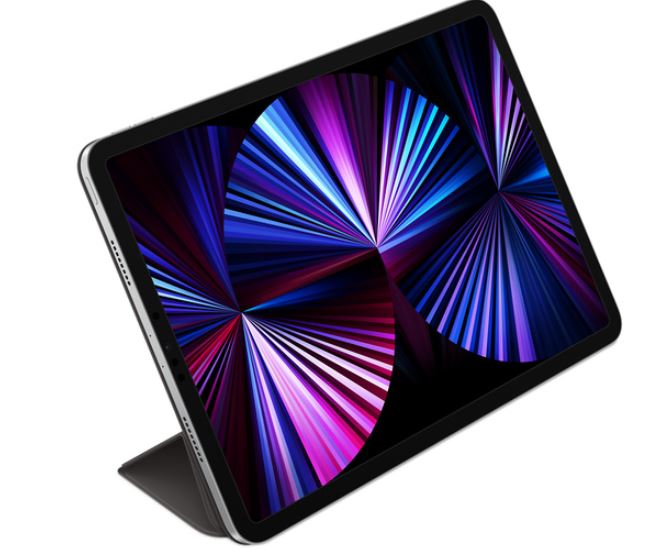 Pros: Forms a perfect fit and with a pleasant touch or feel.
Cons: It is quite expensive and does not have edge protection.
The Apple Smart Folio case is an impressive kit made from polyurethane instead of the usual leather material. Although expensive, this iPad protection is an excellent choice for users who love to prop their devices on flat surfaces. It gives a pleasant feel when touched or carried and has a powerful magnetic closure that holds your iPad firmly.
However, you would have to be careful using this iPad case as it wasn't built with edge protection. Overall, the Apple Smart Folio cover is an excellent choice for your iPad Air 4, the new iPad Air 5, and the iPad Pro 12.9. Additionally, this iPad case comes in several attractive colors.
ESR Rebound Hybrid Protection Bundle case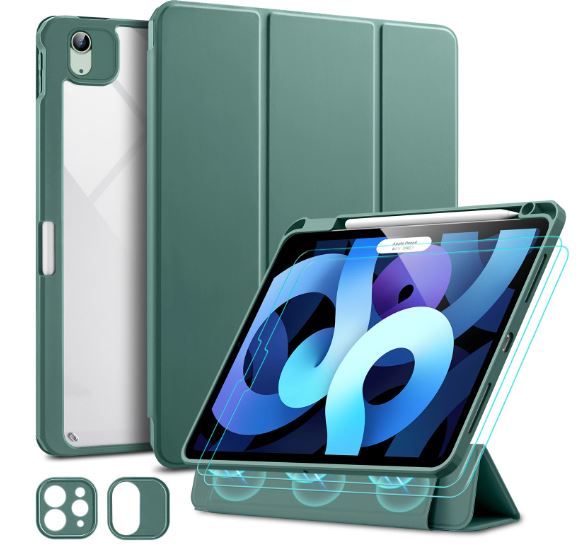 Pros: Supports auto sleep and wake functions, Apple Pencil 2 charging and pairing, has a firm but detachable magnetic cover, and is lightweight. Tempered glass for the screen, scratch, and crack-resistant protection.
Cons: Magnets may wear out over time.
The ESR Rebound Hybrid Protection Bundle case is a widely preferred iPad case with a powerful magnetic attachment feature. The iPad case folds out into a beautiful adjustable magnetic tri-fold stand for better viewing angles.
This iPad case also supports the Pencil 2's charging and pairing with its slim and lightweight body. It also comes with a thick, fold-over clasp that acts as the screen protector for your iPad.
The rubber surface gives the body a firm grip and also acts as drop protection in cases of accidents. In addition, this iPad case comes with tempered glass as an added protection for your iPad's screen. The additional feature is thin enough to maintain your iPad screen sensitivity.
Although there are claims that the magnetic attachment wears out, this iPad Air case may just be what you need. It is an excellent case for iPad Air 4, the new iPad Air 5, or the Pro 11.
UAG Metropolis SE Series case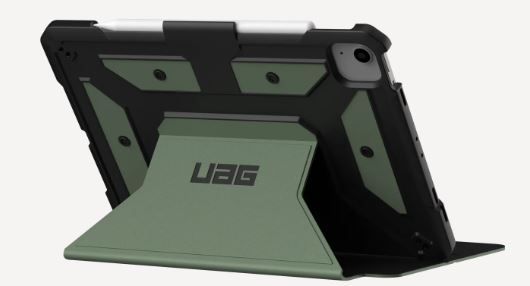 Pros: Supports Apple Pencil pairing and charging, Apple pencil holder, a kickstand for better viewing angles, and heavy-duty complete protection.
Cons: Not quite attractive for everyone.
This is one of the many rugged cases out there. This impact-resistant case satisfies the military-grade drop-test conditions. With an all-around protection capability, this iPad case should protect your iPad Air from the worst-case scenarios.
Don't be fooled by its rugged looks. This Urban Armor Gear option is also lightweight. It has a smooth folio cover that can also act as an adjustable stand for hands-free viewing or watching videos. The cover supports the tablet's auto sleep and wake function to save its battery life.
This rugged case also has an Apple Pencil holder that supports pairing and charging of the Apple Pencil. It may not be all so fabulous, but it is an obviously impressive case for your device. That said, this would be one of the many great iPad Air 5 cases if you are keen on protection and not just beauty.
Spigen Tough Armor Pro
Pros: Air cushion technology, enhanced drop protection feature, Apple pencil holder, Slim build quality
Cons: Quite costly
Several protective cases exist, but only a few come with advanced shock absorption capabilities. Thanks to the Air cushion technology, Spigen's Tough Armor cases keep your iPad protected against extreme accidents.
Its slim build quality has an in-built Apple Pencil holder and reinforced edges for enhanced drop protection. Although it is not cheap, it is a rugged iPad Air 5 case for better protection of your new Tablet.
MaxCases Extreme-X Case and Screen Protector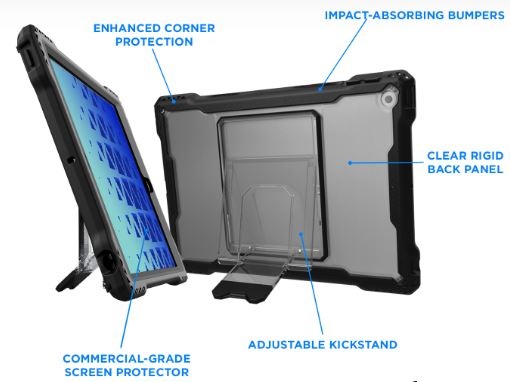 Pros: Shoulder strap, built-in screen protector, adjustable kickstand, Impact absorbing edges
Cons: Non-stylish design
This is another one of those iPad cases that may look non-stylish but are built for maximum drop protection. It has integrated internal air pockets for optimized shock-absorbing effects and durable through-hole corners for hands or shoulder straps. The adjustable kickstand design can be used as a viewing stand for watching videos or even during video calls.
Best iPad cases for iPad Pro
Apple Smart Keyboard Folio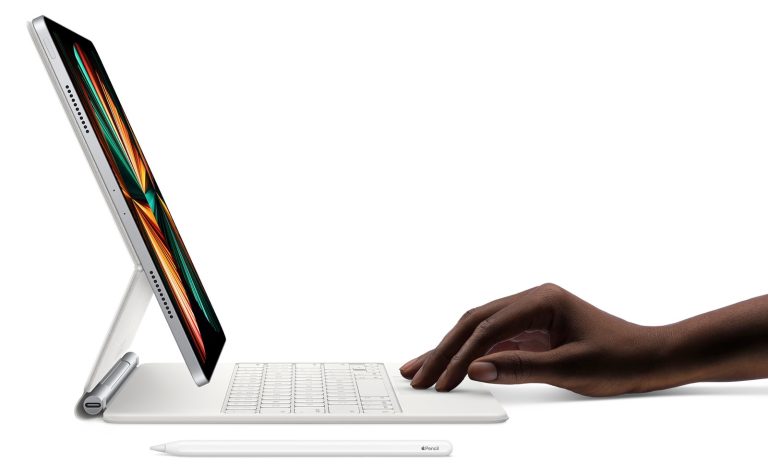 This Apple's very own ideal case comes with a full-size keyboard that can give your iPad a laptop feel for better productivity. It is suitable for the 3rd gen iPad Pro-11-inch and 2020 iPad Air upwards.
Honorary mentions
Casemade leather case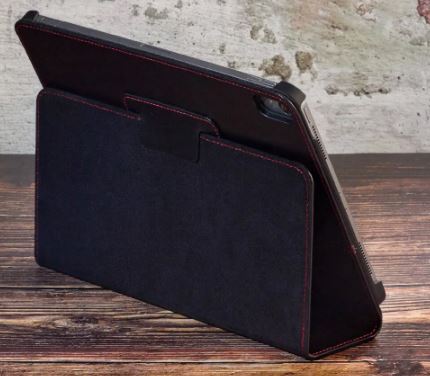 Apple didn't make a leather iPad case, so here is a great alternative. It has a premium leather build made of high-quality cowhide that would fit your device securely. Its soft brushed micro-felt lined interior keeps your screen scratch-free.
The Casemade leather case folds out a dual-position stand with a sleep and wake function for your device. This natural Italian cowhide leather case will give your iPad unrivaled protection with a fashionable look.
Catalyst Waterproof case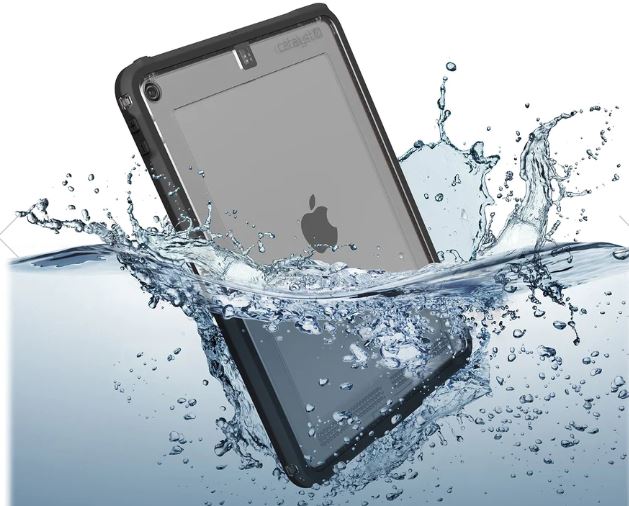 Both the front and back of this case are designed to withstand accidental drops and a depth of 2 meters underwater. It comes with its own screen protector but does not support Apple Pencil pairing or charging.
OtterBox Defender case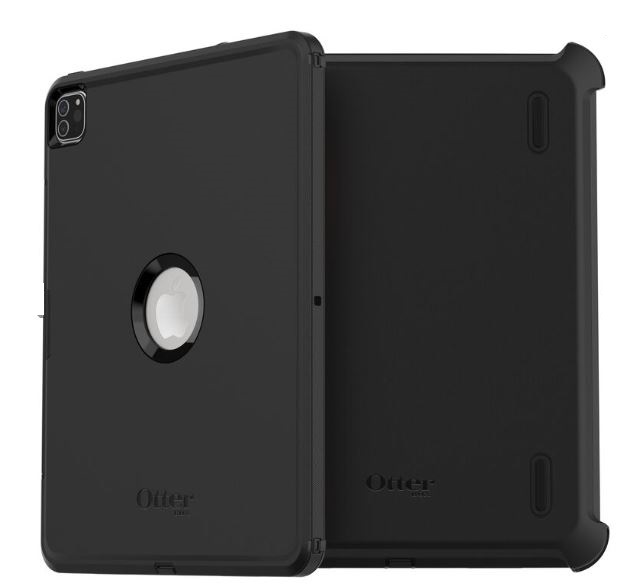 Pros: Handy Port covers, Tough and rugged build
Cons: Added weight/thickness
The Otterbox defender provides three-layer drop protection for your iPad. It is mainly known for its toughness for iPad 7, 8, and 9. It comes with a soft microfiber lining interior and a limited lifetime warranty.
Logitech Combo Touch case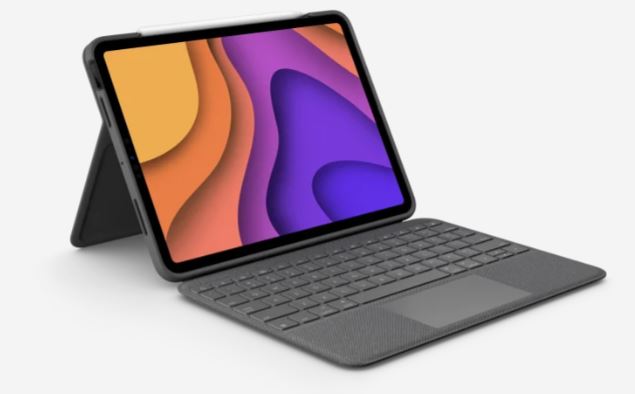 Pros: Inbuilt keyboard and trackpad, Backlit keys, front cover with back protection
Cons: Very expensive, no color variation
The Logitech Combo Touch is an impressive option that can convert your iPad into a laptop on the go. It comes with a backlit, full-size keyboard with shortcut buttons like screen brightness, media controls, e.tc
Apple Smart Cover for iPad (9th Generation)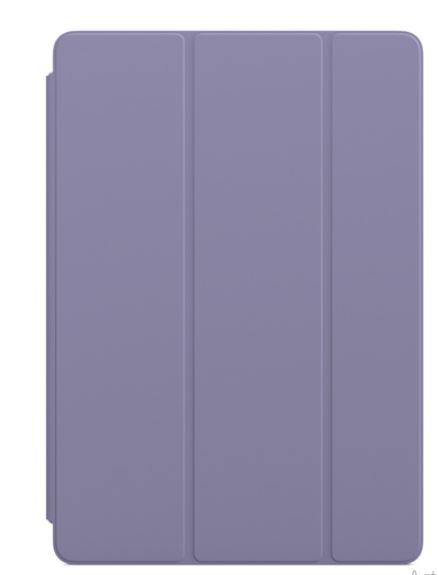 With several unusual color variations like Electric Orange and English Lavender, this smart cover case gives a Tablet elegant and good protection. It has a durable stand for watching videos and other uses.
FAQ
Should you put a protective screen on iPad?
Yes, you should. A protective screen or cover gives you better chances of using your devices for longer periods.
Are magnetic iPad cases good?
Yes, they are. A magnetic casing holds your iPad firmly to its cover. It protects your iPad from slipping off and from further damage.
Will a magnet ruin my iPad?
No, the magnets on your iPad cover will not ruin your iPad.
What is the best protective case for iPad 7th generation?
Spigen Tough Armor Cover.
ProCase Slim Smart Case.
What's the best protective case for iPad?
Apple Smart Folio is the best case for the new iPad Air 5 upwards, while Casemade Leather Case is likely the best case for iPad Pro