Bone conduction headphones are ideal for runners and those who love to utilize headphones while they're working out outside. See some of the best bone conduction headphones for all kinds of budgets in our expert guide.
Bone conduction headphones are different from traditional headphones because they leave your ears open and unimpeded. You hear sounds as the headphones send vibrations through your head and jaw bones to your ears. You're free to hear ambient noise around you. The headphones work using bone conduction, while standard headphones work by air conduction.
Deals you can find right now
The best bone conduction headphones
People have started using bone conduction headphones more regularly over the past decade. The market has grown and more and more entries enter each year. They are ideal for people who love running outdoors, want to hear what's going on around them in the office, and many other reasons.
There are bone conduction headphones out there for you. Here are our favorites.
Best overall: Shokz OpenRun Pro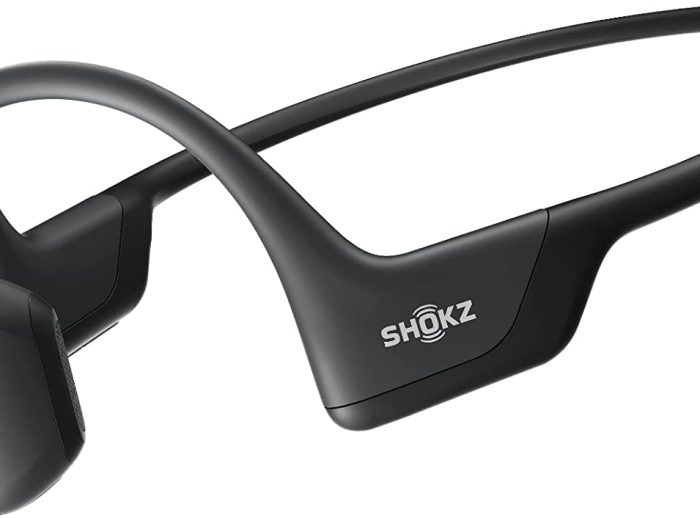 BGR may receive a commission
Pros
Good battery life
Relatively comfortable
Enhanced bass
Lightweight
Cons
Expensive
Music can sound a bit tinny
Why we picked them
The Shokz OpenRun Pro is a pair of premium bone conduction headphones. They produce high-quality sound that beats almost any other bone conduction headphones on the market. Shokz, formerly known as AfterShokz, are the best option you can find when it comes to overall attributes. This produces rich, clear sound with solid bass, thanks to the bass enhancers. While the microphone isn't the best for phone calls, these are lightweight and comfortable to wear on a run or a hike.
The Shokz OpenRun Pro features an improved design from the regular Shokz OpenRun. The power and volume buttons are now bigger and easier to press. The position of the charging port has been moved, so it's easier to reach. The headphones come with Bluetooth 5.1 and they support Bluetooth multipoint. This allows you to connect the bone conduction headphones to two Bluetooth devices at the same time. These come in multiple colors as well, so you can pick your favorite.
What to note about them
The battery life lasts quite a while, up to 10 hours. The QuickCharge feature delivers 1.5 hours of playback on just five minutes of charging. The standard size is meant to fit most heads.
Still really great: Shokz OpenRun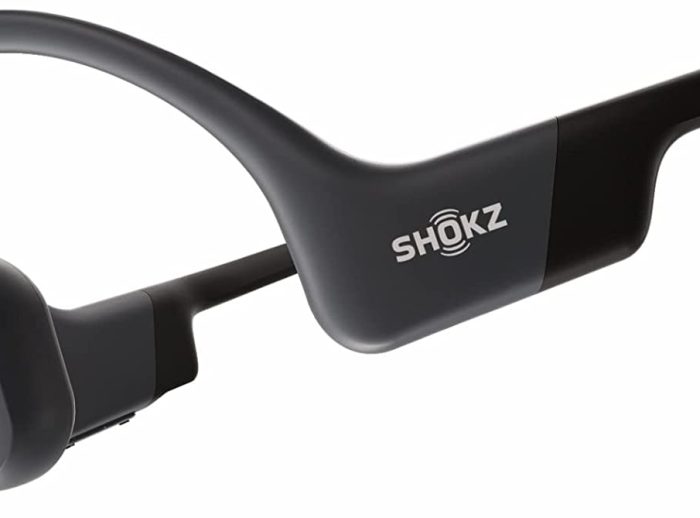 BGR may receive a commission
Pros
Good battery life
Good sound quality
Sweat-resistant and waterproof
Quick charge
Cons
Not as good as the Shokz OpenRun Pro
Why we picked them
Formerly known as the AfterShokz Aeropex, the Shokz OpenRun is a pair of quality wireless bone conduction headphones. These are the base level of the Shokz OpenRun series and they still are great for running, working out, and other sporting activities.
One of the big differences between the Shokz OpenRun bone conduction headphones and the Shokz OpenRun Pro is the fact that the OpenRunShokz OpenRun bone conduction headphones are sweat-resistant and waterproof with an IP67 rating. So, these headphones stay working no matter how much you sweat or if you're stuck in a rainstorm. You'll be notified if there's moisture in the charging port, thanks to the moisture detection alert. These have a great fit, similar to the OpenRun Pro.
You'll also be impressed with the sound, thanks to the Shokz 8th generation bone conduction technology. There are also two noise-cancelling microphones for call quality. It has Bluetooth 5.1 connectivity like the Pro and supports Bluetooth multipoint. These offer eight hours of battery life and also have QuickCharge technology.
What to note about them
The on-device user controls are not as user-friendly as the OpenRun Pro. The buttons are quite close together. The volume buttons may cause the headphones to vibrate.
Best for swimmers: Zygo Solo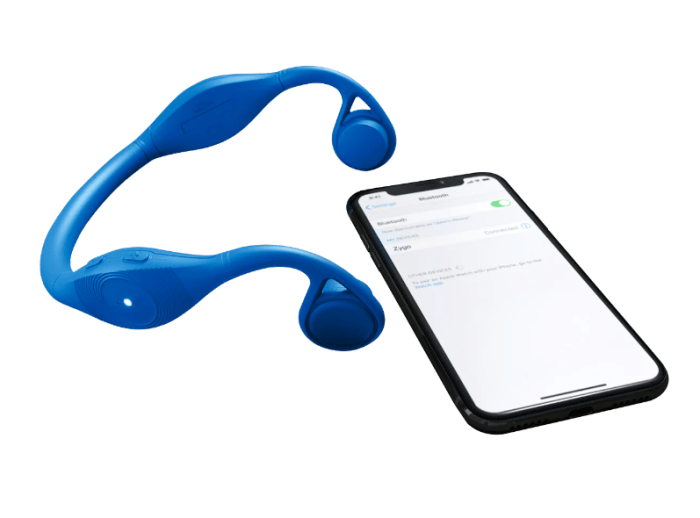 BGR may receive a commission
Pros
Completely waterproof
Great sound quality
Walkie-talkie transmitter
Loaded smartphone app
Cons
Expensive
Short battery life
Why we picked them
If you want to swim with headphones on, the Zygo Solo is a fantastic pair of bone conduction headphones that was designed specifically for you. You can stream music while you're underwater as well as listen to workouts and playlists.
The Zygo Solo comes with a transmitter that you pair to your phone via Bluetooth. The headphones then connect to the transmitter using a radio frequency connection. The transmitter also serves as a walkie-talkie device that anyone above water can use to send instructions to you. So, you can stream music, podcasts, and listen to someone telling you directions while you're underwater. Plus, the transmitter connection is strong, so you can dive up to two meters deep and remain connected. The headphones are fully waterproof, making them great for strong sessions of swimming.
The headphones sound good and the bass comes through nicely. But you don't get the same quality of sound outside water as when you are underwater. Also, the microphone is attached to the transmitter, so you won't be able to talk while you're just wearing the headphones. Zygo Solo headphones are very comfortable to wear.
What to note about them
The Zygo Solo has a companion app that features swimming lessons and programs with the programs being for all levels of swimmers. You can also use these without goggles. You will need to pay monthly to use the programs on the app. The battery life is also minimal, as it only lasts for three hours. But you'll be able to create custom workouts on the app and have them play while you're swimming.
Zygo Solo $299 Available from a partner
Also good for swimmers: Shokz OpenSwim
BGR may receive a commission
Pros
Completely waterproof
Good sound quality when used in water
Lightweight, comfortable design
Good battery life
Cons
No Bluetooth connection
Sound quality outside water isn't the same as underwater
Why we picked them
The Shokz OpenSwim is a pair of headphones specifically made for those that want to wear headphones when swimming. Unlike most headphones, they are completely waterproof, so you'll be able to wear them during swim training, exercise in he pool, or even lengthy swimming sessions. They have an IP68 waterproof rating, allowing them to be submerged for two hours in two meters of water.
These boast Shokz 7th generation bone conduction technology, so they sound great underwater. The titanium frame helps them remain snug while you're swimming. The battery lasts for eight hours on a single charge, so you can swim for quite a while without the battery dying. The interesting thing about these is that they don't have Bluetooth connectivity, because then you'd need another device for them to connect to. When you're swimming, that's not exactly the easiest thing. But you can download up to 4GB of music to your headphones, allowing you to put on a playlist and swim without thinking about connectivity issues.
What to note about them
The Shokz OpenSwim come with swimming earplugs and nose clips to help you swim more easily. The charging port is easy to access.
Most durable: Philips GO A7607 sport headphones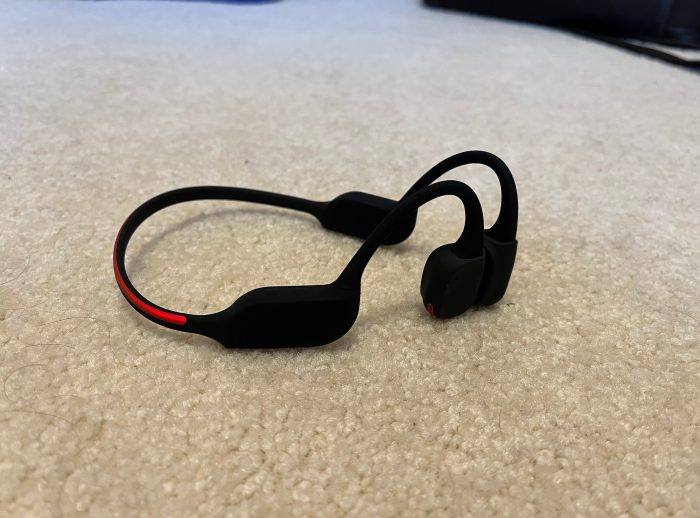 BGR may receive a commission
Pros
Solid battery life
Good microphones
LED lights in neckband
Quality app
Cons
A bit bulky
Sound quality lacking
Why we picked them
The Philips GO A7607 sport headphones have a great design and a lot of great features. They are ideal for runners and hikers who want to listen to some music while exploring nature. They may be a bit big for your head and neck area, but they are durable and strong. These have light up LEDs on the back of the neckband, allowing you to be seen more easily during an early morning or dusk run or hike. The user controls are rather simple to utilize.
The music quality is good but not excellent. If you want to make it right for you, you can download the Philips GO app to better fine-tune the audio. You can take calls easily while wearing the headphones and the noise-cancelling mics work well to give you superior call quality.
These can last for up to nine hours and they offer a quick boost charging option that delivers another hour after 15 minutes of charging. They are IP66 waterproof and dustproof. Thanks to the Bluetooth multipoint technology, you can connect multiple devices to these at once.
What to note about them
These are some of the pricier bone conduction headphones on the market. Make sure they fit you well and that you like the sound quality before investing fully in them.
Best value: Tayogo Bone Conduction Headphones
BGR may receive a commission
Pros
Durable design
Flexible
Affordable
Why we picked them
One of the more cost-effective bone conduction headphone options, Tayogo are durable and useful. They are right around $40, thanks to the current discount on them at Amazon. They are dustproof and sweatproof while remaining flexible. With the open ear design, they show you your ears but allow you to hear the music, thanks to the bone conduction technology.
These are very flexible and won't break or anything if you bend them 360 degrees. They have claimed to be bent over 10,000 times by Tayogo for testing purposes. They are one size fits all. The battery charges in full for two hours and lasts for seven hours of use. You can utilize Bluetooth 5.0 technology to connect to your devices. The package comes with earplugs and headphones as well as the charging cable.
What to note about them
The sound quality isn't the best. But that's what you're getting for the price. The physical buttons for controls are easy to use.
Another affordable pick: Pyle PSWBT550
BGR may receive a commission
Pros
Fit nicely
Decent sound quality
IPX6 water resistance
Cons
Poor battery life
Slow charging speed
Why we picked them
If you're looking for affordable options that will give you a great choice for hiking, running, or cycling, the Pyle PSWBT550 bone conduction headphones make sense. These are water-resistant with an IPX6 rating. The open ear design and wraparound style are comfortable to wear. These come with Bluetooth 4.1 technology and let you stream from 35′ away from the device. The side panel buttons are easy to use.
The battery takes a while to recharge and doesn't last very long. That is the major downside of these headphones. The sound quality is good but not great. You'll be happy if you're looking for a beginner-level pair of bone conduction headphones.
What to note about them
These come with included earplugs to improve the audio quality. They are decent for answering calls with.
Best cheap bone conduction headphones: Easycat BC900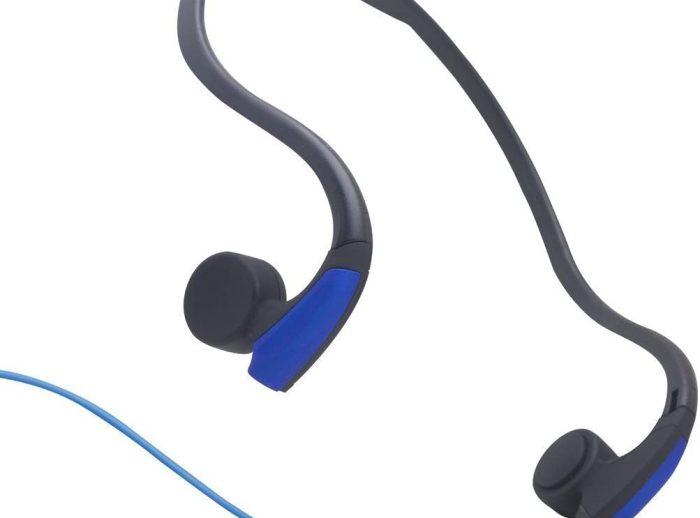 BGR may receive a commission
Pros
Very affordable
Secure fit
Sweat resistant design
Wired
Cons
No Bluetooth
May be a bit too tight
Why we picked them
The Easycat BC900 are actually a pair of wired bone conduction headphones. Thanks to the 3.5mm audio jack, you don't have to worry about battery life of these. They are under $30 and have a clip that attaches the cable to your clothes. The microphone will then be closer to your mouth, allowing you to sound clearer on calls. The lightweight design provides a secure fit.
What to note about them
Some people have complained that the headband is too tight. You won't be able to use these with newer iPhones, as they don't have the 3.5mm jack port anymore.
FAQ
Do bone conduction headphones sound good?
Bone conduction headphones have decent to solid sound quality. But the sound quality is not as good as that of regular headphones.
How to choose the best bone conduction headphones for you?
Factors like sound quality, battery life, durability, fit, waterproofing, and comfort should be considered before purchasing bone conduction headphones.
Which bone conduction headphones have the best sound?
The Shokz OpenRun Pro headphones are the best-sounding bone conduction headphones on the market.
Is bone conduction better for your ears?
Yes, it is. The open-ear canal design of bone conduction headphones ensures that you can still hear background noise.
How much do these types of headphones cost?
The prices of bone conduction headphones range from about $30 to $300 for premium bone conduction headphones.
Can you damage your hearing with bone conduction headphones?
Not really. But loud noises from bone conduction headphones aren't good for your ears.
Are bone conduction headphones good for phone calls?
Yes, you can enjoy regular phone calls on bone conduction headphones. Some bone conduction headphones like the Philips GO have noise-canceling microphones for better call quality.
Do bone conduction headphones work with glasses?
Yes, most bone conduction headphones work fine with glasses.