Many people are looking for headphones that they can wear while working out. There are a ton of options out there, with over-the-ear headphones and earbuds made for the purpose. But many people have not considered giving bone conduction headphones a try for this. That's where the Shokz OpenRun Pro headphones come into play.
The concept of bone conduction headphones is that they don't send audio through your ear. They sit around your ear and send vibrations through your skull and jaw to deliver sound. This opens up your ears to hear ambient sound. It is also a great solution for anyone that uses hearing aids and wants to wear headphones. While these may not be what you want if you're trying to drown out noise on a plane or subway car, they are ideal for working out outdoors, especially during a run.
Shokz (previously AfterShokz) is a company focused on bone conduction headphones, and the latest exercise model is the Open Run Pro model. I've had the opportunity to test these headphones out and here is what I found.
BGR may receive a commission
Pros
Open ear design
Good battery life
Relatively comfortable
Enhanced bass
Cons
Music can sound a bit tinny
Call mic quality is poor
Shokz OpenRun Pro unboxing
The Shokz OpenRun Pro headphones come in very convenient packaging, considering how they are assembled. They fit nicely in the carrying case, and the case also comes with a USB-C cable for charging purposes. The headphones will continuously fold back into the position you see above. They easily fit into the space assigned in the carrying case.
The carrying case has a zipper that slides with ease. While this is definitely not the small case that you'll see with earbuds, it is lightweight and filled with padding. Plus, you can thread the cable through the loop on the top, so you can always keep track of your cable.
Pairing the headphones via Bluetooth was easy. The power button is under the right arm to power the headphones on. You can just search for the headphones on your device and start using them.
Shokz OpenRun Pro features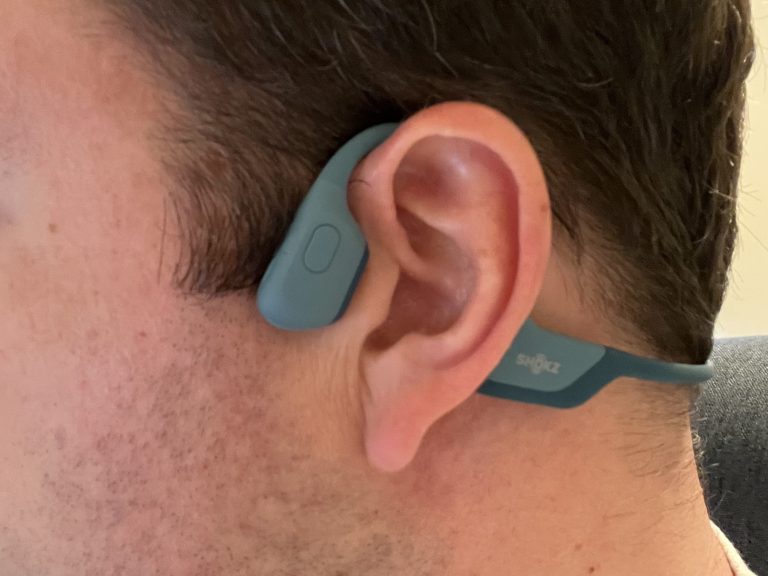 You have to start with the design. As you can see in the photo, the open ear look leaves your ears unencumbered, so you don't have to worry about not being able to hear noises. It may take some getting used to, but these are relatively comfortable for long periods of use. They are one size fits all, but they are flexible enough that they won't pinch down on your ears. That being said, the standard size (the ones I have) are definitely made for adults. The mini option, which you can also buy, are smaller in size.
The OpenRun Pro model has a 20% smaller size than previous iterations, meant to deliver all-day comfort. The headphones are powered by 9th generation bone conduction technology, the Shokz TurboPitch™ technology. There are two added bass enhancers that work to deliver premium sound quality. For headphones that aren't directly into your ear, I wasn't sure how the sound quality would be. But these deliver rather impressive sound. Obviously, you have to turn the sound up a little more than you might for earbuds or noise-cancelling headphones. But you can definitely hear well. Certain songs may sound a bit tinny, but it shouldn't bother you too much.
If you want to raise the volume, there is a volume up button under the power on / multifunction button. The left side has a volume down button. The multifunction button lets you pause a song, start the song again, answer a phone call or hang one up. It's easier than having to remember how many taps on which ear does what command, like you do with certain earbuds.
You can make phone calls with the headphones on. I was told it sounded "like I was in a cave" when I tried to talk to people through the headphones. The dual noise-cancelling mics didn't give the desired audio I wanted for phone calls. Hearing people on my end worked just fine, though.
Battery life and charging
The battery life for the Shokz OpenRun Pro headphones is surprisingly strong. You'll get 10 hours of playtime with these, which is the best Shokz offers for headphones. I utilized these for multiple days and found that I did in fact get 10 hours. Now, unlike other headphones, you won't get extra charging time when you keep them in the case. But charging them is simple and they charge up fast. The Quick Charge technology delivers 1.5 hours of playtime with only five minutes of charging.
Using Shokz OpenRun Pro during a workout
I'm an avid runner, so having a pair of headphones that allow me to hear ambient noise is important when I'm running on the road. Previously, I have used earbuds while running and have only worn one, allowing me to hear around me. But wearing these changed my runs. You can hear what's around you while still listening to your music. Maybe I should have changed to bone conduction headphones before while running, but I felt much more aware of my surroundings with these on.
These also work well while commuting on busy streets. You can keep an ear out for what's going on. The OpenRun Pro are IP55 water-resistant, so they can handle light rain, sweat, and some moisture. That being said, the Shokz OpenRun are IP67 water-resistant. So if you are worried about the waterproofing, you may want to opt for those.
Conclusions
While these don't offer you noise cancellation like many headphones these days, they aren't meant for that. These do a great job of providing users with the ability to hear noises around them during workouts and activities outdoors. The long battery life is a plus. They are comfortable to wear for long periods of time. While the audio quality won't blow an audiophile away, it is good for most users. You can choose between four different color options.
The competition
Pyle Bluetooth Bone Conduction Headphones are a mid-level pick that offer a bit of a different design and varying features. If you want to knock out two birds with one stone and get the Bose Frame Tempo, you can get sunglasses and bone conduction headphones all in one.
Should I buy the Shokz OpenRun Pro headphones?
Yes. Runners will feel safer during their runs and these are the top of the line for exercise bone conduction headphones.