Make sure to check back around 12PM ET as we start to cover this year's WWDC event live! We'll be there and providing you guys real-time updates. The actual keynote starts at 1PM ET. So, what do you want to see most?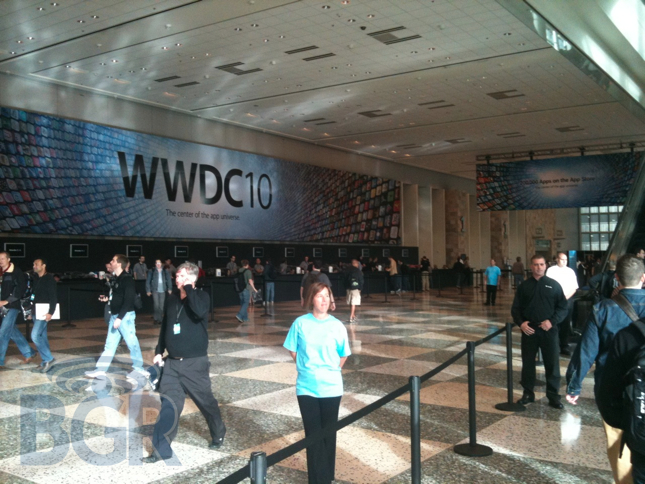 08:01AM: We're in line going inside!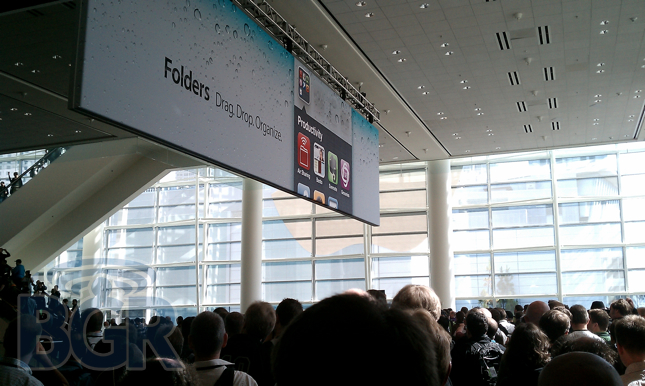 08:21AM: The developer site is down. What, you thought it wouldn't?
08:57AM: It would be nice if Apple fans would start bathing.
09:22AM: Doors are opening, we're walking in now.
09:39AM: We're seated and ready to rock!
09:51AM: Everyone is incredibly excited and rumors of OS 4.0 changes/additions as well as the possibility of being shown the new Apple TV are being whispered. In addition to the new iPhone HD, of course.
09:54AM: People are starting to show their excitement by randomly clapping. The rear video screens are also being turned on — Apple logo still up on the main screen ahead.
09:55AM: Attendees are throwing up all sorts of stuff on their iPads and holding it up in an attempt to make it on the video recording of the keynote. We're talking about their country flags, to "Hi, Mom", to "ILUVAPPLE."
09:57AM: "Good morning ladies and gentlemen. In the interest of others and speakers, we ask that you turn off all cell phones and PDAs." People are chuckling at that.
09:59AM: Louis Armstrong is playing. You guys ready??
10:00AM: Lights are dimming, music fading! Everyone is clapping!
10:01AM: Steve Jobs takes the stage.
10:03AM: "It's great to be here, thank you." Someone shouted out "We love you Steve!" and Steve said "Thanks, I think." There are over 5,200 attendees, and the conference sold out in 8 days.
10:04AM: Giving updates on the iPad now. Wow, over 2,000,000 iPads sold! He said, "It's changing the way we're experiencing the web. Things like email, photos, you name it — it's a whole new way to interact with the internet and with apps, with content and media, and it's going over really well. And it is magical."
10:05AM: iPad is available in 10 countries now, 19 by the end of July and there are over 8,500 native iPad apps. Also 17 apps per iPad average, over 35,000,000 downloaded.
10:07AM: Showing off The Elements app. "A friend of mine wrote this and he sent me an email and he said I could use it. I earned more in the first day of selling Elements than I did in the past 5 years of Google ads on periodictable.com"
10:10AM: iBooks is getting updated. You can now make notes in books, new bookmarking. Users have downloaded over 5,000,000 books in first 65 days. You can also now view PDFs in iBooks which was apparently a big request.
10:11AM: The iPad enhancement will be out "later this month." On to the App Store!
10:12AM: Steve is talking about HTML5 and how open it is.
10:13AM: Apple has the "most vibrant app community on the planet." Over 15,000 apps submitted a week. 95% of all apps approved within 7 days. The top three reasons apps get rejected is, it doesn't function as advertised, it uses not public APIs, or it crashes.
10:15AM: Reed Hastings from Netflix is on stage now. Netflix iPhone app this summer! (Will go great with the new tiered data pricing on AT&T — not.) Pretty much same as the iPad app.
10:18AM: It will be a free application. Reed is off stage, Zynga is up next.
10:19AM: Ugh, Farmville. "Thank you Steve. We're honored and excited. Today we're introducing farming for the iPhone. Farmville is our most popular game and we're excited to be bringing it to the most popular mobile gaming platform in the world."
10:21AM: They are demoing Farmville for the iPhone now.
10:23AM: Farmville will be available at the end of June. #3 up on stage now is Activision Senior VP, Karthik Bala showing off a brand new Guitar Hero experience.
10:25AM: Wow, Guitar Hero looks like the console version basically.
10:26AM: And, it's available today! "Go download it!" Ok.
10:27AM: Steve Jobs is back on stage. Over 5b apps have been downloaded! Pretty insane.
10:28AM: Since 70% of the revenue from the App Store goes to developers, a few days ago, Apple calculated over $1 billion has been paid to devs. Wow.
10:29AM: That's it for App Store, it's iPhone time! "I'd like to talk about the iPhone."
10:30AM: Showing a slide about a Nielsen report on US smartphone market share. iPhone is #2. 2.5x the browser usage against Android, too.
10:31AM: 2010 is the biggest leap since we reinvented the phone in 2007. iPhone 4 is announced!
10:32AM: "This is really hot. Well over 100 new features" Steve is going to focus on 8 of them. Yep, it's the Gizmodophone!
10:33AM: "This is beyond a doubt the most precise and most beautiful thing we've ever made"
10:33AM: 9.4mm thin, 24% thinner than iPhone 3GS. Thinnest smartphone on the planet. Front-facing camera, MicroSIM, camera with LED flash. Noise cancellation!
10:35AM: Steve is explaining the lines in the bezel of the phone now. The stainless steel band around the phone is the antenna system. Integrated the antenna in the structure of the phone.
10:36AM: There's glass on the front and back. There isn't "another consumer product like this." Retina display, what's that? 4x pixel density screen!
10:37AM: 326 pixels per inch — insane! Never been a display like this on a phone. Image he's showing of the letter "a" on a before and after side by side is ridiculous.
10:39AM: Once you use a retina display, you can't go back. He's demoing the phone live now!
10:41AM: Showing both a 3GS and iPhone 4 powered on next to each other.
10:43AM: WiFi error on the iPhone 4 so he's switched to the camera roll. Stats on screen, 800:1 contrast ratio, 960×640 resolution, IPS display.
10:46AM: 3.5″ display, 78% of the pixels on the iPad. iPhone renders the existing applications so they look even better. "If you do a little bit of work then they will look stunning. So we suggest that you do that. That is the Retina Display. Awesome text, awesome images, and awesome video. We think this will set the standard and no one is going to come close."
10:48AM: iPhone does indeed use the custom Apple A4 chip.
10:49AM: Steve is showing the inside of the phone and how it's packed to the brim. "Now, because we've made the battery bigger and the A4 chip is so good with power management, we've improved the battery life. 7 hours of 3G talk time, 6 hours of 3G browsing, 10 hours of WiFi browsing, 10 hours of music, 40 hours of music, and 300 hours of standby"
10:50AM: Whoa, quad-band HSPA! up to 32GB of storage, 802.11n Wi-Fi, GPS, accelerometer, Compass, Gyroscope, 7.2Mbps.
10:53AM: Showing this Jenga-type app — really insane with the Gyroscope.
10:54AM: Number 4 on the list is a whole new camera system in iPhone 4.
10:55AM: Steve is downplaying megapixels, saying that the sensor is what matters. We agree. It's a 5 megapixel sensor in the new iPhone. Uses backside illuminated sensor in the actual lens to capture more light. Same sensor size instead of making it smaller.
10:57AM: And here we go! HD video capture — 720p, 30fps!
10:57AM: iMovie for iPhone!
11:02AM: This looks absolutely ridiculous. There are transitions, adding music, importing geolocation data, themes, everything. Super impressive.
11:03AM: The video they are now showing was all edited on an iPhone. Looks awesome. Filmed and edited.
11:04AM: $4.99 for iMovie for iPhone! "If we approve it." Laughs.
11:06AM: Steve is asking everyone to turn off their Wi-Fi! Basically stop liveblogging.
11:07AM: They are renaming iPhone OS 4 to iOS4.
11:08AM: Apple wasn't first with multitasking but is "best." Demoing Pandora, going to a web page, launching mail, page loads, showing graphics and quality of text.
11:10:AM: Lots of applause at the new features for iOS4.
11:14AM: We were wrong. We just confirmed that the iPhone 4 will launch on June 24th!
11:15AM: iOS4 GM will be out today!
11:16AM: Apple will sell their 100 millionth iOS device this month.
11:18AM: iBooks will sync across all Apple devices, buy once.
11:20AM: iBooks now available for iPhone.
11:24AM: Steve is going over iAd now.
11:25AM: Some of the brands signed up for iAd: Nissan, Citi, AT&T, Chanel, GE, Liberty Mutual, State Farm, Geico, DirecTV, Disney, TBS. Showing a Nissan electric car ad.
11:29AM: July 1st is when Apple will enable iAd on all iOS4 devices.
11:30AM: In 8 weeks of selling iAds, Apple sold $60m.
11:31AM: That concludes the 8 things about iOS4 Steve wanted to talk about. Uh nope, there's "one more thing…" Steve is asking for Wi-Fi devices off again… could it be video conferencing?
11:33AM: Nice, video chatting with Jonny Ive.
11:35AM: Demo is over, was choppy at times because of the Wi-Fi issue but it's solid!
11:36AM: Ugh! No video calling over cell network, only Wi-Fi. This is crap.
11:38AM: They are now showing off a video of how you can use FaceTime. Apple said 2010 was Wi-Fi only because they have to "work with the carriers." Video is intense. Huge applause.
11:40AM: Apple is making FaceTime an open industry standard. iPhone 4 will come in two colors, black and white. Same pricing, too. $199 for 16GB, $299 for 32GB with two year agreements.
11:42AM: "I'm thrilled to announce AT&T is going to make an incredibly generous upgrade offer. If your contract expires any time in 2010 you are immediately eligible for a new iPhone 4 at the same $199 or $299 prices if you top up your contract for 2 years."
11:42AM: Apple is making the iPhone 3GS in 8GB capacity for $99 to replace the 3G. Yeah, June 24th launch is confirmed!
11:43AM: Preorders start June 15th, and it's shipping to 5 countries for the 24th launch, 18 more in July. By the end of September, total of 88 countries.
11:44AM: New Apple dock is $29, and their own cases called "bunkers" in white and black for $29.
11:46AM: iOS4 free upgrade to iPhone 3GS, iPhone 3G, iPod touch (not first generation) on June 21st.
11:48AM: Long, extended iPhone product video covering most of what Steve talked about.
11:51AM: Video is over. Tons of applause.
11:53AM: Steve is thanking everyone saying how hard they worked for the last 18 months and that the marriage of hardware and software is so important.
11:55AM: That's it! It's over!