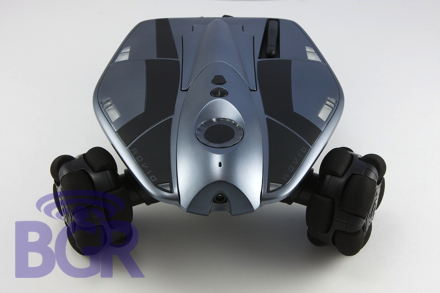 Yeah, yeah, we're a little late on this one, but what can we say? We're in love. For anyone that gets a kick out of remote viewing, this little thing is bound to mess up your head. You probably know all about it by now, but it's a fully mobile 3-wheeled robot that houses a webcam, speaker, mic, and more. It effectively let's you roam to any part of your office or home while streaming the video for your live, anywhere you are. Want to check up on that shady maid you found on Craigslist? Maybe you want to make sure the Time Warner guys aren't playing Madden '09 in your TV room but actually working. Either way, this thing lets you be there when you're not, and that's pretty damn cool.
The packaging is a standard affair with the actual unit, battery, A/C adapter, USB cable, software CD, and charging base all included. Rovio is decently heavy and at first handle, it looks to be extremely well manufactured. Setup is dead simple, too. If you're on a PC, just insert the setup CD and it will run through the configuration options. If you're on a Mac, you can simply set it up by accessing the robot through a web interface. When controlling it remotely, you've got a lot of options including creating a path for the robot to follow, snapping pictures, recording movies, talking and listening to the surroundings, and even sending that little bugger back to its charging base. We're happy to report that browser compatibility is not an issue here. On Internet Explorer you get the most options when remote viewing, but you can also work it reasonably well over an iPod Touch or iPhone. The BlackBerry Bold did not perform well in that regards. Make sure you show our unboxing photos to your girlfriends/wives so they don't order you the wrong gift this Christmas Kwanzaa Hanukkah holiday.
Click on over to our WowWee Rovio unboxing gallery!