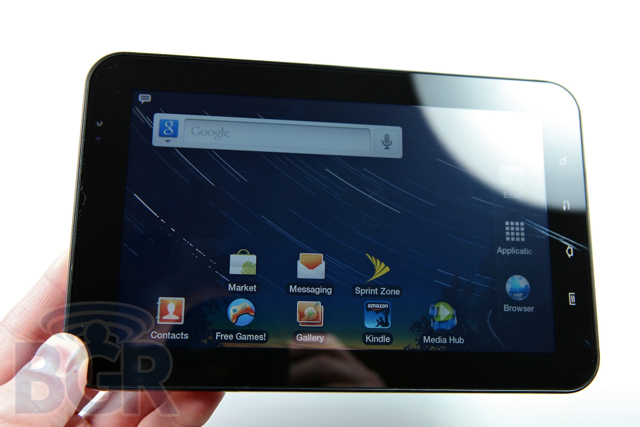 Sprint and Samsung shot us over a Galaxy Tab and, after several days of fiddling, we have our first impressions to report back. The Samsung Galaxy Tab is the first real contender to Apple's iPad many would say, and while it's too early for us to totally pit them head to head, there are many visible strengths and weaknesses of the Tab. Want to know what we thought of Samsung's little, mean, iPad-combating machine? Buckle up and hit the jump!











Let's get to the most obvious thing — size! Apple's CEO — who will remain nameless — publicly stated that a 7-inch screen was too small for a tablet, and after using the Tab, we tend to agree. Just using the device for the last few days proved to be very difficult from a size perspective. Seven inches of display on a tablet, for us, feels pretty odd and makes using the device pretty uncomfortable. It's a very weird in-between feeling; we can't decide it feels like a smartphone that is too big or a tablet that is too small. We still can't figure out the best way to use the keyboard in portrait mode. Hold it with both hands and try and thumb type? Hold the tablet in one hand and only use one hand to type? Use Swype?
The weight and feel of the tablet might throw you for a loop at first. Why? It's actually a tad heavier than you'd imagine (though not too heavy at all). The plastic shell in the back of the device feels very inexpensive and makes the entire device feel a bit… hollow. Thus our conflicted feeling on whether the device felt heavy and expensive, or hollow and inexpensive. The white plastic back is extremely glossy, and while you can't really see fingerprints much, the tablet feels overly slippery to us. Picture a very large white iPhone 3GS and you'll get our drift.
Browsing the web with Flash on (enabled by default) proved to be a pretty frustrating experience. Scrolling was jittery, slow, and sometimes pages just wouldn't even finish loading. However, once we changed the browser's plug-ins setting to on demand (think Click2Flash), the browser popped to life. Pages loaded very quick, scrolling was almost fluid, and using multi-touch gestures to pinch zoom in and out worked like a charm. The browsing experience on the device is exactly where you want it to be.
As far as annoyances? When holding the device in the landscape orientation, one of our fingers covers the ambient light sensor and dims the display to the point that we can't use the device. It's borderline slippery to hold at times, the screen's quality — while vibrant and vivid — is pretty poor resolution-wise, especially when compared to the displays on some of the latest Android smartphones. Plus, there is that size issue — we're not sure we'd trade 3-inches of valuable screen real estate for something that's slightly more portable, yet not really. We say that because there really isn't a scenario where we think we'd carry the Samsung tablet over Apple's tablet; speaking strictly from a size point of view. Both aren't fitting in your pocket, both would fit in your laptop bag or backpack, and so on. We'll reserve our final thoughts for our full review, in the meantime, make sure to hit the Galaxy Tab gallery for all the pretty photos, ok?