What company is rolling out an iterative update to its best-selling smartphone in the world? One that builds upon the success of the previous model, yet for the most part retains the same shape, design, and form of last year's phone? If you guessed Apple, you'd be wrong. The brand new Samsung Galaxy S4 improves upon the Galaxy S III in almost every way, but with HTC's One already winning on materials and even user interface design, can Samsung build on its current momentum without reinventing the home button?








Let's start with the phone's hardware. If you can't really tell the Galaxy S III and Galaxy S4 apart, you're not alone. However, Samsung has made some incredible improvements compared to last year's model even though the basic design and shape are the same.
To start, the display on the Galaxy S4 is now a ridiculous 5-inch display with full HD 1080p resolution, and even though the display is bigger than the screen on the Galaxy S III, the actual device is smaller. This is due to the fact that the bezel around the display is smaller in addition to other design improvements. There are also some new subtle changes like the textured front and back panels and a brushed metal finish on the plastic mid-plate.
Even though the phone is still glossy plastic, it does feel more premium than the previous model and the buttons along the edge of the phone are now much easier to press and more solid.
I'm not sure there is any manufacturer in the world that's pushing the boundaries of mobile technology quite like Samsung. Let's not get excited, there is obviously a negative to that and we will jump into it a little bit later, but it's still ridiculously impressive what Samsung has been able to cram into this phone. A 1.9GHz quad-core processor, 2GB of RAM, 13-megapixel rear camera, 2-megapixel front camera, 4G LTE, 802.11 a,b,g,n,ac, NFC, 2,600 mAh battery, noise cancellation, barometer, RGB light sensor, gesture sensor, temperature sensor and humidity sensor are all on board, and that's in addition to the standard gyroscope, proximity sensor, accelerometer and more.
The phone feels better to hold and use compared to the S III, and even though the screen is quite big, the S4 is much nicer day to day than HTC's One because it is thinner and lighter. I also find that I need to stretch my hand less to reach different tap targets thanks to the slimmer bezel surrounding the display.
Let's be honest, I'm not sure there is a single person who is a big fan of Samsung's software or interface. It's odd, takes a weird inspiration from nature which is completely lost in use, and generally doesn't feel sophisticated. It has slowly improved over time from the absolutely awful T-Mobile Vibrant type of smartphone, but it's still not a class leader as a whole. With that said, there are some seriously innovative software features Samsung has developed, and the Galaxy S4 showcases a number of them.
Air View is a feature that debuted on the Galaxy Note II, and while the Note required a stylus for Air View, the S4 doesn't and it works reasonably well. With Air View you can hover your finger a couple of centimeters from the display and get a preview of unread emails, or while browsing in Samsung's Hub app to preview music, books or video content. And in the web browser, you can hover your finger over a webpage to read larger text or tap hard to read links, in addition to other things.
Air Gestures is a new and unique way to interact with your smartphone. Using an infrared sensor, much like the sensor that turns off the phone's screen when you place it to your ear, Air Gestures let you wave your hand over the front of the phone to do the following: Answer the phone, provide a quick view of notifications, scroll forward of backwards through pictures in your camera, and more.
Not content with just gestures or Air View actions, Smart Pause actually uses a sensor to monitor the position of your head relative to the phone and detect when you look away from it. This can pause a video automatically.
One problem with Samsung's new features is that they only work in Samsung's customized Android apps like email, calendar, contacts, music, the web browser and some others. This means they do not work in Gmail, Chrome, Google Calendar, Google Maps, Twitter or practically every app. This greatly limits their use, as neat as they are.
It's not Samsung's fault, but unless every app developer including Google decides to implement support for Air View and Air Gesture, they will be limited in function. One partner, however, is Flipboard and Air View works great in the version of Flipboard Samsung bundles with the Galaxy S4, letting you peek into what's in a certain feed or category just by hovering your finger over it.
With the S4, Samsung is introducing something called Easy Mode and it's brilliant. It's basically a Samsung-made home screen launcher that, for lack of a better term, dumbs down your smartphone. It's great for users who aren't as familiar with modern smartphones, and it's also an all around a good choice for people who can't be bothered to learn, or just don't understand a smartphone. Providing access to necessary settings like Wi-Fi, Bluetooth, brightness, ringtone and volume, Easy Mode will also carry into customized apps like email, calendar and contacts, thus providing an easier experience.
There is a dizzying amount of modes and settings in Samsung's camera app, though once you warm up to them and try them, some of them work really well. Yes, they are gimmicky, but they also allow a feature-packed experience out of the box, which is smart of Samsung to strive for.
One camera mode called Eraser analyzes your photo when it's being captured and then allows you to remove unwanted objects or people who happen to walk in frame, for instance. Another mode gives users the ability to capture one photo from both the front and rear camera, so the person taking the picture can be in the photo as well. One more is called Drama mode, which allows you to take multiple photos to combine a moving object into a still picture, showing motion, or "drama." Some of the other photo modes include animated photo mode, sound and shot, and fast and slow video capture modes.
Voice calling on the Galaxy S4 sounds absolutely great. Calls were clear, loud, and noise cancellation worked perfectly. It's also comfortable to talk on the phone for long periods of time, even though I dread doing that.
As far as battery life goes, I didn't find standby performance to be all that great. Sometimes when I would leave the phone with a reasonably decent charge overnight, I'd wake up to find that it shut off overnight from draining the battery when it wasn't plugged into the charger. In general, it seems to behave like a normal high-powered Android smartphone, which is not that great but not the worst either.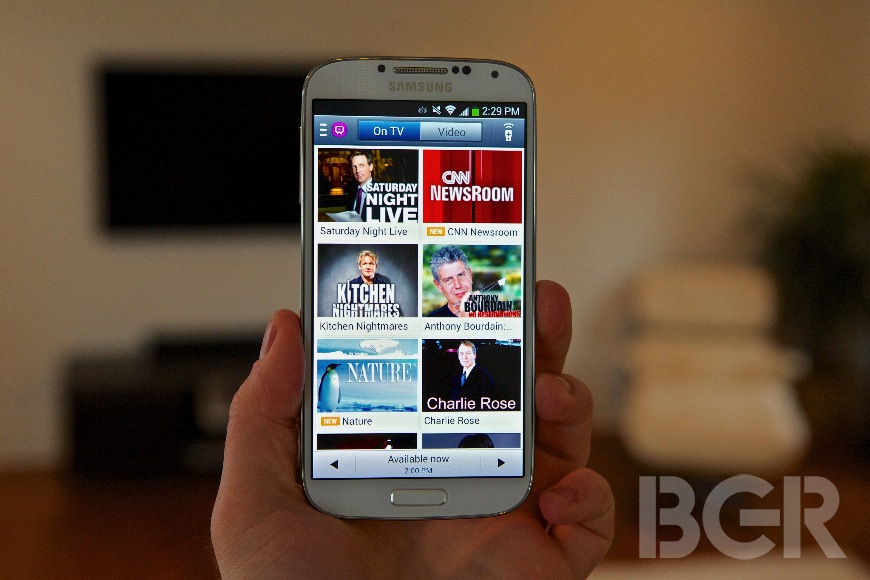 I absolutely love the fact that HTC and Samsung have included IR sensors in their smartphones to control your TV and components. It is absolutely brilliant. Forget the days of programming a universal remote control — it's insanely simple to set up multiple rooms and multiple components with the Galaxy S4's WatchON app. Just enter your zip code, your cable provider and a follow the guide for couple of steps to pick the right IR codes for your TV or cable box, and you're on your way.
In addition to a graphical programming guide that's easier to refer to than most cable operators' onscreen guide, Samsung's app will also try to recommend shows it thinks you're interested in based upon your ratings. If you want to watch something, just tap what you want to watch and instead of worrying about the channel, the app will change to the proper channel for you.
My only complaint involves the actual IR sensor itself. Compared to the HTC One, the Galaxy S4's IR blaster seems a little bit weaker and needs to be located closer to the target device in order for the IR signal to work. But then again, I sit reasonably far back from my TVs so this might be something that most people won't notice.
Samsung's Galaxy S4 is not a brand new phone, crafted out of brand new materials. It's not one that even took the world by surprise — in fact, the initial reaction was a bit underwhelming. However, Samsung has indeed improved upon its most successful phone ever.
The new smartphone is thinner and faster than its predecessor, and it has innovative new ways to control and interact with the software. It also includes a myriad of sensors, more memory, the latest version of Android and software enhancements that generally do make using a smartphone better. What Samsung is doing is creating an ecosystem on the phone itself, one in which you don't have to venture out into the Google Play badlands to find a single-purpose, gimmicky app, and it's working.
Packing all of these features into a phone does make for a complicated device, and there are various functions that very few people will even use, or discover. But the concept is a good one and since Samsung can't rely on third-party software the way that Apple can, it's smart to try to make the Galaxy S4 a phone you can just pick up and be happy to use right out of the box — and it's easily the best Android phone I have ever used.