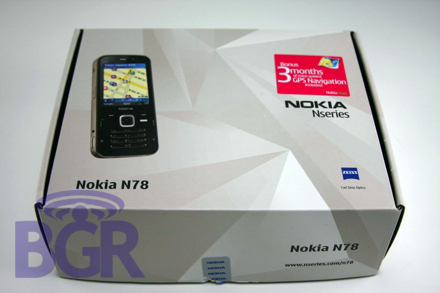 We told you we weren't taking the whole giveaway thing lightly! In the market for a brand new Nokia N78 NAM phone? Stop right there — there's a chance you could win one! Just to be clear, the exact model of this N78 is the N78-3. That has the 850MHz/1900MHz UMTS/HSDPA bands along with quad-band EDGE. Want to win it? All you need to do is leave a comment here and take our site survey which is at the bottom of the article. No information will be shared, etc. It helps you as much as it helps us! In the survey, there is a comment box at the bottom. In that comment box, drop in the same name you leave a comment with and we'll select one of you!
The giveaway will run until July 6th at 11:59PM ET or until we get 1,000 entries. Whichever comes first.
Again… comment here, take survey, comment box.
Remember to leave a comment here as well, ok?
You also get the 3 free months of Nokia Maps 2.0 included with the phone.