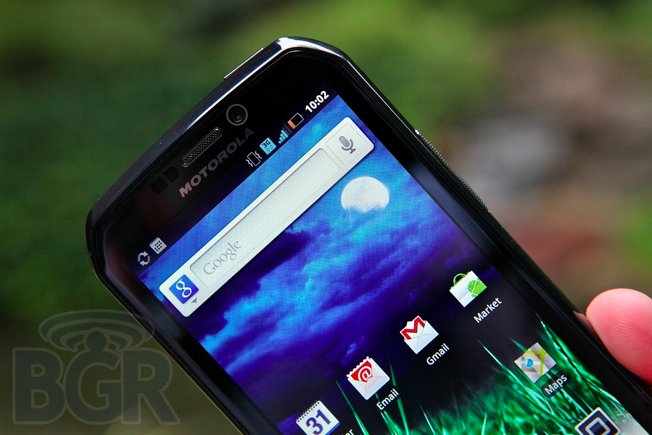 The Motorola PHOTON 4G is the company's first 4G handset on Sprint, and even more, it is the first high-end Motorola device set to launch on Sprint's network in a very long time. It's packed to the brim on paper — specifically, with features such as a 1GHz dual-core NVIDIA Tegra 2 processor, 1GB of RAM, a 4.3-inch qHD display, an 8-megapixel camera with dual-LED flash and a VGA front-facing camera, 16GB of built-in storage, plus global-roaming and 4G WiMAX connectivity. In short, it's probably the most feature-packed phone to ever launch from Sprint. I have been using the Motorola PHOTON 4G for a few days now and the question I really wanted to answer was: is this Sprint's best smartphone? Hit the break to find out.
Hardware / Display
The Motorola PHOTON 4G has an extremely futuristic design identity, and I love it. Instead of having rounded corners, the phone has angled edges that give it a very futuristic and almost Star Trek-like vibe. Motorola has spared no expense even with little touches like the grooved texture on the volume up/down and camera buttons on the device. On the top you'll find the phone's power/lock/unlock button and 3.5mm headset jack, and on the left side you'll find a microUSB port and a mini-HDMI port. On the right side you'll see the aforementioned volume up/down rocker in addition to a dedicated camera button.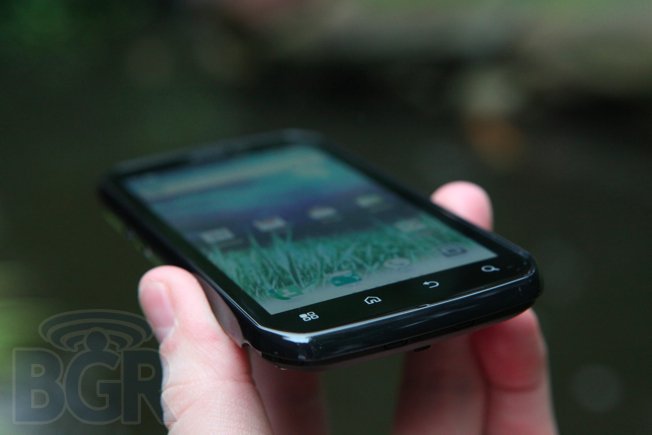 On the rear of the device there's a foldout kickstand that many Sprint EVO owners will be pleased to find. There's a nice touch as well — as soon as you extend the kickstand, the phone will switch into landscape mode.
While the PHOTON isn't the slimmest phone, it has a great weight to it and the device's thickness is countered by perfectly rounded edges, giving the smartphone a perfect feel in your hands when it's in use.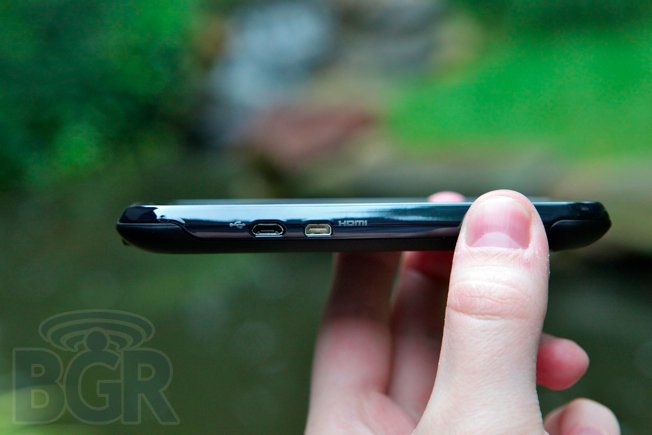 As far as the display goes, well, it looks like the same exact qHD screen Motorola is using in all of its recent devices, like the Motorola ATRIX 4G and Motorola DROID 3. However, I noticed less of an issue with the display on the Motorola PHOTON 4G than on other Motorola devices because of some UI changes. For instance, instead of scrolling left and right in the app drawer, the PHOTON's app drawer simply allows you to scroll up and down, and the blurring text effect found on the Motorola DROID 3 is not present here. The display itself has fairly decent color reproduction, good black levels, and is bright as well. Due to the PenTile display, pixelation is still an issue for people that really pay attention to it, but other than that, the display on the Motorola PHOTON is rock solid.
Software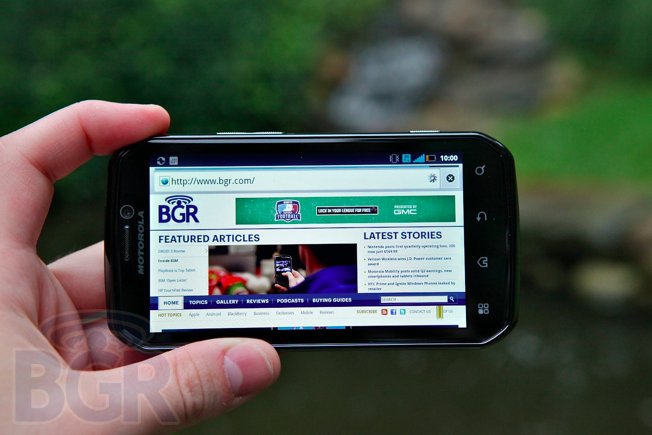 The PHOTON runs Android 2.3 Gingerbread, and while it features Motorola's custom UI that includes MOTOBLUR elements, the phone features less customizations and custom elements than a smartphone like the Motorola DROID 3. On the home screen, widgets are straight forward with no outlandish animation effects. The app drawer simply scrolls up and down, and phone performance is very snappy. It's almost amazing to see how two devices like the DROID 3 and PHOTON 4G, both of which match relatively evenly in the specs department, can perform and act so differently.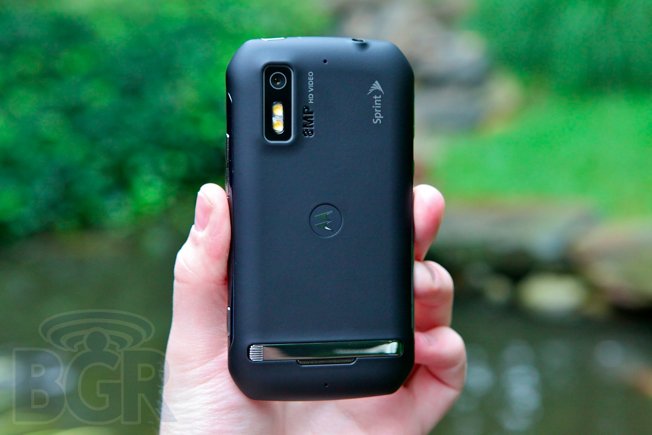 Besides running the latest version of Android, there aren't too many other new features software-wise in the Motorola PHOTON 4G when compared to past versions of Motorola's high-end Android devices. It features Motorola's custom interface and apps like Motorola's email app, browser, widgets, lock screen, keyboard, and more. All in all, I prefer Motorola's custom UI to HTC's heavy Sense UI, and in the case of the PHOTON it doesn't seem to slow the handset down at all.
Phone / Speakerphone / Battery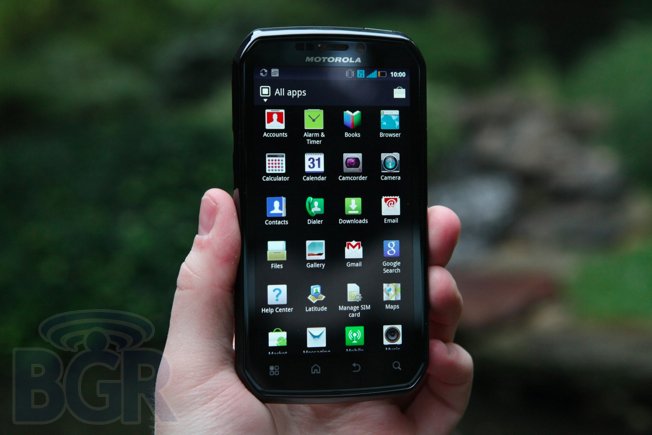 Talking on the Motorola PHOTON 4G was a decent experience. Calls weren't crystal clear, but weren't garbled either — though the ear speaker seemed to cut in and out at times. Volume was very good overall; I actually had to turn down the volume now and again. On the other hand, you really have to hold the phone's ear speaker just right against your ear because the opening for the speaker above the screen is extremely small. Callers on the other end could hear me pretty clearly, but they did note that the audio often sounded very rough and lacked low-end. The speakerphone performed well; the volume was good and audio reproduction sounded very accurate and not tinny whatsoever.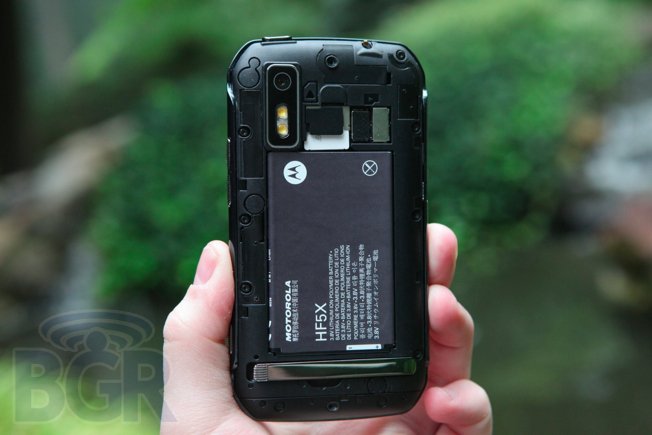 Battery life on the Motorola PHOTON is incredible on 3G, though on 4G the phone takes quite a hit. There's a 1,700 mAh battery included with the PHOTON, one of the largest standard batteries I've seen in recent memory. All in all, battery life with a mix of 3G and 4G signals can easily power you into a day, though on just 4G, you'll have to start looking for a charger after a few hours of heavy usage.
Conclusion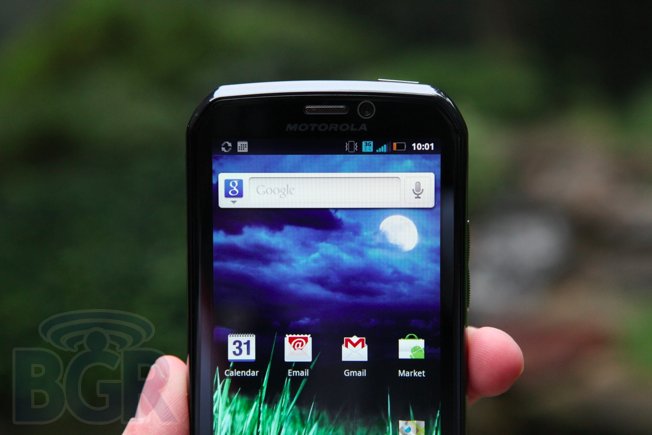 The Motorola PHOTON 4G is Motorola's first real 4G handset, and it's a winner. It easily trumps Sprint's other flagship device for the summer, the HTC EVO 3D. From the phone's styling and feel, to speed and functionality, the PHOTON 4G is one of my favorite Android devices in a long time, and easily my favorite smartphone that Sprint currently offers. It combines next-generation specifications into a reasonably slim and full package, and offers business customers and frequent travelers the ability to roam internationally — something not found on many 4G devices currently. If you can get over the fact that the Motorola PHOTON 4G doesn't feature a physical keyboard, then this is going to be your favorite smartphone on Sprint, by a wide margin. It's available for purchase starting July 31st for $199 with a two-year agreement.