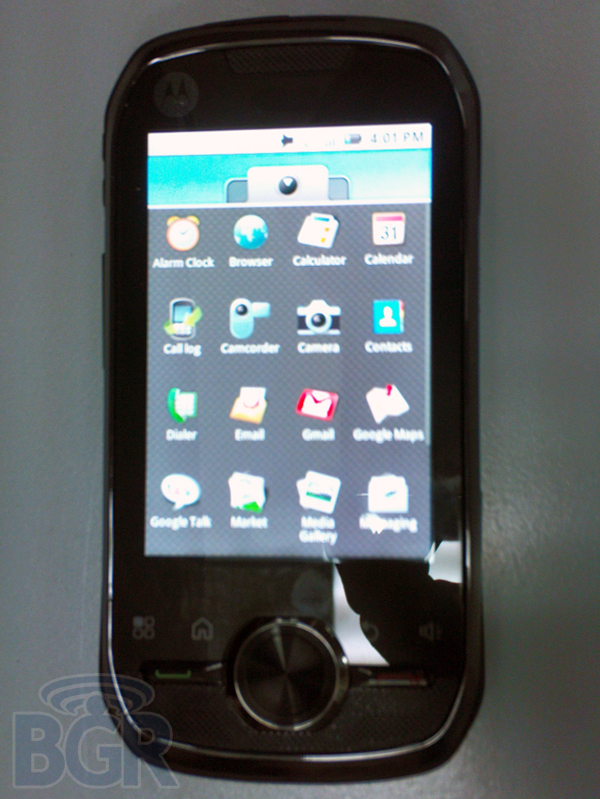 When we say we have specifications, boy, do we mean it. One of our connects has sent us the full rundown on Motorla's Opus One (their first iDEN Android handset) that we revealed a little while back. The features on the device are actually pretty reasonable, and we'd imagine it to sell for a reasonable attractive price-point at release. The Motorola Opus One will run Android 1.5 with iDEN service enhancements, make use of a "Zeus" CPU, and will feature a 3 megapixel autofocus camera.
Detailed list of full specs after the breakage!
3.1″ hVGA 320×480 capacitative touchscreen display
3 megapixel autofocus camera with LED flash
Accelerometer
Proximity sensor
Wi-Fi 802.11b/g
Bluetooth
microSD card slot
2.5mm headset jack
Home, Menu, Back, Speaker buttons are capacitive buttons with haptic feedback
iDEN PTT & PTX
Android LBS which is integrated into the iDEN GPS engine
"Enterprise email"
Plastic-molded housing with some rubberized texture finishes
58mm in width, 118mm in length
100g weight
512MB Flash / 256MB of RAM
64k and 128k iDEN SIM card support
A-GPS
Motorola dual-mic technology noise-canceling for noisy enviroments
Flash Lite v3.1.x
Some of the preloaded apps include: corporate email client with ActiveSync support, MOTONAV navigation app, barcode scanner, and document viewer.
That's what we have for you on the Motorola Opus One at this time. Not the most mind-blowing Android device, but with it being an iDEN device and all, we'll cut it some slack and even say that it could do reasonably well at launch.