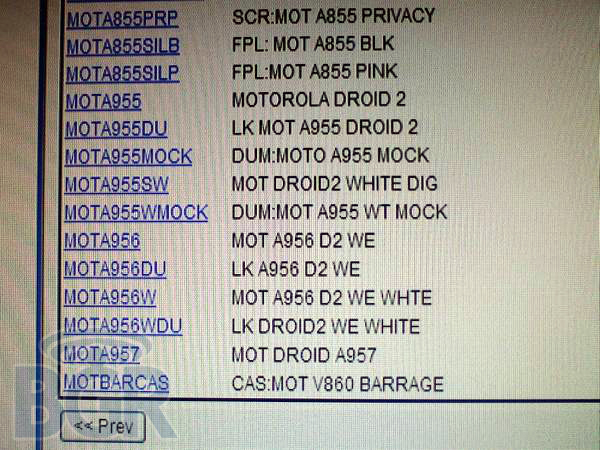 One of our Verizon Wireless sources has done a little digging for us, and we have turned up some awesome information. We exclusively reported that Verizon Wireless is gearing up to launch a barrage of Android handsets and devices, and we are now able to further clarify that report.
The Motorola DROID Pro, the handset with a 4″ display, 1.3GHz CPU, and global roaming capability gets the model number A957, and is set for a November launch. Motorola is also apparently working on a more business-focused version of the DROID 2 with a World Edition global roaming feature, and it looks like that device will launch relatively soon with the model number A956. If that's not enough, it also appears that the phone will come in two color choices, black and white.
Moving on to the Motorola Android slab device — it's listed and we've found the model designation — MZ600. We aren't able to definitively confirm at this time whether this is the Motorola tablet (unlikely just yet) or just the slab form factor device we reported on (much more likely). If it's the slab touch screen Android phone, it should launch with Android 2.2 and also be a World Edition handset. It looks like there are over 170,000 of those devices on order from what we can see.
As always, we're working on following up on the rest of the leaked Verizon Wireless roadmap — Samsung and Motorola tablets, anyone? Couple more images after the break!