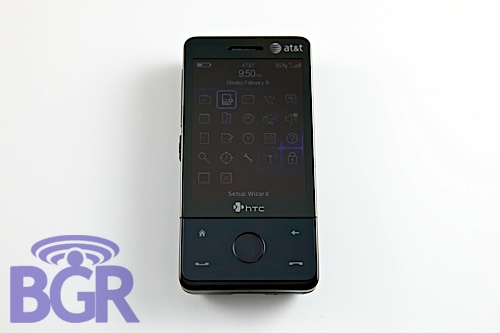 Well, it has been rumored forever, caught on video, and we've even done our part in sharing the news as well, but we can't hold out on y'all any longer — we have been toying with the BAS for the greater part of a month. It's a solid effort on RIM's part, but will it do anything for them or just waste engineer's precious time? The answer, friends, is in our review after the break.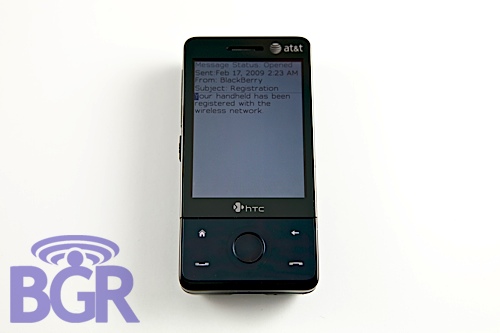 Setup:
To install RIM's BlackBerry Application Suite for Windows Mobile, you just install the program as you would like a normal Windows Mobile app. In our case, it was from a .cab file. Once it's installed, it adds a BlackBerry icon to the Settings folder (much like BlackBerry Connect did/does) and off you go. Since the BlackBerry operating system is virtualized, it has to boot up like a normal BlackBerry device. There's two parts to the BlackBerry OS starting. First, TouchFLO 3D has to be disabled for it to run. We're not sure whether this is to keep memory usage down or for another technical limitation, but it's really not the end of the world seeing as RIM hopes to keep you on the BlackBerry side as much as possible. The second feature is that you can configure the BlackBerry portion to start at Windows Mobile bootup, effectively telling Microsoft to go jump in a lake — nice. Finally, you just choose your keyboard layout (Touch Pro QWERTY, Fuze QWERTY, or Touch Pro AZERTY) and the application starts.
Features:
It's remarkable that RIM has been able to pull this off. As much crap as we give them (yeah, whatever), this is impressive. The OS really runs on Windows Mobile! You've literally got an entire BlackBerry on here. Name something you'd use on your actual BlackBerry and we think you would be hard pressed to not find it. Here's a quick list of what's included in terms of BlackBerry Applications:
Messages
BlackBerry Messenger
Address Book
Browser
Memopad
Password Keeper
Tasks
Profiles
Clock
BlackBerry Maps
Media
Manage Connections
Calculator
Search
Options
Now, after praises like that, this thing can't have any flaws, right? Oh so wrong. So, so, wrong. For starters, like we mentioned, it runs the BlackBerry OS of 4.2. Hello. Hi. The year 2005 called and they want their 8700 back. Honestly, RIM. You had this in the bag. You had a viciously serious attack plan to destroy Windows Mobile (like a crack dealer, give them some BlackBerry OS here, little Messenger there, get them to finally switch away to an actual BlackBerry), except you're giving people an OS from 2005. This is the year of the operating system in case you haven't noticed. And in case you did, you've just blown a magical opportunity to shun your opponents.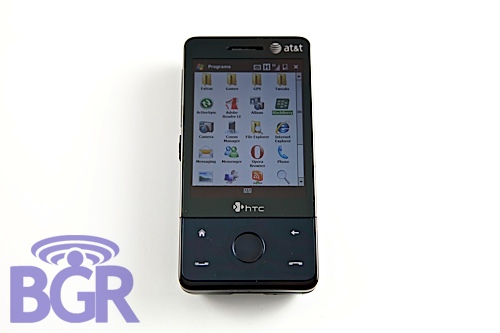 Integration:
In the build we've been testing, things like GPS and Bluetooth were integrated seamlessly. We heard the camera might be as well but it wasn't accessible in this version. When making a call, it's actually a little weird because it will jump over from the BlackBerry operating system right to Windows Mobile and then back again when you're done. Wi-Fi also does not work, but 3G works perfectly.
You can even set the BlackBerry side to handle all your SMS/MMS messages. So the only real reason you'd need to be on the Windows side is to take a flick or make a call. Calls made are actually logged on the BlackBerry side which is very nice because it lets you keep track of all your activity. Profiles are also across the board, so if you're on Vibrate in BlackBerry, Windows Mobile will be on vibrate as well.
Usability:
There's no question the BlackBerry Application Suite is usable. Heck, like we said, it really is the actual BlackBerry OS. The question becomes how much simpler does it make your life if you don't have the flexibility that modern BlackBerrys afford you? Think about all the attachments you can't view/download, how badly the BlackBerry Browser used to be (still is, but imagine the 8700), how much it sucks not to have HTML email anymore, etc. Would it be easier to just use Windows Mobile? You did actually buy a Windows Device in the first place… Our problem isn't the usability factor so much as it is the convenience factor.
Navigation:
This is tricky. To make a long story short, you won't want to use the touch screen for any sort of navigating. The reason is because it's not finger-friendly. Scroll bars are absolutely tiny and using the stylus itself sometimes won't even cut it. You're better off navigating with the 5-way directional pad and using the four arrow keys on the keyboard. Plus all the lovely standard BlackBerry shortcuts work, helping things a bunch. You're not flicking, gesturing, swiping, or any of that nonsense on here. Oh no, it's down to basics and we're kickin' it old school — physical keys, baby.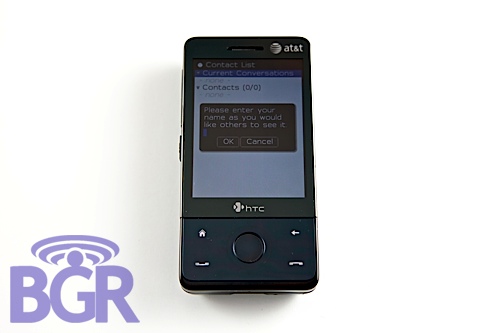 Conclusion:
We really have to applaud RIM for making this a reality. They're about 22 months late (more by the time this is actually released), but they've successfully virtualized their BlackBerry OS while practically giving up nothing. Does this mean it rocks? No. But what it does mean is that we have faith there will be many versions to come after this and we have faith RIM will work on updating it to a current 4.6 or 4.7 OS version. Plus don't forget the fact that there's a Symbian version coming, something which is huge as well.
The BlackBerry Application Suite for Windows Mobile is much more than a proof of concept. It works, and works extremely well. We're sure the final shipping version will work even better than it is now; it's probably more stable than Windows Mobile will ever be. We're just not sure people are going to want to give up the luxuries they are finally getting in Windows Mobile. As sick as that sounds, people buy Windows Mobile devices for a reason. If it is a consumer, they wanted what they wanted and having to go through the extra step of installing and configuring an operating system just might not be for them. If you're talking about the corporate user, well, they either have a Windows Mobile device because they wanted one or because they were given one. It's highly possible their organization doesn't run a BES in which that case won't help. So, we're torn. We love the idea, we even love the execution of it for the most part, we're just having trouble finding users. Yes, many will download it and try it out. Some will run it tandem with Windows Mobile and flip back and forth to do different tasks, but we think many will just uninstall it after they've gotten their rocks off. We look forward to seeing how this evolves, and we're really excited about the Symbian client, but for those of you who miss your trusty 7290 and can't forgive yourself for giving it up, this might be the day you've been waiting for.